Spiced Chocolate Hazelnut And Whiskey Cake…..Christmas cake with a twist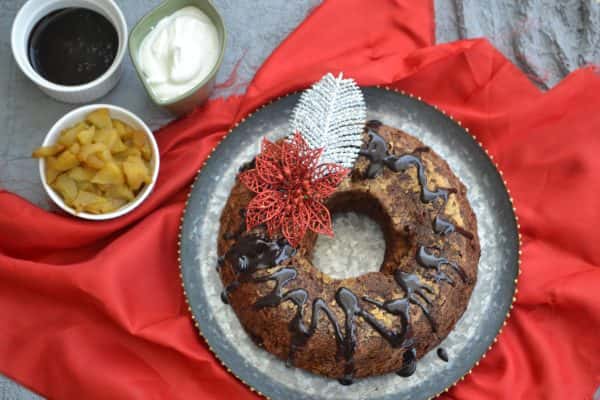 When it comes to celebrations in home, we are clearly divided in two kinds. The kids as usual would love to have their share of chocolate cake, laden with their favourite Chocolate Icing, and "SM" likes it unusual, fruit laden kinds with unusual flavours. And I am a very unconventional Baker, Not that I bake some lengthy recipes, it's just that when it comes to bake for fun, I rather would look for unusual recipes, which is a huge risk in terms of success, and the following appreciation from immediate family, who of course happen to tug in that first bite.
When I was Looking for such unusual recipe, Jamie O's Recipe of a Spiced Chocolate cake, looked pleasing to both the kinds in the family. I am known to tweak the recipe, and this is what gives me that ultimate pleasure, when I can say yes, I have added that touch.
This Recipe is super simple, once you have all ingredients in place. In the original it is served with chocolate glaze, but I did my version with an Apple compote and sour cream.
Also the recipe calls for dried figs, which I replaced with Christmas fruits, as this is how it happens in my kitchen, where what's available gets dunked where ever I feel like Introducing them, and I could not resist the soaked fruits screaming at me, to be used for this recipe.
The special occasion for which I dared this recipe, was SM's birthday, and this cake was baked twice within two days, as the first one was already under the knife, when SM requested me to bake another, probably as he liked it so much that he wanted me to carry it to a friend's Christmas Dinner.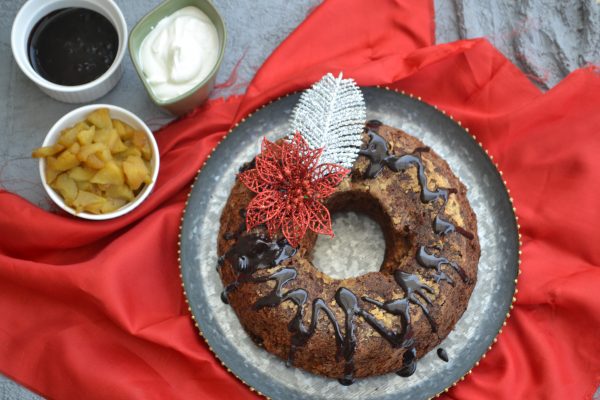 | | |
| --- | --- |
| | |
Preheat the oven at 180 Degree C

Grate the zest of the oranges, extract juice and reserve, 150 ml.

Measure Oil, Honey, whiskey in a bowl. Crack the eggs and tip it in the bowl after whisking them thoroughly.

Sift the flour, baking powder, cocoa powder together in another bowl.

Add sugar, ground hazelnut, spices, and a large pinch of salt. Add chocolate chunks or chips, and soaked fruits, crysallised ginger and lemon peel, into the flour mixture.

Now add the wet ingredients, into the dry ingredients and fold in swiftly in a few large goes. Do not over mix unless it will lead to a dry dense cake after baking.

Now pour th ecake in to a dusted pan, and bake in the center of the oven for 25 min. Rotate after 25 min and bake for about 7-8 minutes. By now the cake should appear firm . Insert a tester wont work here ( due to too many soaked ruits in the cake). You can leave the cake in th eoven for a few more minutes if any doubts about it not looking firm to touch.

Allow to cool for a few minutes, and turn on the rack as the ring mould cannot be left to cool for very long, as it becomes difficult to turn the cake out.
Core and Chop apples in large cubes, and add lemon juice, and stew over medium flame along with the sugar. Allow the sugar to melt, and let the apples stay chunky( not mushy). Cool and serve with the cake.
Add the sour curds to the cream and allow to set for few hours. Chil once set.

Now whip th esour cream along with castor sugar. Serve with cake and compote.
I have used Crushed hazelnuts, which can be replaced with Almonds.
Soaked fruits can be soaked in port wine/ rum/ brandy/ whiskey.
All spice mix can be used instead of different spices.
Cake can be served with Chocolate Ganache.
Believe me, though the cake by itself has all the flavours,  but, that extra dollop of the sweet and sour apple compote makes it a great winter dessert