Nimona, green peas UP style curry.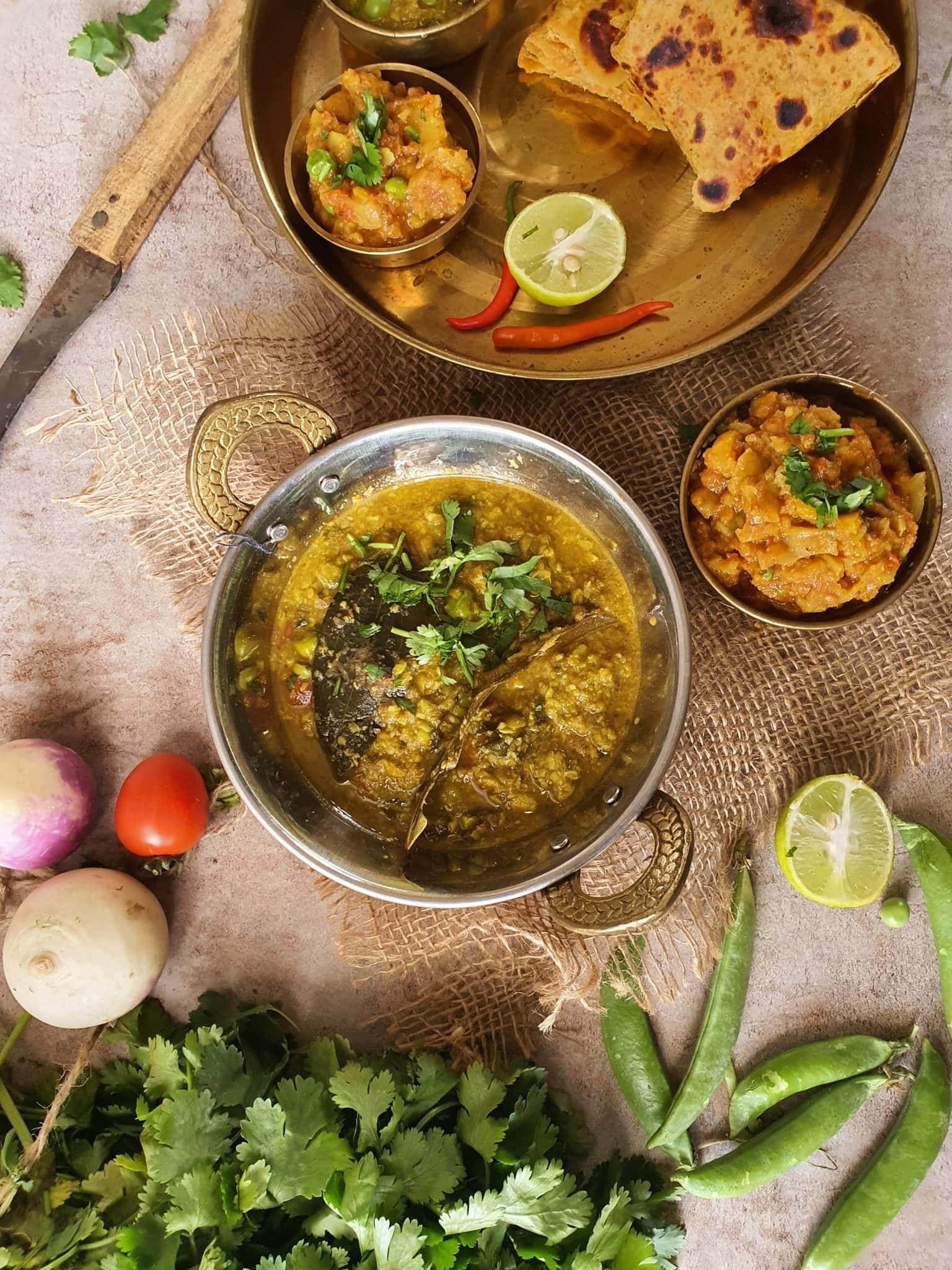 A curry from my Naani's Kitchen
This recipe has memories, way back to my school Winter break, and our days in Naani's home. It is a UP household, big joint family and their winter home in their sugar factory in Ismaila. Every meal used to be a traditional fare, and we would snuggle in our blankets with a live kitchen and the aromas of this Pea curry would just make us more hungry.
Nimona, a UP style pea curry, has a distinct style of cooking. Mashed peas cooked in a curry of onions and garlic ginger traditionally with tomatoes. But Maharaj ( the cook) used to make it in Ginger chili and tomato with green coriander, with a temper of asafoetida. As we were a no onion garlic kind of household. And someday he will throw in potatoes, another day he would use the Dal Vadi ( fried pulses cakes) to make a new dish. The potato and vadi add to a different dimension to the curry and one can make a choice. You may go in for just the peas, to enjoy the complete flavours of fresh peas.
The recipe here is just the way Naani made it, and the sweetness in the gravy is defined by the freshness of peas. So the challenge is to find the most tender peas around. Once you get them, half the battle is won. Rest the right masala, and a nice hot curry is ready to be enjoyed these winters.
Frozen peas can be used
Frozen peas can be used in summers to make this curry. But I personally wait for the fresh peas. And if making for the first time, I suggest the same.
We would love to dunk our hot paranthas and pooris in a bowl full of Nimona and just slurp. This is such a hearty dish, where u make the most of peas, while they are in season. The best way is to use a broad bowl and break your parantha or bread and dunk it deep into the gravy and have a mouth full, using your hands. This whole thing is so satisfying and flavorsome.
Years later now when I think, I realise our traditional recipes are ways to consume seasonal vegetables. this recipe consumes almost double the quantity of peas, which otherwise would make a meal for a family. Making it a wholesome bowl of nutrition.
Grind the ginger and chillies without water.

Heat mustard oil in a heavy bottom pan, and add Cumin seeds, bay leaf, and cloves, and allow to release aromas.

Add the ginger chili paste, and allow it to roast.

Meanwhile grind the peas in the same jar as ginger chilis were ground, to a coarse paste.

Add the chopped tomatoes to the ginger chili paste, add the coriander powder, turmeric, and the red chili powder, and allow to just get mushy.

Just when the mixture starts getting mushy add the coarse pea paste and the chopped coriander stalks and leaves, and add half cup water at a time.

Cover and cook and add water if required after ten minutes.

The curry is cooked once the mash and the spices come together, with a mushy texture, with no floating water.

Garnish with garam masala and coriander leaves, serve with hot puri, or chapati.
One can add fried potatoes, or vadi to the curry, but I would like to keep the recipe just for the peas.
The recipe can be made from the frozen peas.
I always wait for tender Sweet peas for this recipe, as the complete charm depends on the sweetness of the peas. 
I always keep a few peas intact in the mash. It has two reasons, one it adds to a texture, and the other the curry can be checked for being cooked looking at these intact peas, and one can't go wrong with the timing if making for the first time.
Usually, it is best served with Pooris and chapatis, but a little thinner curry is also served with rice, especially when made with potatoes and vadi.