Masala Khichadi/Achari Khichadi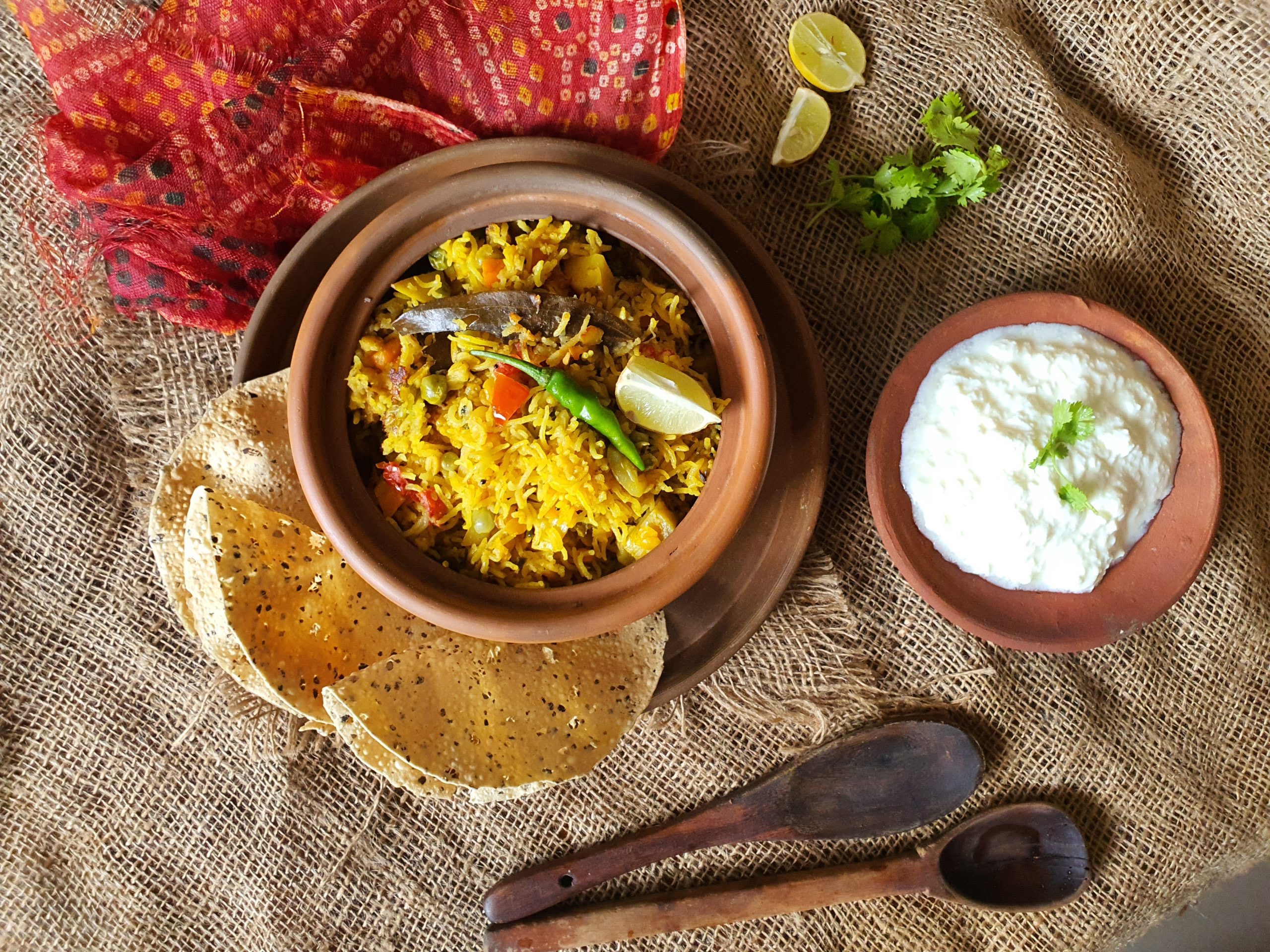 Khichadi is comfort food. Khichadi exists in almost all cuisines, in one or the other form. Khichadi, ideally means, a mix of lentils, and grains cooked together with or without vegetables or meat or spices.
Khichadi is mentioned in the Ayurvedic way of life in our texts. Consumed, when the digestive fire is weak and stimulates the taste buds, enhances the action of digestive juices, and thus an ideal food for the fasting, and ailing.
The Kathiawadi Khichadi, is a mix of yellow split pigeon lentil and rice with a mix of spices and vegetables, usually eaten in the Rajasthan area of the Indian subcontinent. It has a great dose of nutrition and the spices which help with the dry climatic conditions of the region. It is a great single pot meal, which is common as one of the meals in the region. Eaten with curd, or just an extra spoon of ghee.
Usually, the khichadi is accompanied by a pickle to enhance the flavour. In masala khichadi the pickle is added while cooking, making it really delicious. And a bowl of curd and crisp papad completes the meal.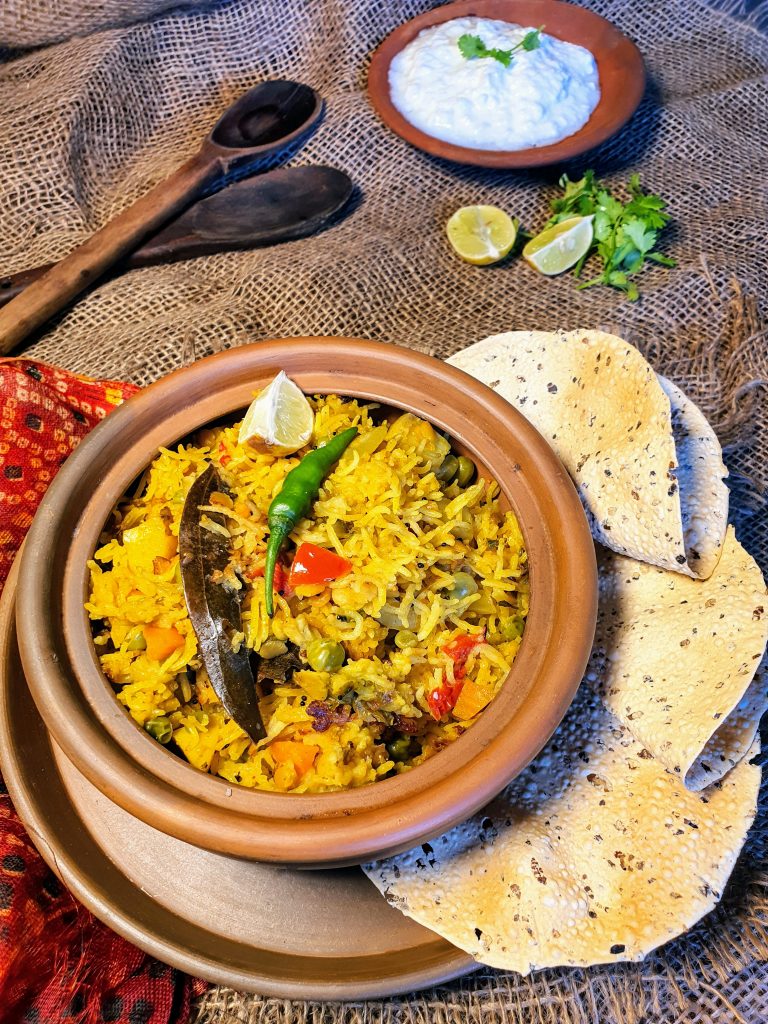 I usually add the vegetables to disguise them as kids love to eat this version of khichadi without any fuss. The Kathiawadi masala khichadi, is called masala bhat
It can be made more mushy or grainy as per liking and hence the name.also and a regular at home in winters. In winters the body needs extra nutrition and conserve energy. The khichadi makes a perfect meal.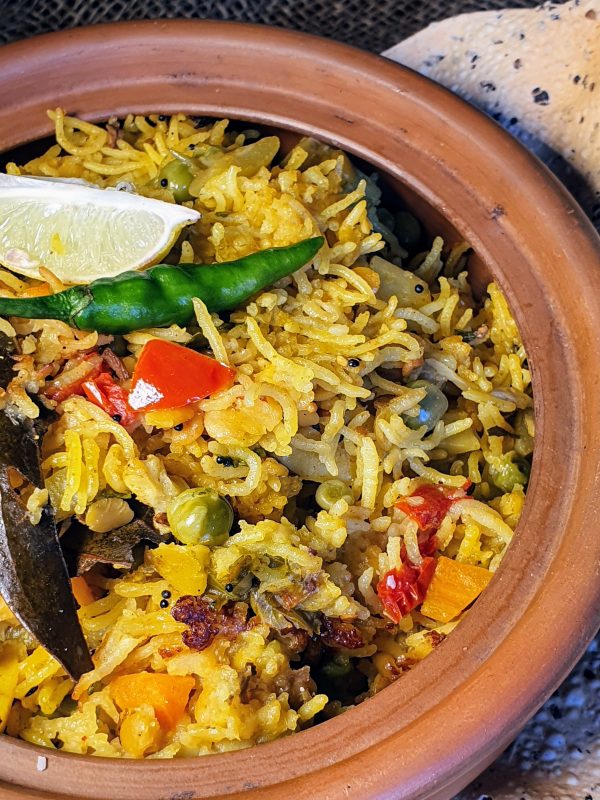 | | |
| --- | --- |
| | |
Heat Ghee in a pan and roast the drained toor dal, till fragrant ( about 2-3 minutes).Remove and reserve on a plate.

Now add Cumin seeds, Mustard seeds and allow to crackle.

Add heeng and all the whole spices, and roast till fragrant on low flame.

Now add peanuts, ginger chili paste, and roast fr 30 seconds.

Add vegetables, and tomato and cook for one minute.

Now add all the powdered spices and roast them for 30 seconds.

Now finally add the lentil, rice, and stir. Now add the pickle of your choice. I like to add the traditional aam heeng ka achar.

Add water enough to submerge the mixture ( about 4 cups )

Add chopped coriander, salt to taste.

Now cook to three whistles on low medium flame.

Drizzle a spoon of ghee and Serve hot with curd, and papad,
Roasting the lentil brings an earthy flavour. But this can be skipped.
Make sure the lentil has been drained enough before roasting, else the ghee will splutter if any water remains in the lentil.
Vegetables can be any of your choice, potatoes add bulk and peas add a unique flavour. You may choose any or all
The pickle you choose decides the flavour of the khichadi.