Jamun Raita/Java Plum Yogurt
Raita or spiced yogurt is a quintessential summer dish in Indian homes. It's the sour-sweet curd and the kind of spices or various add ons that create a new magic every time. In the regular household, Cucumber, or finely chopped tomatoes and onions are used to make routine affair Raita. We also use small gram flour dumplings called boondi for the crunch.
The idea of adding fruits to the raita is recent. Many chefs have created their own versions. Like apple raita or pineapple, raita has become popular in recent times.
To me, the Jamun fruit has a unique flavour. The recipe brings out that characteristic of the combination of Cumin, black salt, and the curd with the unusual astringent sweet Jamun fruit.
The dish definitely calls for fresh sweet curd. By saying sweet it does not mean adding extra sugar. It means fresh homemade curds.
Nostalgia builds around this recipe as I use the same method used by street vendors to bring out the aroma and flavours of the fruit. Putting them in an earthen pot and shake them with a spoon full of black salt helps them get soft, soak flavours of black salt, and the flesh releases from the seed.Chech this out here
If u love Jamun Check out our Jamun kala khatta he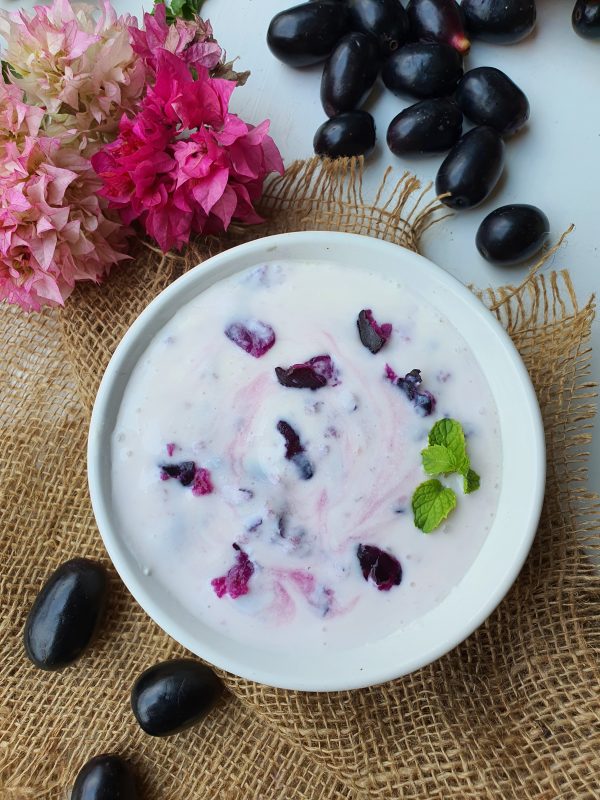 | | |
| --- | --- |
| | |
Put the java plum in a vessel and add 1 tsp salt.

Cover and shake the vessel vigorously to make the fruit mushy and plum.

Remove the fruit and remove the flesh using a knife. Discard the stone/sed.

Now add this to fresh chilled and whisked curds.

sprinkle 1 tsp black salt or less according to taste.

Also add mint leaves chopped or dried mint powder along with cumin powder.

Give a stir. do not mix too much.

Serve chilled with lunch/ Biryani/Pulao.
One can make sweet yogurt. 
In that case, do not add salt and cumin. Just add  3tbsp sugar to the fruit and shake in a covered vessel.
Add flesh and the mint to fresh chilled curds and serve chilled.