Lucknow… Travel Beyond Tundey kababs
Why Lucknow Fascinated me in the first Place
Lucknow, though another city of the state of Uttar Pradesh, popular for many good and bad things in Media, and also my Nanihaal ( maternal homeland), fascinated me for its architecture and culture as I had always see a glimpse of it while I used to visit my Naani ( Mom's Mother)in Bareilly ( which in itself is a city worth many stories to share about ). Visited Lucknow for family weddings, but another trip was in Calling for me to be able to soak in its real form.
How to explore Lucknow without losing to see the best
Lucknow is best visited during the cooler months of the year, to have the best of sightseeing, and a better appetite for the much-expected food overdose.
Best is to plan at least 2-3 days and stay a bit closer to the area of Hazratganj. Decide your focal Interests. is it all about History and Culture, which the city has a lot to offer, or Is it food and shopping.
I stayed In Hotel Novotel, which is a 4 star accommodation at a great price but as it was at the least of 20 kms away from all the worth visiting spots, I had to always take a ride of half an hour negotiating Lucknow's roads, to any where I wish to visit.
Anything close To Hazratganj will give enough scope of a few breather breaks in between tedious walks and Meals. I would have loved to run to my breakfast point had iy been a bit achievable from my point of stay. A few to name which hold a good name as on today are Sarovar Portico, Radisson Lucknow, Gemini Continental.
Plan yourself in way as we did, that all the meals are scattered as small Binge breaks, in between the historic walks. So that they not fill you up to burst, But more as guilt free fuel breaks. Actually one should leave all the guilt pills behind while visiting a food Mecca like Lucknow.
Always Hire a reliable Local Guide who has precise idea about each every spot, and at the same time has a wide knowledge on food and History himself. I was Lucky To have Rakesh Tripathi Jee as Our Guide for Monuments and city Culture, And Members of Lucknow Foodies and Rizvi jee highlighted the best on Food for me.
What's Recommended While in Lucknow
For The History Lovers….
There are not enough Tours options offered for this Nawab City of Uttar Pradesh, and not many travelers to India, have this on their Itenary. The City once an important hub for British Business and Local Traders, and holds historical importance.
But for travelers around the country, this is more like another stopover destination, where you won't carry back the guilt of not been able to visit another mosque or palace.
Having Said that, a few Buildings would definitely leave a memorable impression, and worth a visit while you are in the city, for the reason of your choice.
The Constantia, La Martini'ere College for Boys marks the architectural Grandeur of the city. A walk into the complex can itself bring leave you in awe of the widespread green golf fields, Soccer fields and a rather most clean part of the city, A private Property, where One can visit with help of a local tourist guide.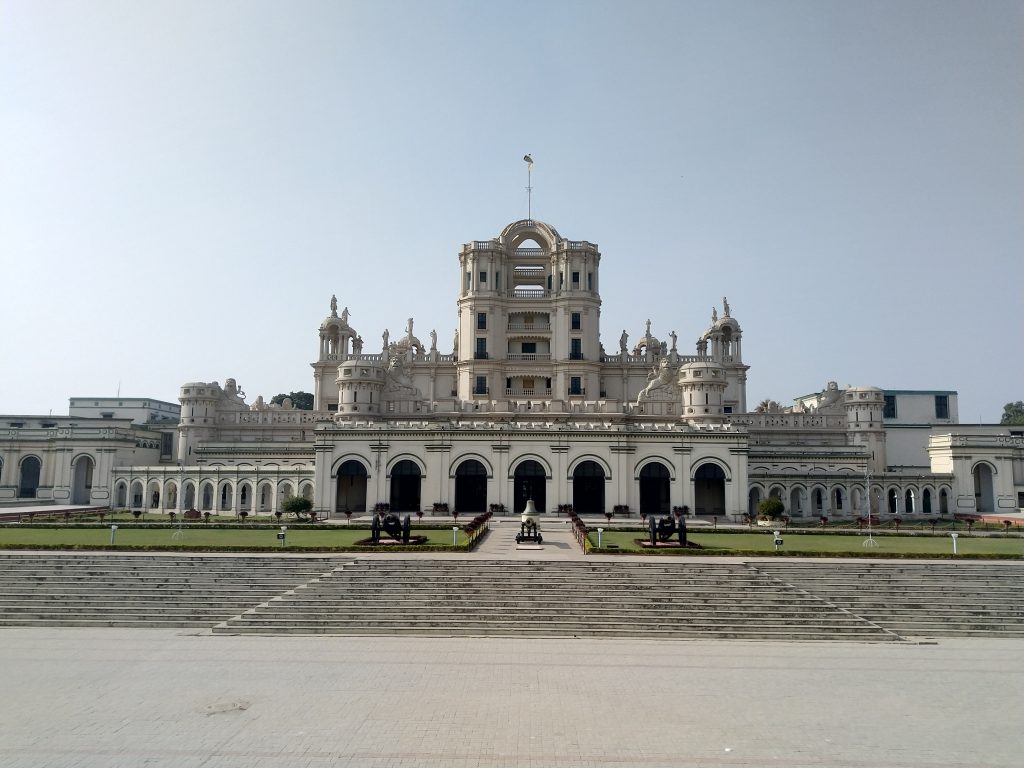 Places like Bada Imambara, ( Popular for its Bhool Bhulaiya ) Is exciting if you wish to test your skills through this maze of tunnels and stairs. I bet if you can escape, without following others.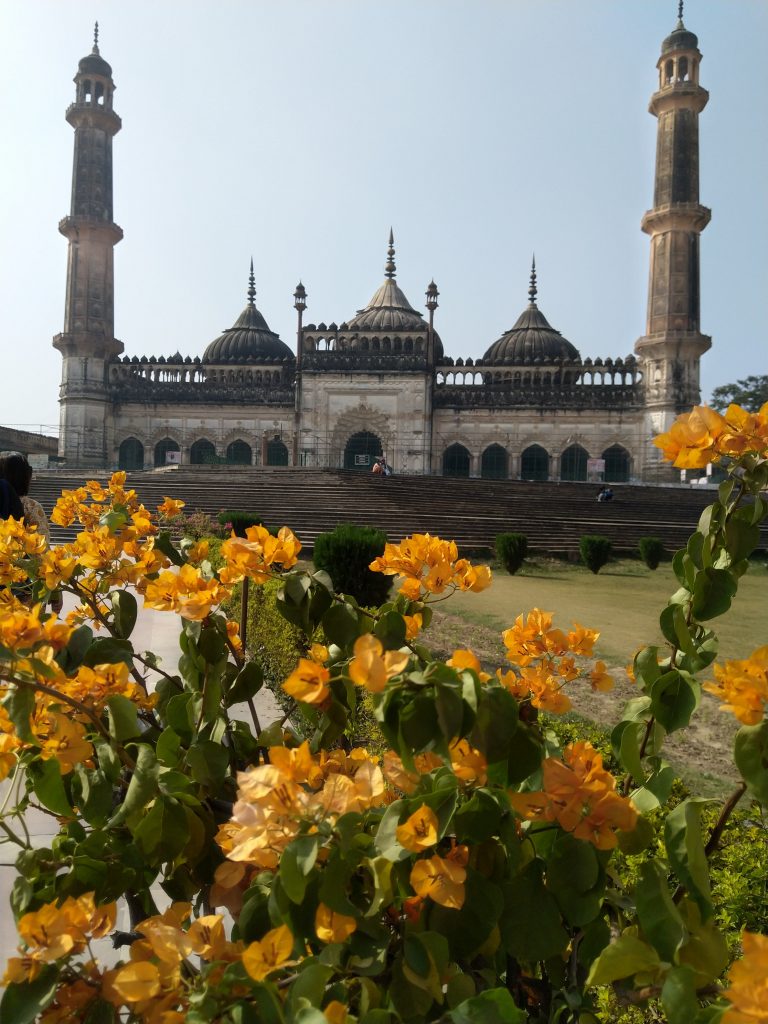 A visit to this LAbyrinth helps you, loosen up, and make space for larger gastronomical treats, which the city has to offer.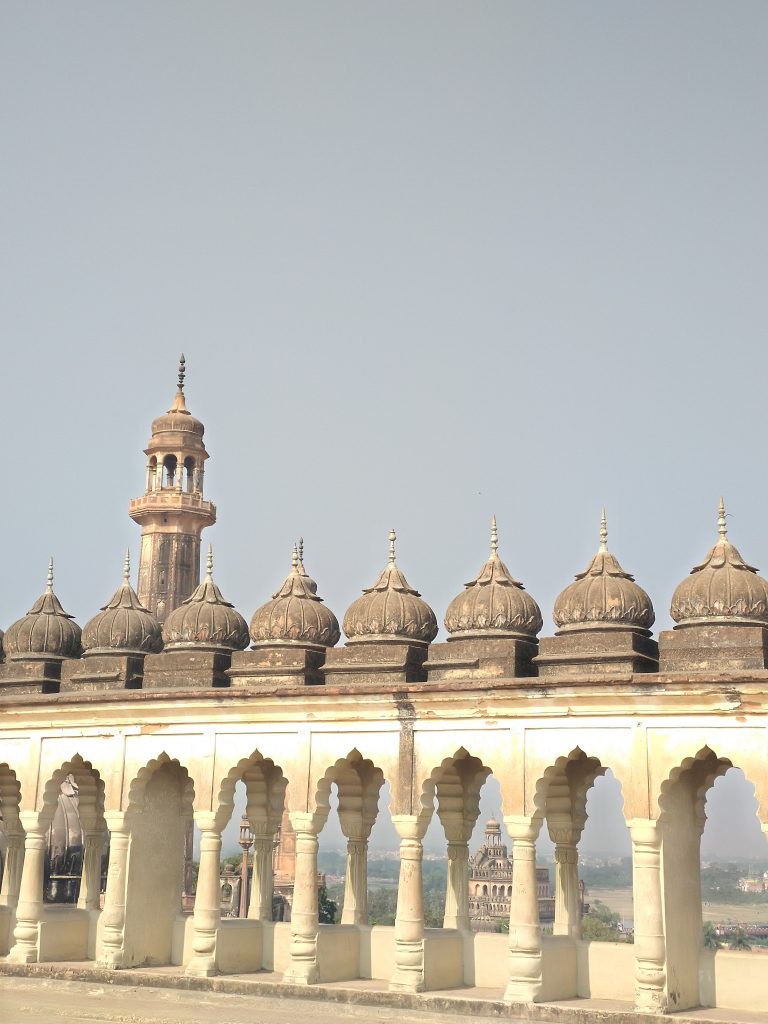 Not Recommended for senior citizens for its steep stairs and a long walk.
And while u re at Bada Imambara a look around will show you The Roomi Darwaza, and the Clocktower At a glance.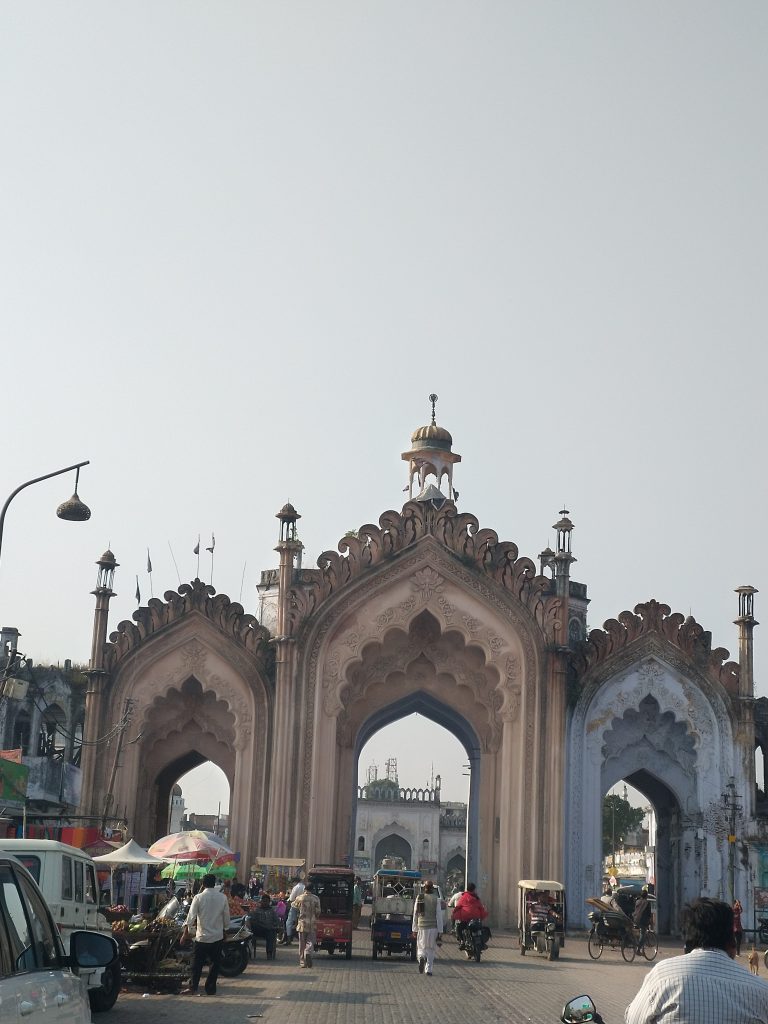 Residency is another fair walk near Kaiser Bagh which can be attempted, and is known for its 1857 Indian Rebellion, and exists as Ruins.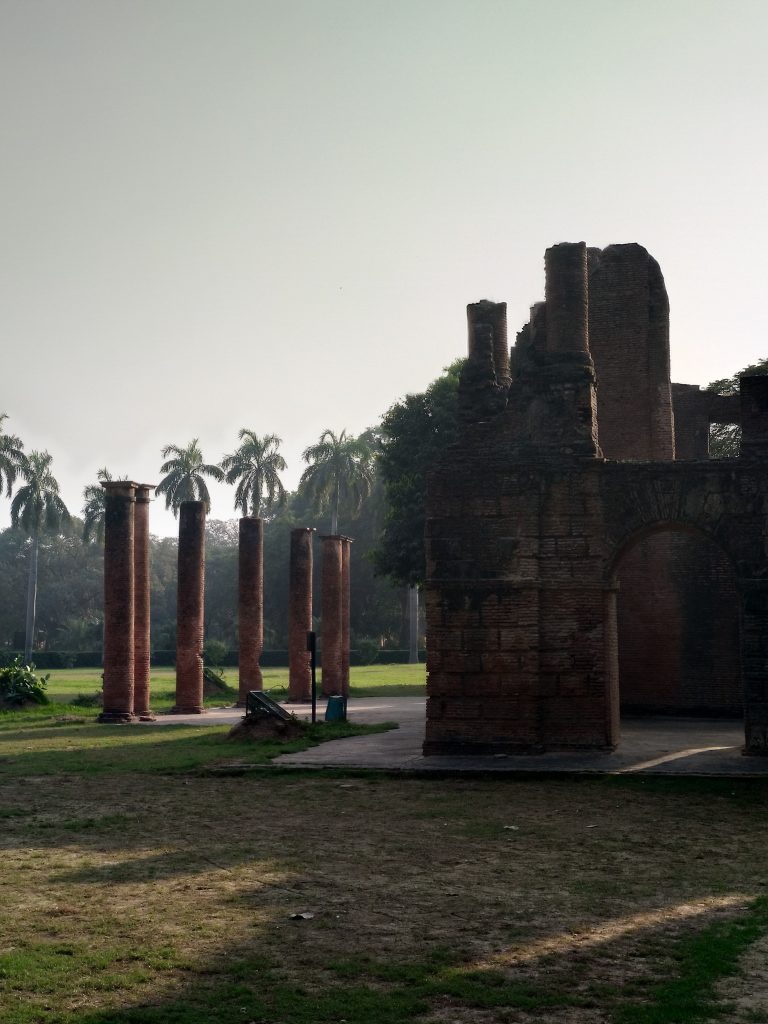 Being a foodie, to me all the site visits were more like a calorie sheller.
For the Foodies……..
There is no dearth of Food when one Arrives in Lucknow. You need a good appetite, strong Immunity, and a desire to put on a few Kilos.
While we went Gunjing
This is a local term, used when friends decide to meet in Hazratganj, over tea and gossips, with a bite here and there.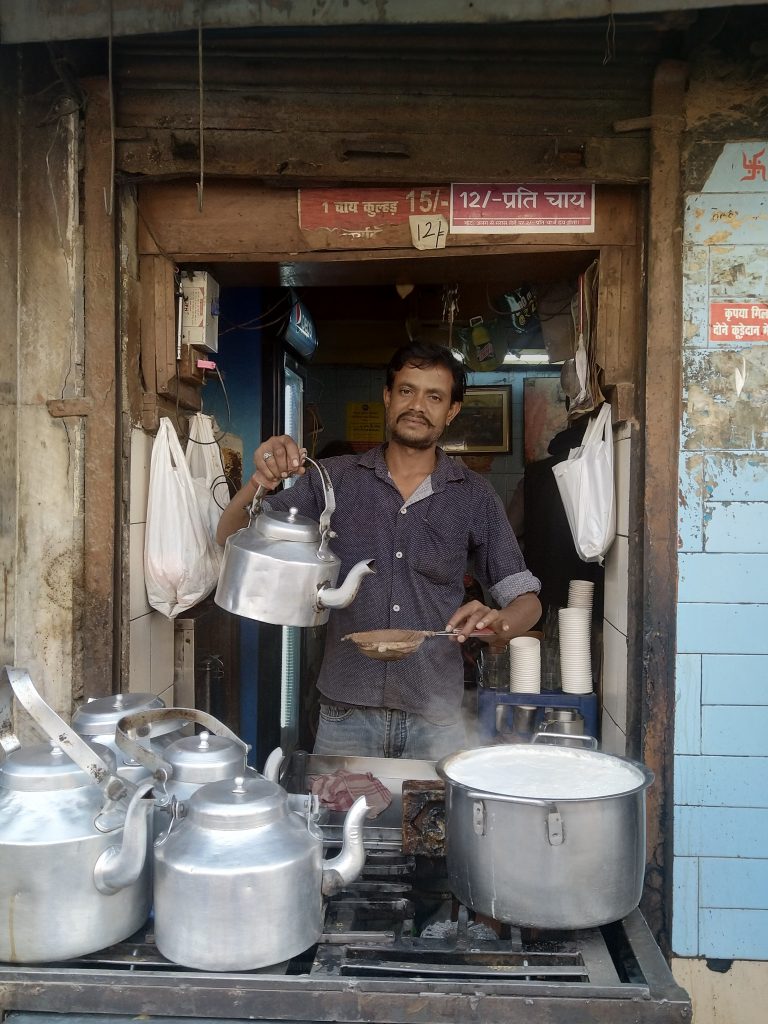 And for gunjing one can start as early as at 8 In the morning. As we reached Sharma jee Tea stall at Hazratgunj early morning at 8, and it was buzzing busy. Nothing better than a good cup of local style Tea with Bun Maska ( Buttered Sweet Bun), or Some Pakodas ( fritters ). And if u end up in a linger conversation then Samosas would arrive. so by the time one realises Its a few Kulhads ( Earthen glass)of Tea, and quite a few snacks.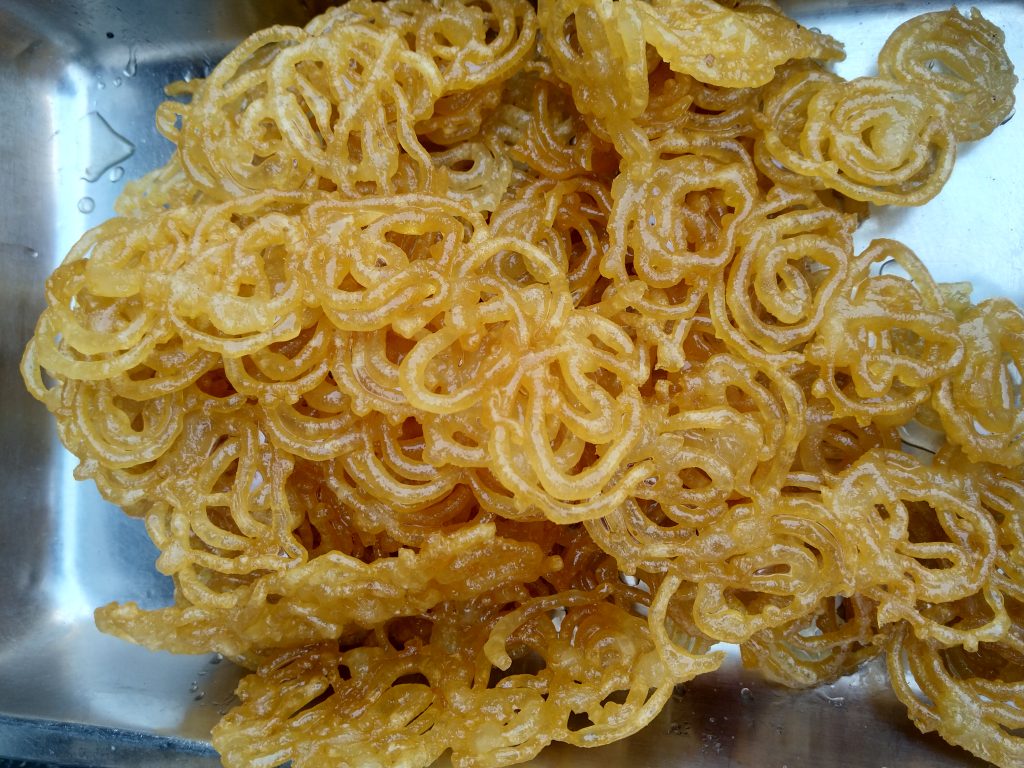 But I was Amazed at How the Greed takes over the appetite and we were at Bajpayee Kachori Waaley. So he serves Some hot crisp Pooris ( here they were a mix of maida ( Refined flour )and Semolina ), served with super spicey Choley ( Benagal Gram ). And again One ends up with a Tea shot.
And if this does not sound enough To those reading the post for the Virtual Satiety, We had Makhan Malai from The Ram Asrey Shop Across the road, after the Spicey Encounter at Bajpayee jee.
Kachori is served differently or maybe almost similarly at various joints through the city.
So my next question is What makes them famous ..Is it the food, or the Uniqueness, Pricing, What?
My fellow foodie Friend from Lucknow, explained, very promptly, is its a habit, a loyalty. A person or a family gets used to a certain shop, and that is then frequented out of habit. Also that the food also carries a special touch of that shop.
Like the next day, we had Breakfast At Netram, And it was warned to be Kachori sabjee Breakfast only. Now, what would lure me to do the same kachori breakfast? I tell You this meal was completely different as we had a seating ( in contrast to standing breakfast at Bajpayee), here the pooris were made differently, served with potatoes and Pumpkin( unlike bajpayee), and also my favourite Meetha aam ki chutney( Sweet Mango Chutney ) was served, which I literally licked with y fingers, least bothered about being captured on lens( Thankfully I managed to escape it ). This time I summed it up with a glass of lassi and jalebi to sweeten the memories a bit.
Being a foodie, it did not even feel like I am Putting my Rupee on a less deserving meal.
Poori meals are best had as a breakfast meal if you are a Carnivore. Save your Appetite for more Towards the evening.
Visit the Chowk, and You can see a series of meat shop and Tundey kababs been sold across the street. We were suggested by our local Foodie Friends to visit Mubeens ( again, maybe loyalty factor). But we stuck to their suggestion and enjoyed some great Kulcha and Nihari, Chicken Roast, Sheermal.
Met Mr Rishad Rizvi, A popular Character Artist From Movie Like Ladies Vs Ricky Behl, And was amazed at his extensive knowledge on food Of Awadh. While we Were waiting For the food, in his conversation, he compared to Expect the Kulcha to be Flaky like a fresh Pastry. It was Super flaky, crisp on corners and soft in center. It s must Try Is the Kulcha Nihari.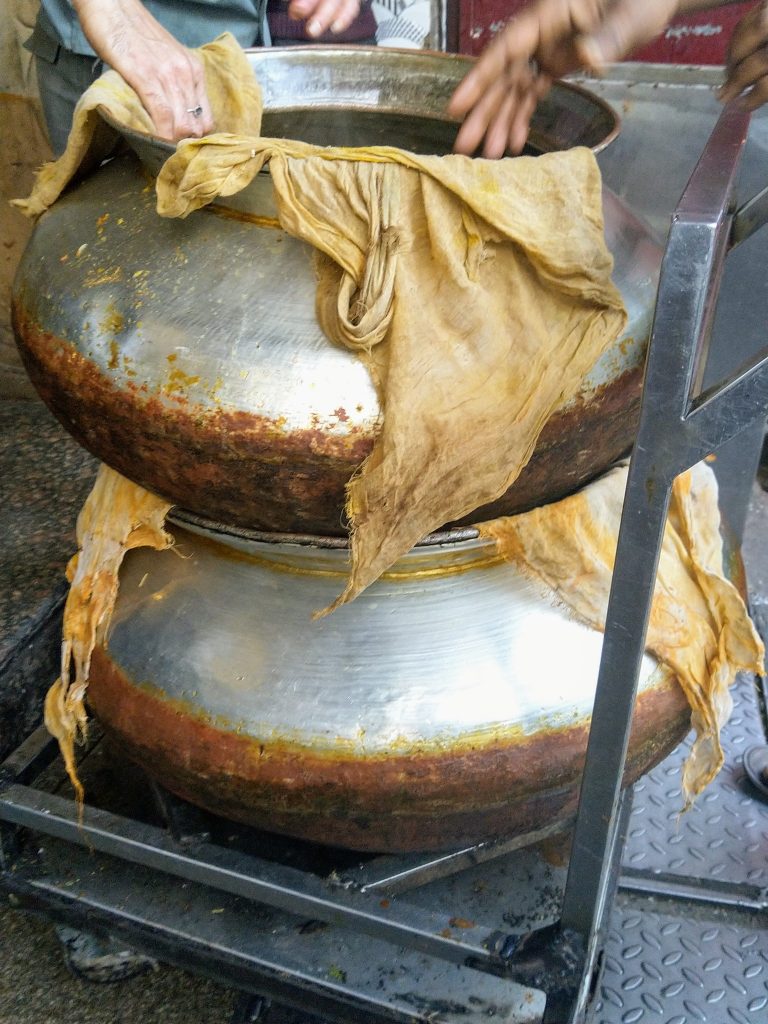 While walking Back our way towards Akbar Gate , a quick sip of Kashmiree Chai, or a quick bite of Shahi Tukra, As a dessert is a good Idea.
The Tundey Kabab , Originally sitiated at the Chowk, serves only Buffalo meat, but is too rustic,m and overrated, though the patro must be visiting it, for obvious reasons. It is Suggested to have Tundey Kababs Near Kaiser Bagh at Tundey Kababi. Taking A rickshaw into the bylanes, or stretching some calf muscles to walk your way, is a good idea.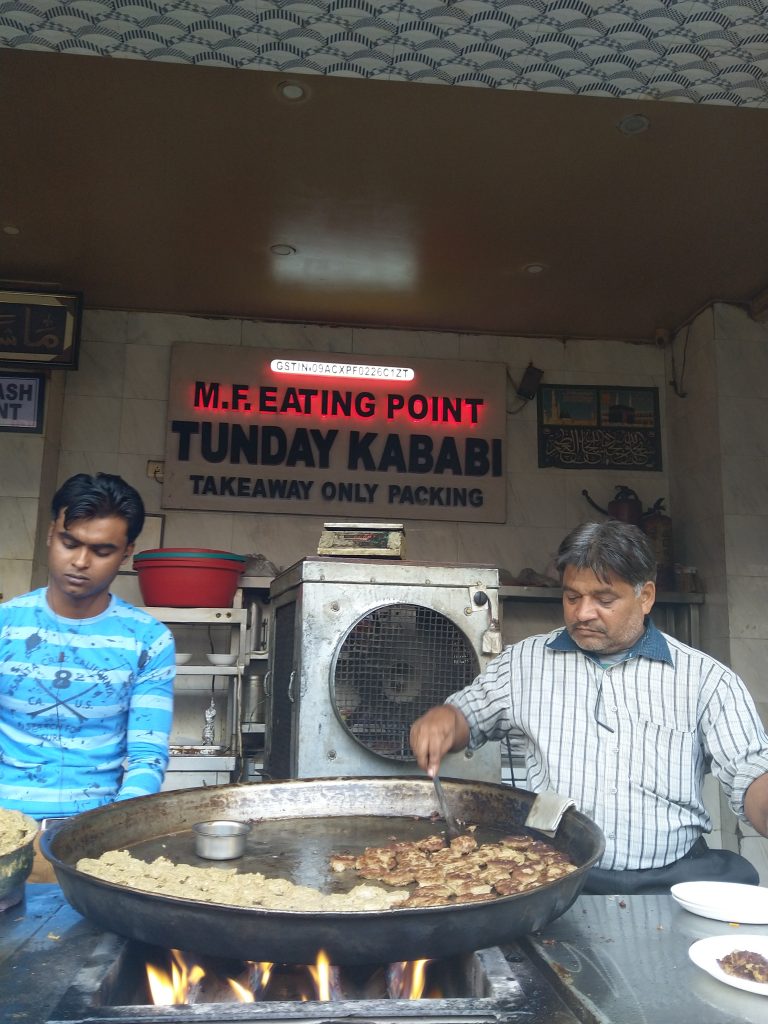 This place though is situated in the middle of super busy lanes, but it has fair seating space and serves hot off the flame, kind of good Mutton Kababs with options of Other delicacies like Nihari. But he serves Great Ulte Tawey Ke Paranthey( Special Bread Made on the upside down Skillet).
Chaat At Lucknow is popular for some special thongs like Matar Kee chaat ( white dried peas Chaat), Hing waaley paani ke Batasey, and also the way they make their Tikki is different from other Chaat from Delhi/ Calcutta.
One can Choose many places to enjoy the chaat, basis convenience while you can visit all, and see for your self that none of these paces will let you down.
Jagdish Chaat House at The Chowk
Best Chana Chaat, and Tikki Chaat.
Royal Cafe Hazratganj
Anything u choose is got to be delicious, without a doubt. But My take is On The Basket Chaat, where words fall short to describe the flavours, while the tikki chaat, PAlak Patta Chaat all were exceeding good to each other.
Shukla Chaat Corner
Now for this one is by recommendation of my fellow Lucknow foodies. While I visited the place during morning time for a cup of tea at New Shukla Tea house, this pace was still closed, so could not try it.
What to take back from Lucknow
Chikan Thread work Is what Lucknow is Primarily famous for after Tundey kabab.
Sewa Chikan corner, Near Shia College, Sitapur Road is a tested shop, while Sewa s any outlet can be visited for Convenience.
Hazratganj, Janpath complex and around is good value for money for Chikan Sarees and exclusive pieces.
Sanjai Chikan House, Mirza Mandi, Chowk, is a factory outlet, And one has to go with time in hand as You might end up scanning almost whole shop for that one exclusive piece, but I bet, If you manage to find one exclusive piece of your choice, it will be cheaper than anywhere in the town, for the quality of work, and fabric.
Ittar or Perfumes while walking in the streets of Chowk, one can pick one of these as a souvenir a fragrant memory.g Smile,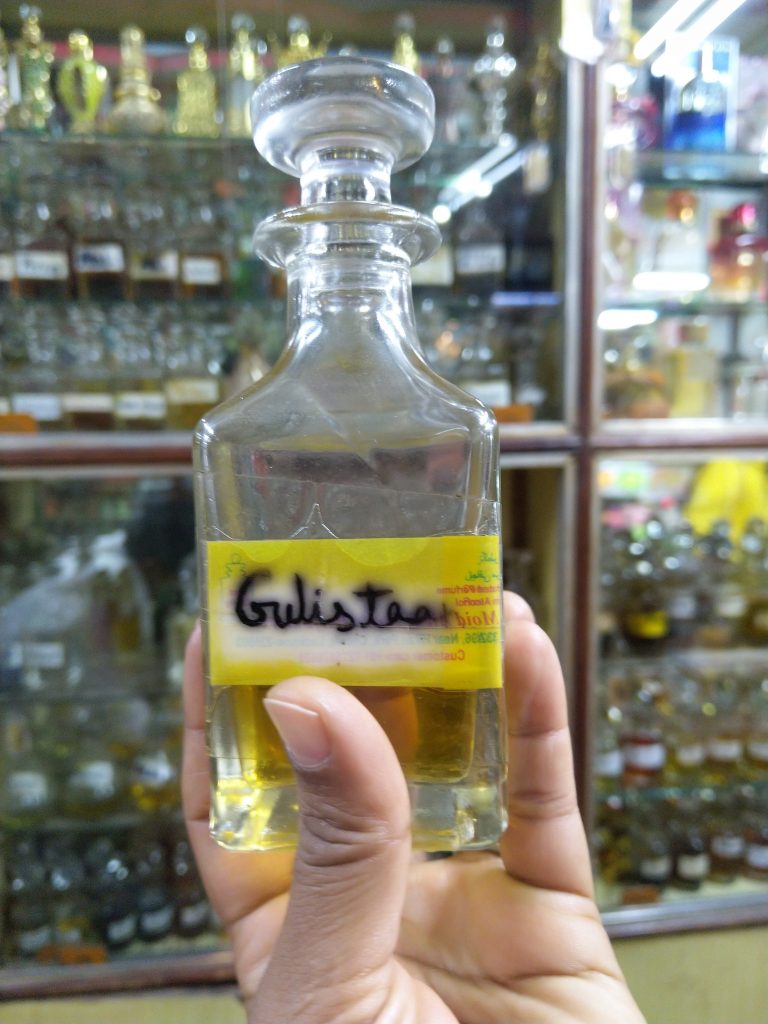 When U visit Lucknow, Carry a big Smile" Muskuraiye aap Lucknow mein Hein", And love for the people of the city, as they are Very friendly, ready to say" Pehle Aap", and ready to help, without any expectation in return, just a big smile, and a Thank You as they say in Lucknow…"Shukriyaa"
Do not forget to carry a Big Appetite,AS I bet You would need to adjust your "Yule Hole"