Besan ladoo….Just the way mom makes it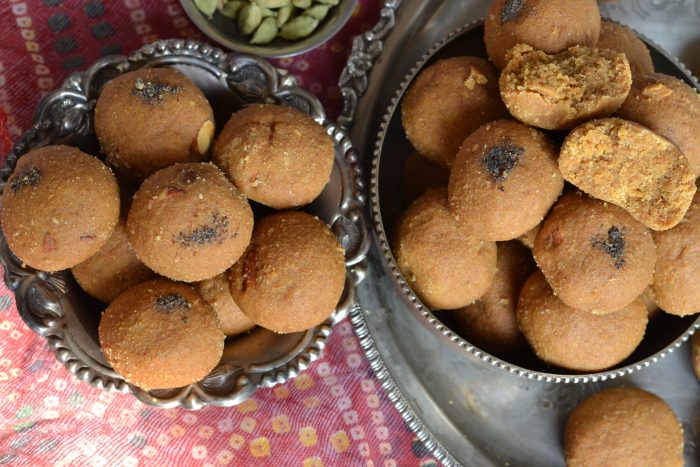 Besan Ke Ladoo, reminds me of Maaji( as I called my grand mother ), and each bitereminds of her sweet voice, her love, and how each time she would  visit us she would unconditionally bring A big kanaster( canister) full of Besan Ke Ladoo.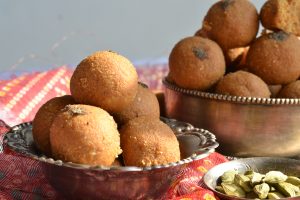 I have been making them since ever I could cook, myself, and carefully learnt it from my Maa, as Lost Maaji, much early in life, and now, the besan Ka ladoo connect keeps her in my memories, sweet as they are.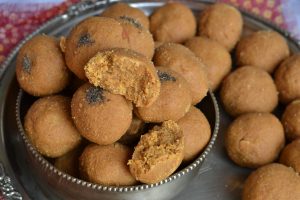 And Now As I make them every year in winters, I can feel the aroma filling my house, and that smile on my son's face. I know he finds a rare mention on my posts, as very few things excite him. And Besan Ka laddoo is one such thing after The Til Ke Laddoo, which his Daadu (grandfather) makes, and soon shall post the details on it.
Making Besan ke ladoo is not a big tricky job, unless, u fiddle th  recipe too much in the first go. i suggest one must follow any given recipe to the point, and fiddle it to suit taste… after you are confident about the whole thing. The traditional Recipes consume a lot of ghee, and that's the charm ofit. I have titrated the quantities of Ghee and sugar to a level, beyond which the besan Ka ladoo, may not taste like besan ka ladoo.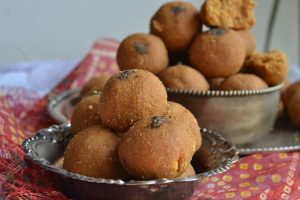 Traditionally Besan ladoo can be made with a lot of variations, like adding black pepper, or various other dry fruits, but I like it simple, with just loads of almonds and cardamom powder.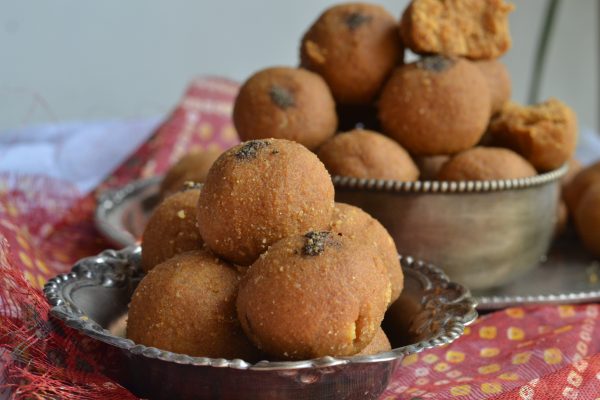 | | |
| --- | --- |
| | |
Heat a Heavy bottom Kadhai( a large skillet), and melt Ghee.

Add Besan and Start Roasting on High flame for 15 minutes.

Reduce the flame to medium and roast for another 30 minutes. The colour would change to bright Mustard.

At this stage the mixture will start getting fragrant. Now Reduce the flame to lowest setting, Add chopped almonds and patiently bhuno( roast ) to a chickoo ( Or walnut) colour.

Switch off the flame, keep stirring till the mixture starts to cool down.( for about 15 minutes) Allow to cool further for 15 minutes .

Add Boora, Cardamom Powder and Mix thoroughly.

While it is still warm try to make round Laddu. Arrange on a tray and wait to set hard before you store in an air tight container.
Possibly Use Coarse thick Besan ( Gram Flour), Ususally available as laddu Waala Besan, as it gives an authentic taste.
Use 600 grams ghee as mentioned or may be less( 500 gms) in warm weather for easy binding.
One can roast the beasn only for first two stages ( 45 minutes )  if u like it light coloured.
I always like dthe way mom makes it, so have timed accordingly.
The besan keeps getting darker even after switching off the flame.
Do not hurry to add Boora, as heat may melt it, making it difficult to work with while binding.
Follow the timings ( which work well during winters) In summers it may take 5-10 minutes less to roast on the flame, and 10 minutes longer to Cool. Please adjust accordingly.
Refer the Video for making Laddu