Banarasiyaa…..Ghats of Ganges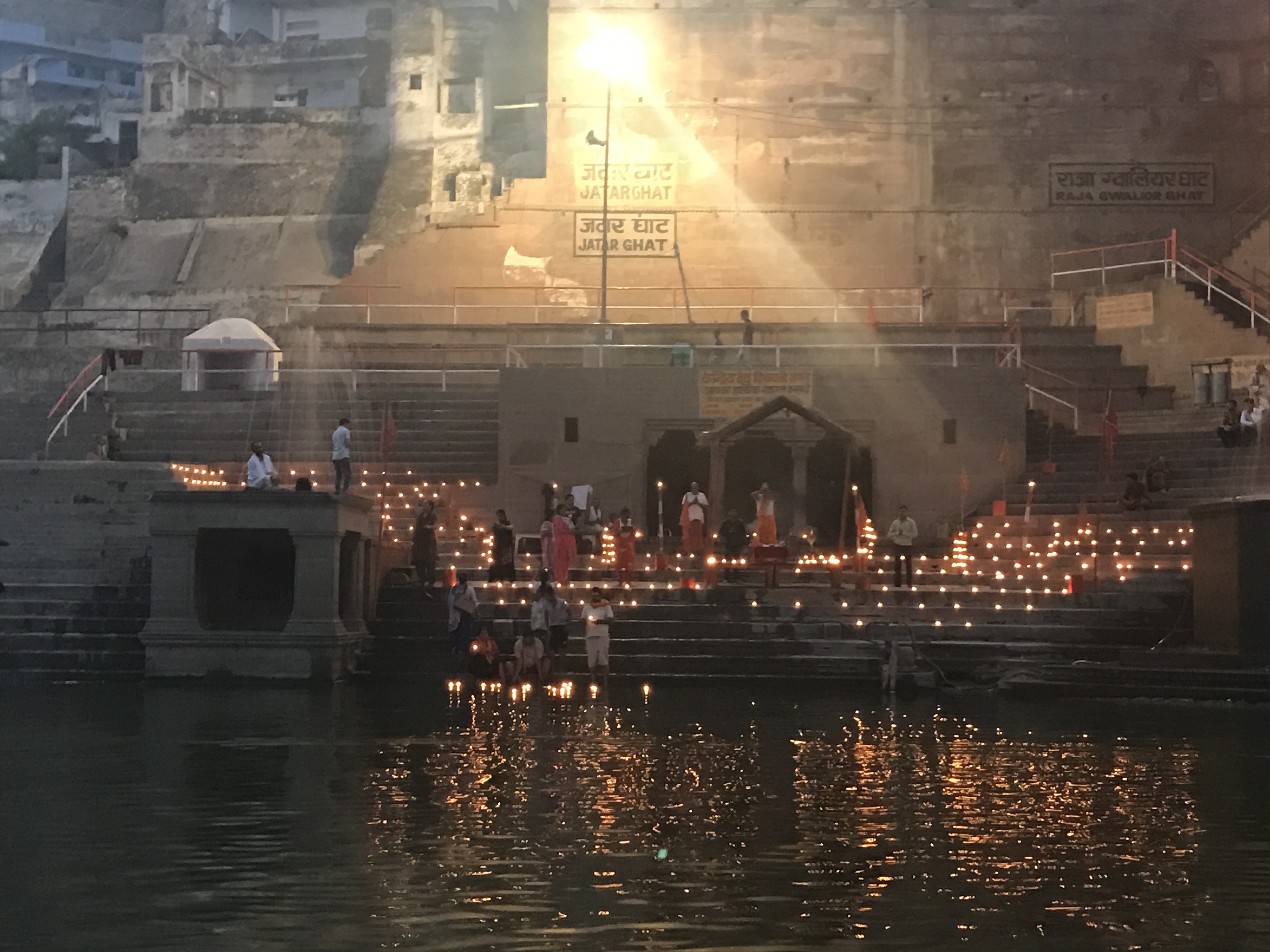 Banaras and Ghats of Ganges
My trip to Varanasi holds a massive chunk of memories from the Ghats. In this post, I wish to reveal all that I felt sailing through these Ghats and the stories woven around them, by the locals and some by a storyteller in me.
The first view of the Ghat I had was from A beautiful Mosque made by Aurangzeb The Mughal Emperor. This is called Alamgeer Mosque at the Panchaganga Ghat. ( Ganga Jamuna Saraswati Dhupapapa and Kirana) This Ghat also symbolises Hindu Muslim harmony.
The serenity with which the Ganges upheld its divinity holds inspiration to several poets and story tellers and finds a mention in our religious texts.
The depiction of Holy Ganges in Mahabharata teleseries in white saree comes alive when u see it.
I saw a gang of playful kids jumping into the water and having fun of their lifetime in the waters of Ganges. To them it is no less than a luxury to swim across the vast waters and no luxurious pools of the world can bring that adrenaline rush to these kids as the waters of the holy river.
A boat was waiting to take me and my girls gang on another expedition. Exploring ghats by boat looked exciting  and much awaited was the thought of seeing the popular ghats of Varanasi.
The boat journey  alongside the mesmerizing Ghats  never ending stories spun around devotees, beliefs and Ghats transforms the experience to another world.
Worth mention is " The  Leaning Temple of Shiva at Scindia Ghat " The stories of the king been cursed by his mother and the temple to be abandoned post this seems to be true as long as you are in the traveler mode but sitting back and thinking about it I wonder how conveniently these stories can take up for an architectural disaster!!
Each ghat has its own devotee caretaker cum sponsor community or family after which these ghats are usually named.
The ghats had something mesmerising about them with prayers and bells in common.
Manikarnika ghat is yet another popular ghat and forces you in deep thought about the world post death, and talking about Moksha reveals the infinite desires of life even for best after death….
I wish to have heard of something that propels the human in you to do GOOD KARMA during life and not bother on moksha after death.
None the less, the ghats and the mighty river just makes you tad more religious than you probably are in life
This is what is referred to as  Special effects !!
We were still discussing the truth of the death and life after death we saw past a beautiful bridge ( you find everything looks beautiful to a travellers soul ) and our travel guide agin took us to a poetic mood,
"Tu reil see gujartee hey mein is pul saa tharthataa hun" Poet romantically talks about the train going over the bridge and moving the bridge as a beautiful lady would do to his lover by walking past him ….
By the time we soaked ourselves in the stories, poetry and the romance it was sunset time and we saw lots of bots full of devotees, travellers hoarding around the dashashvamedh ghat,to join in for  the popular Ganga arti . and before we could sulk of getting late to find a correct spot to be able to see the Arti , me and my friends were led by our boatsman to another  boat with an upper deck and it felt like a Balcony first class reservation for the Arti. We felt special and lucky to have booked ourselves  with Robaroo…Thrilled with perfect setting and getting into our religious zone…we enjoyed each and every bit of arti . It indeed is a lifetime experience.
We disembarked at the ghat and took blessings from the priests. The atmosphere at the ghat after the Arti looked no less than a fair. Every one busy doing their own prayers, distributing Prasad( offering done to a deity) and some unusual scenes.
We explored yet another side of Varanasi at Assi Ghat. This is a recently developed part of Varanasi and is popular for the cultural evenings and modern day feel with cafes all over. It is relatively cleaner and much organised Ghat. The approach to reach the ghat is also convenient with organised parking and broader streets.
This place is always buzzing with cultural programs and has a different feel about it.
The cafe serves simple yet modern style food, nowhere close to what we have been eating for the past whole day.
With what it feels to be at Assi I call it " Goa in Varanasi."
There are a few shops here and there attracting non-Indians and Indian travelers as they sell some great wood artwork from that part of the country, some interesting jewelry pieces and some take back souvenirs.
My Journey through Ghats what no less than a soul search.
Next in the series, I would take you through a journey of soul satiety……through eyes of a food lover in the streets of Banaras