Candid Calcutta…Exploring Kolkata streets…..Through my Lens
Kollkata, Calcutta, one may pronounce as the wish be, but this city has something very mysterious about it. It might be significant on business and trade metro of India, but to me it came across as a mystical city that had hundreds of tales to tell. Right from the time I planned my trip  to the point when I landed, my mind was just getting more and more curious to grab each and every moment and memory on my camera and my mind.
Even now while I am penning it down, Kolkata brings a wave of emotions at the mere mention of it. This Post carries those  moments, which are  woven to make  a beautiful story in my Travel Trunk.
From what I read and heard, Kolkatta always appeared to me as a city, buzzing with people and markets places, motors taxi, hand carts, stories of Durga pooja, the white and red saree….list can go on, so I decide to sink in the feeling all by myself, which took me to the city like a curious wanderer, and I completely soaked myself in whatever came my way.
I prepared myself for the trip by connecting to a few people through friends who  lived there and could guide me through my journey on various small little things like I can't be waiting to ride a tram anywhere and should reach out to some specific places at specific time of the day to get the best  out of them. I am sure it was a great help on their part else could be a bit clueless for some time losing my mind to spot the best in the vast spread of what the city has to offer to me.
My Bread and Breakfast place  which is located at Ritchie road as per the mail sent, was the first challenge to find as I realized much later that the  name is given in address and the one my google map was taking me to, turned out to be the same, and the confusion was created by the latest political influence of going regional and patriotic over keeping local names to the streets, instead of the British names. But frankly these British names have given Calcutta the Identity on which it thrives and I wish some of it could be retained.
This confusion of desi videshi names pertained till the end of my trip, but through it, I kind of got the hang of it, and could navigate throughout the city like a pro.
My Bnb place needs a special mention as my host Vinita greeted me on arrival, made me comfortable with the place and the city by handing over all the required literature and contact details. Already a fan, the humbleness and caring attitude, started building up my love for the place.
I was a bit overwhelmed as I wanted to see the city in every possible way, Like a tourist, Like a local and so like a foodie. And knowing the fact the time is limited, I kept it simple, to take it as it comes, and enjoy my tea with each sip, I started the trip heading for a Bomg feast.
And my first Bengali meal was at a posh restaurant at 6, Ballygunge, that served authentic Bengali food without any extra pomp and show yet was really classy in its feel and service. The decor of the place, the staff all were very welcoming, and for a new to city kind of person, it felt at home. The spread of food was new to me as the names came across as some puzzle. This was taken care of by the humble staff. They all took me as an ignorant, inquisitive traveler for whom Bengali food looked too overwhelming.
In no time I had my plate full of some of the best from the cuisine….Ruhu Shorshe,  Dhokar Dalna, Mangshor Jhol,  Golanda Chicken Kaasha, Bhaja masala Dum, Aloo Tamatar Bharta, Saag Bhaja, Kumrophul Bhaja, are a few names I can now flaunt to have had tasted in one single meal.
Each and every spoon I had, was bursting with flavors and made me feel hungry for more.
"Hey ma'm would you like more"…The lady looking after e kept asking!!
"Oh god, I wish I could carry some extra space both in my head and my stomach" ..was my inner soul shouting and struggling to console me…
With a full tummy, and a heart still wanting more excitement, I  left to explore some more places around and what I could feel that the cafe culture had taken over the city by a quiet storm.
A quick tea ta Karma Kettle, and shopping  , scanning the places , feeding my Curiousity, I returned back to my BnB palce and , while i was having my much  needed cup of green tea sitting in their library area, I saw these fields with clothes lines..and again the lightning kind of thing like in  bollywood movies hit me and I was all set to pick my camera and walk to the dhobi ghat which was apparently sharing the walls with my room, which I came to know only the next morning when the sounds of the washermen thumping the clothes woke me, the  care taker stopped me from heading on to that place at that time like a sincere host, as he knew I would get to capture more than I could have wished, in the morning hours.
Evening already seemed to be exciting as we got a unplanned invite to attend a Bangla wedding…It was a gastronomical and cultural extravaganza, with the guests flooding the dining hall, and chitter chatter. The fish fry and the Noler rosogulla were my favourite through the meals.
A tired me woke up to the sounds of thumping of clothes, and served a well-deserved alarm, as I was sound asleep. Least did I bother to change, and just covered myself in a jacket, as Kolkatta mornings were a bit cool at that time of the year.
Following my instincts, Not the google map, I reached The South Kolkatta dhobi Ghat, and seeing me carrying a cameraa, the locals there could well guess my motive.
Crazy enough I captured multiple shots, and went around seeing how the whole dhobi ghat worked  with piles of clothes all over. Wondered how they even Identify the clothes, as they all looked just the same. But as all know they would know their work better . Worth an experience as I might rarely get a chance to see such a place in person, though more often on screen.
Wrapped up the dhobi ghat mission, and decided to Visit the famous fish and flower Lake market, and as it was just about 3 kms away, ran my way, just to serve my guilt of overfeeding myself, and anticipating the forthcoming treat.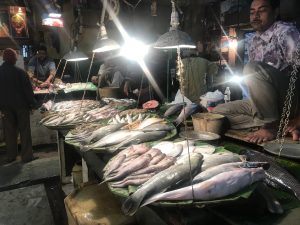 LAKE MARKET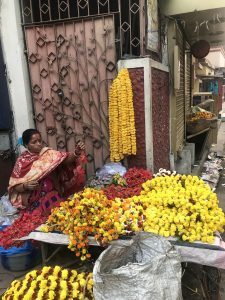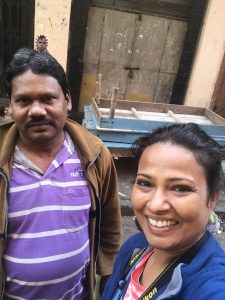 A quick walk around and then I landed at the famous Maharaja Kachuri shop, which is so spottable looking at the crowd from a distance. Happy to be there Gulped twice as much I could with tea from kulhad, also tasted good, despite it being not my kind of sip of tea.
Walked back my way, capturing little nuances of Kolkatta, taking Tram from where ever I could, least knowing here I am heading to, Just Happy capturing all my excitement.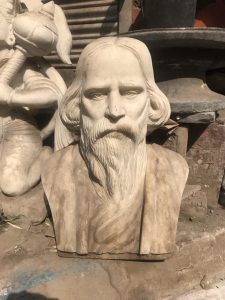 As My bunch of crazy friends is joining me,  I will be in a different gear, riding the excitement, and looking at Kolkata in a different way.
More from Park Street, Kathi rolls, And Kasturi, In my next post, before you get the burps Unmanageable.