Mamidikaya Pappu…….Andhra Style raw mango dal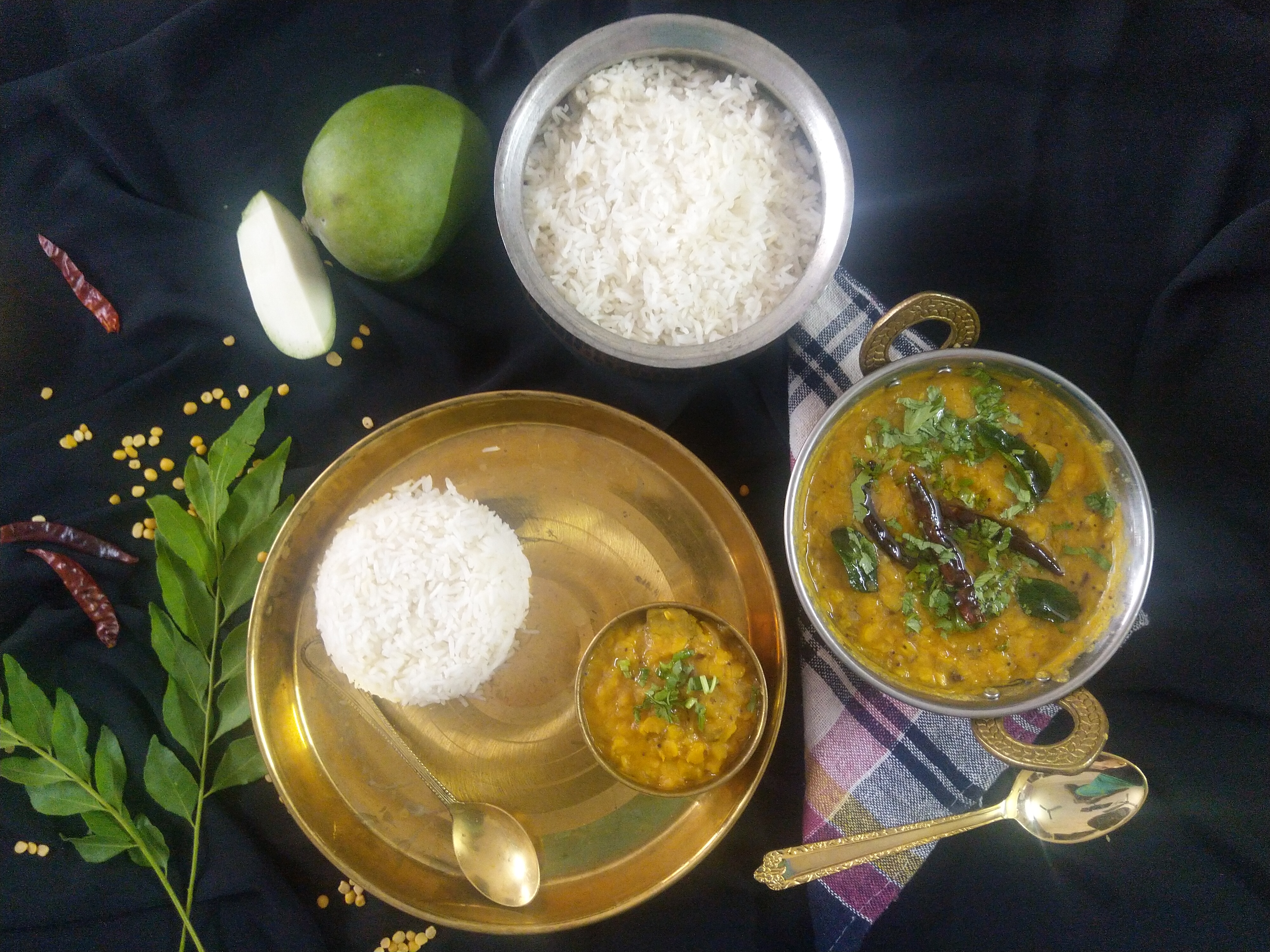 Summers and Mangoes are like universal companions, and more for me as I wait for summers only to be able to indulge in my favourite fruit in any form. Mom and Naani has played a major roll in creating this love for the fruit, when they would have baskets full of raw mango in the kitchen, to make Aam Panna, or add this to the chutney for that different tang. And I would ask for a mango slice to just pit some salt and eat just like that. I am salivating even while I write about that insane slice of mango and salt.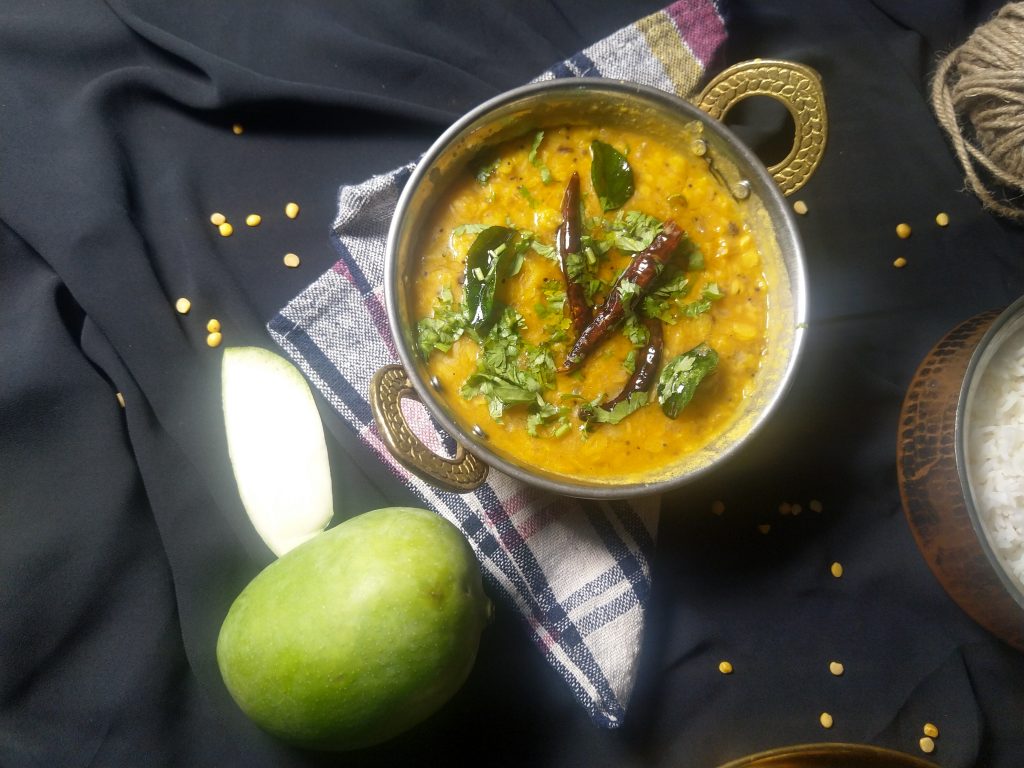 A few years back while I stayed in southern India, my Telagu friend would cook the daal, and it reminded me of Naani. Trying to replicate the recipe, as she taught me. and tell you it is super easy.
Our regional cuisines are such a treasure, that one can adopt the best of them , and enjoy the seasonal fruits and vegetables to the best of their benefits.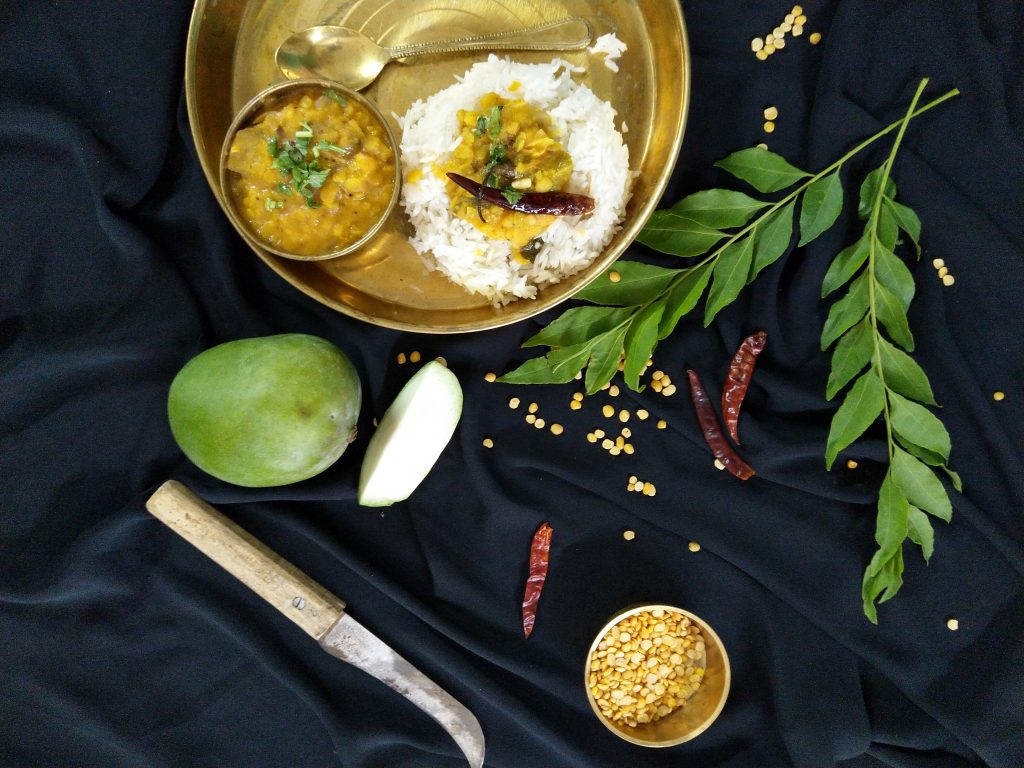 Green, unripe mango is used extensively in Indian cooking. Several varieties are especially cultivated for using raw. Green mango could be picked long before ripening while it is still hard. The fruit is grated and added to dals and vegetables, or made into chutneys and pickles. The ayurvedic qualities of Raw mango are sour, astringent and cooling. Raw Mango should not be eaten alone or in large quantities because they can aggravate the doshas, especially Pitta dosha. However, prepared ayurvedically, in combination with spices (for example, in a chutney), they help digestion and improve the flavor of food.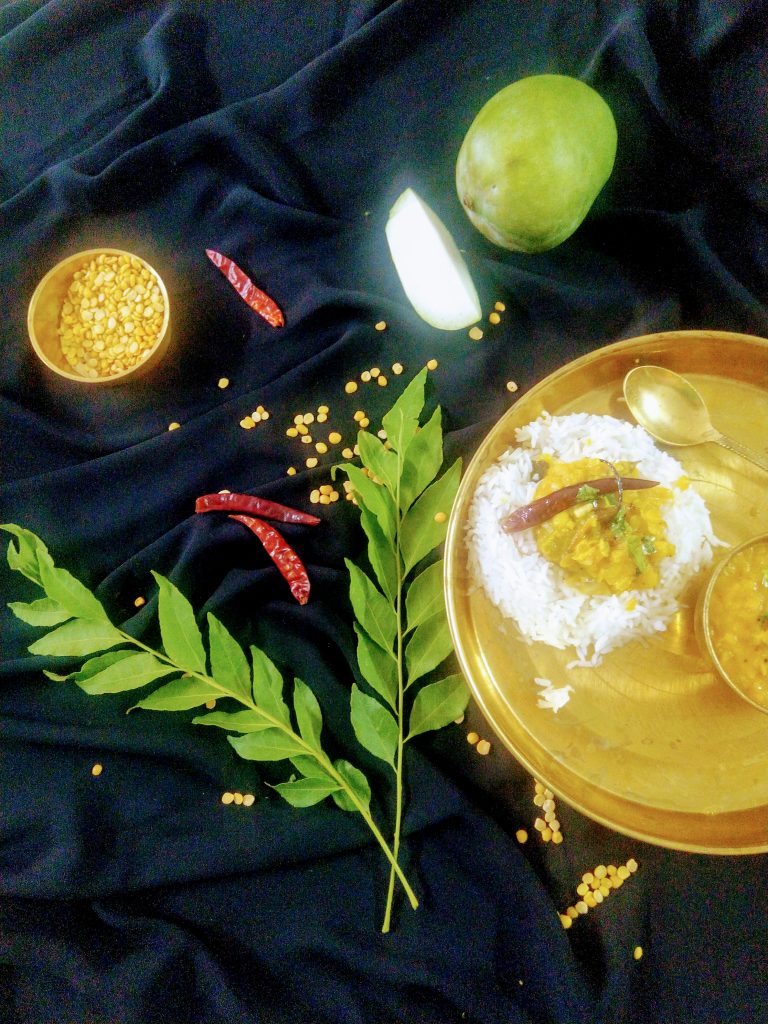 The recipe can be used as a sambar also, as it is made of toor dal, and is tangy and spicey almost like the sambar.
In a pressure cooker put washed and soaked Toor Dal ( Soaked for at least One hour).

Add Turmeric and 2 cups of water, and allow to Boil.

Now cover and cook for 2 whistles, so the dal is cooked ,still not mushy.

Meanwhile, add oil in a pan, and add Mustard seeds, Fenugreek seeds, and curry leaves and allow to splutter.

Now add Green Chilly, Garlic, and onions and cook till onions are soft and transparent.

Now add cubed raw mango, and chili powder, and add 1/2 cup water. Cover and cook till mangoes are soft yet not too mushy.(About 10 minutes)

Mix the cooked mango masala in the cooked dal, and salt to season, and allow the mixture to come to a quick boil.

For final temper, Heat one tsp oil, add Curry leaves and red chili and temper the dal on top.

Garnish with chopped coriander and serve with Boiled Rice.
1. One can choose to soak the dal for a little longer, to reduce the cooking time.
2. I have used the raw mango to suit the taste tanginess of my family. It can be reduced or increased according to your palate.
This is best served with Rice but also goes very well with chapati.