Coconut Crusted Beer Prawns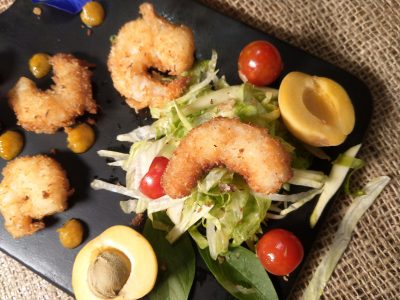 Party food, is all about mindful planning, churning out some quick easy recipes, which are tasty at the same time. I personally like to do this kind of on the go recipes, which can be just done in a few minutes.
This particular recipe had always been made in a vegetarian version, with bread crumb coated vegetables, in my parties, until one day, while I had to submit a recipe Made with Wheat beer, where I tweaked my existing recipe, with addition of beer to the batter, which gave me some surprisingly beautiful results. Not that i worked with beer for the first time, but here in the batter it just made a great difference, even in flavours.
I used Coconut on the prawns, as I personally like toasted coconut, and just had a khao suey meal before thinking about this recipe, so just thought of trying to do this, and it turned out super cool.
If you don t have flaked coconut, just flake a dry coconut, and toast it in a hot girdle, or oven.
Mom never added egg to a frying batter, and always see her using baking soda, instead. Here I am taking the liberty of adding egg, as it adds to that extra flavour.
Try serving it with a homemade sweet chili Thai sauce, another very easy recipe.
Try it today and see how u would hook to this recipe for your upcoming parties.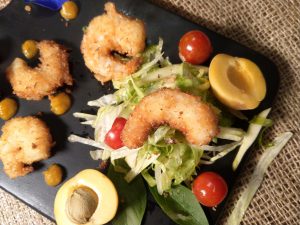 | | |
| --- | --- |
| | |
Mix Maida, Rice Flour, Eggs, Salt, and make a smooth batter by adding beer.

Clean the prawns and dab them dry, on a kitchen towel.

Dip them one by one, shaking off excess batter, and roll in the shredded coconut, pressing it to stick the flakes well.

Keep them ready on a plate, while heat the oil.

Once the oil is hot, fry the prawns until brown and crisp.

Drain on a kitchen towel. Serve with red Thai sweet chili sauce
I have used beer for an earthy flavour, and also as it adds to the lightness of the batter. You can replace it with soda water, or simply add Water and 1/2 tsp baking soda.
One can use vegetables or tofu instead of Prawns for a vegetarian version.
One can use regular Bread crumbs to coat the Prawns. 
U can easily skip the egg and just ass a pinch of baking soda extra instead.