Homemade Sweet Chilli Thai Sauce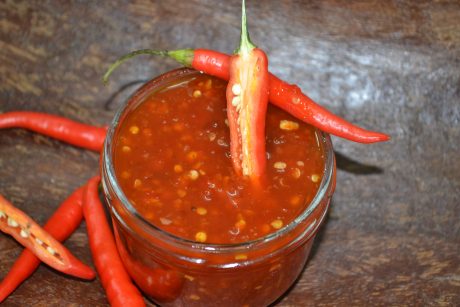 Sweet chili sauce is essential at my house parties, as a perfect accompaniment to almost anything from a cracker to pakora, be it Indian, or continental.
I had been buying a store bought one for years. As I am constantly trying to make my own sauces and spices, I plunged into making my own version. This way I could control the sweetness, and avoid preservative laden products.
This recipe gives a jar of sauce that can be kept refrigerated for as long as you wish. No need to add any preservatives, as sugar itself acts as a preservative.
Best thing is this works for multipurpose, like a dip, like a stir fry for my honey chilli veggies, or just like that as it is finger licking good.
An essential for a party, try it today, and share how you like it.
In a heavy bottom pan, heat oil, and add Garlic, ginger, chili, and roast for a few seconds on high flame.

Now add Water, Rice vinegar, and sugar and cook till it starts getting syrupy. For about 6-8 minutes on hish flame.

Add ketchup, and stir in cornstarch.

Remove from flame, and allow to cool.

Now store in a glass jar. Refrigerate.
I used large red chili and removed the seeds. Smaller ones are very strong, you can use half the quantity mentioned.
Synthetic vinegar can be used if Rice wine vinegar is not available.