Sattu/Sattu Drink recipe/ Sattu Benefits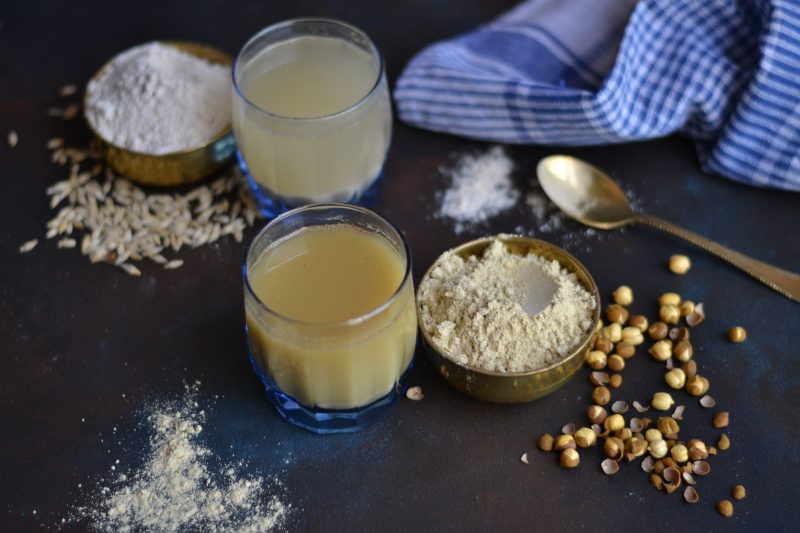 Sattu is a poor man's meal. This saying is popular in Rural India, where Sattu is considered as a complete nutritious meal. Sattu is powdered black chana. It is high in proteins, fiber, and nutrients and the same time an excellent coolant.
Sattu to me is an example of one ingredient which is humble and simple yet full of nutrition and wonder properties.
In high dry temperature zones in India, where farmers sweat and work hard in sun in the fields, sattu is considered as a savior.It has different versions through the various states in India, it is consumed in Madhya Pradesh, Bihar, And Punjab., In Punjab it is mixed with barley and white millet flour.
I had only seen sattu drink being sold along the highway when we would travel to my grandmother's place in Punjab. I was never fascinated to try it at the sight of it. Then when after my marriage, I saw my Father In Law having his stock of chana powder ready every summer, I got curious about it, and it is He who first shared his knowledge about the wonderful food.
He also shared that he keeps powdered Barley and Black Chana Powder separate. and Sattu can be made with either of them separately mixed into chilled water. He usually does not add any sugar or salt to the drink, But I realise it is not highly palatable that way.  A dash of salt with some roasted cumin powder makes a difference. this was my way of adopting the drink. One can some sugar instead of salt to make a sweet version of Sattu drink.
Drinking Sattu Drink, helps you to stay energetic, for long hours. Summers means high sweat and dehydration. So after a tiring day or a long sweating workout session, when you have exhausted all the energy, A sattu drink, keeps you cool and hydrated. It brings down the body temperature and at the same time keeps you full  as it is high fibre content. So it is very good for weight loss for the hunger pang moments.
Sattu  has a low glycemic index that keeps your sugar level in check. So a plain Sattu drink is suggested for diabetics diet.
| | |
| --- | --- |
| | |
Take chilled water and mix in all the ingredients.

Stir well as the sattu powder tends to sink to the bottom.

Garnish with mint leaves and serve.
This is a salted version of the drink.
There is a sweet version where you need to mix in the same quantity of sattu to water, skip other ingredients and Mix in  1.5  tsp sugar for each glass of the drink. You can garnish with mint Leaves/ cinnamon stick.
It has a very filling effect after consumption, so consume it as a mid-day snack or after exercise, for benefits like weight loss, or for a Diabetic diet.
For more such tradiional recipes you can read my recipe on panakam.