Heeng Pickle(Delhi NCR only) 500 grams
About the product
Raw mango Slices mixed with a selection of spices and dunked in Mustard oil. A traditionally home made pickle.
List of Ingredients
Raw Mango , Salt, Yellow Mustard seeds, Fenugreek, Fennel, Tumeric, Asafoetida, Red chili powder
Net Qty.: 1
Delivery charges as applicable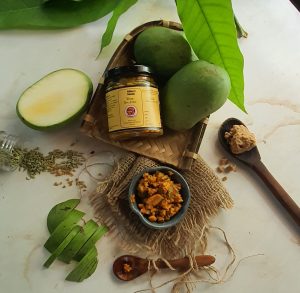 Declaration regarding Veg or non-veg
Vegetarian, non Dairy Food.
Declaration regarding Food Additives
No food color or preservatives have been used
Specification:
Heeng Pickle(Delhi NCR only) 500 grams
Reviews
Only logged in customers who have purchased this product may leave a review.
Related Products