Mango Fleshy Heeng Pickle(Delhi NCR only) 500 grams
About the product
Raw mango Slices mixed with a selection of spices and dunked in Mustard oil. A traditionally home made pickle.
List of Ingredients
Raw Mango , Salt, Yellow Mustard seeds, Fenugreek, Fennel, Tumeric, Asafoetida, Red chili powder
Net Qty.: 1
Delivery charges as applicable
Miles N Meals Kitchen thrives on traditional recipes, straight from my naani and mom cookbooks. We have just bottled that same love and ingredients to bring that homely flavor to your table.
Aam ka fleshy Heeng ka achar is our take on traditional aam ka achar. Small fleshy tiny pieces of mango, a few spices like fennel and mustard, and lots of heeng with just a dash of Mustard oil make it convenient, and perfect for those who love the umami of heeng.
It has a long shelf life, stays crisp, and comes in two jar sizes.
We use only hand-pounded masala, prepared at home from scratch.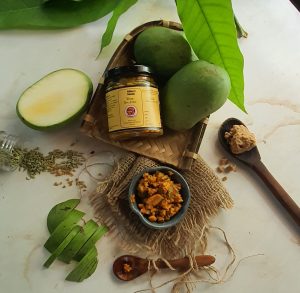 Declaration regarding Veg or non-veg
Vegetarian, non Dairy Food.
Declaration regarding Food Additives
No food color or preservatives have been used
Specification:
Mango Fleshy Heeng Pickle(Delhi NCR only) 500 grams
Reviews
Only logged in customers who have purchased this product may leave a review.
Related Products