Navratra Special Buckwheat Kuttu Chapati with Bottle Gourd curd dip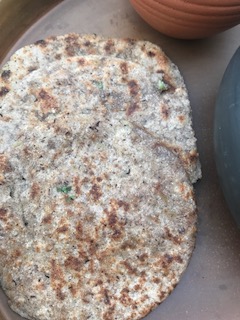 Fasting during  Navaratras bring a challenge to chose wisely from the available  ingredients and cook in today's  busy lives with minimal preparation. In the series of no fuss festive fasting cooking  I would like to mention that mostly there is a notion about Buckwheat popularly known as Kuttu that it is a very difficult ingredient to work with and requires acquired skills.
I have seen my mother and naani ( maternal mother ) working swiftly with this ingredient in forms of  poori( fried  bread), Chapati( dry roasted Flat bread), Parantha( shallow fried flat bread).
It just requires correct proportions of a few things and a focused mind to get to a platter of complete meal at the end of all.
Presenting my all time favorite  Kuttu Ki Roti served with Curd mixed with Bottle gourd.
Simple Paneer gravy makes a great accompaniment.
Bottle gourd and curd raita is believed to cut the heat quotient of Kuttu ( buckwheat ) while serves as a perfect accompaniment. Buckwheat flour is often mixed with water chestnut flour to enhance flavour. These flours being gluten free also serves as a perfect meal option for gluten allergic individuals.
To provide binding to the dough I have used potatoes which are very important to be cooled before grating and adding to the dough mix as this helps in no sweat dough which retains its consistency.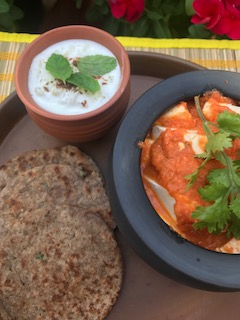 Kuttu Ki Roti/Parantha
the Raita
Curd                                 1 Cup
Bottle Gourd                100gm
Cumin Roated              1/4 tsp
Mint leaves                  5-10
Rock Salt                      
For The raita, peel grate and boil bottle gourd.
Whip some homemade chilled curd, add cooled gourd and add rock salt and roasted cumin.
Garnish with mint leaves.
Serve hot chapati/roti/parantha with chilled curd dip(raita)