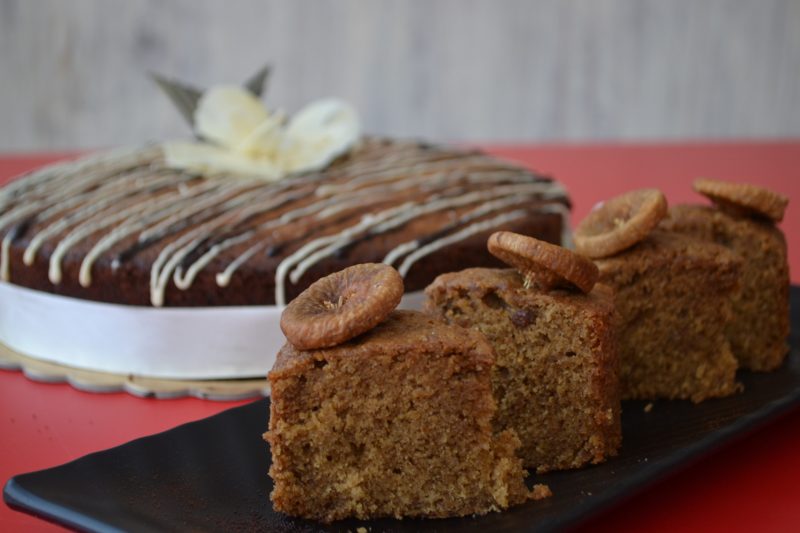 Birthday celebrations with friends just add an extra pleasure into baking. Baking for friends and family is what makes me happy any day. My friends are not so demanding but they just call up for something different every time. I wonder that is enough of demands to keep me looking and find ideas on new flavours, new ways to make their moments special.
One day when a close friend called up requesting me to bake a cake for a midnight b'day celebration, she specifically asked for" an adult flavour". Now that raised a bow, and I was like ok …let's have some spice, some coffee, some Barbados Water …..baker's favourite Rum and some figs to lift the flavours up a notch..And voila our cake idea was here…A spiced coffee, fig and rum cake… with white chocolate drizzle.
This recipe is super simple to an extent that my daughter Si makes it very often………….Yes Its actually a child's play……Just try and I bet u cannot go wrong…..
Spiced Coffee Fig and Rum Cake…with a white chocolate drizzle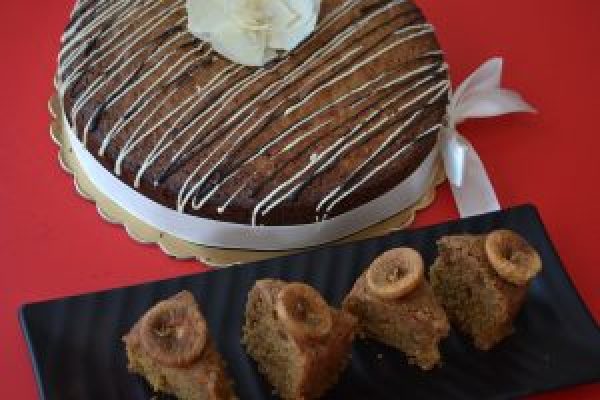 | | |
| --- | --- |
| | |
Preheat The oven @ 180 Degree C.

Prepare a hot concoction of coffee and pour it over the figs, to soak them in the flavour of coffee.

Take a 8 inch round pan a grease and line it.

Blitz the soaked figs in the processor to a roughly ground mixture.

Now mix all the ingredients in the order given in a big bowl and whisk it with hand or use a electric beater. Mix it to a smooth mixture

Fold in the coffee soaked and ground figs to it.

Pour it in the tin and place it in a preheated ovcen at 180 degreeC for about 20-25 min.

Allow to cool, slice and indulge.
1. I like my cake simple without any added fancy icing but as this was demanded by a dear friend for a celebration, I chose to drizzle some white chocolate to enhance it and decorated with a chocolate flower.
2. It can be soaked with Coffee syrup for an intense Flavour. ( Make Coffee Syrup By boiling 1/4 Cup of water with 2 Tbsp of sugar and 1 tsp Instant Coffe powder, and use to soak the cake by drizzling when cooled)
3. You can choose to chop the figs and not grind them. U can increase the quantity to double in that case ( 150 grams of Figs)
4. Add walnuts for an extra texture.