Chaach/Masala Chaach/Spiced Buttermilk
Buttermilk, Chaach , as my grandmom would call it, is a well known, and popular worldwide and  is one traditional drink which finds its roots in Rural India. In my childhood……I know my child hood has a whole treasure of memories, which are finding significance now…I saw my aunt who lives in a city of Punjab, churning the set milk in a big pot and a long rope going around the large baton standing in the pot. A dash of spices makes it special, and a glass of Spiced Buttermilk is no less than a treat, during summers, or actually any time of the year.
Least did I know that this wonder liquid,chaach,which is the leftover after Bhauji ( as I would call my aunt….My dad's Sister) `collected the butter from the top, which was the only valuable stuff to us as kids….that liquid had more importance which we never realised and only knew that it will go into the KADHEE that is made at home quite frequently due to a constant supply of this liquid.
This wonder liquid is what is called Buttermilk, Traditionally and in the Original sense. It is light and very refreshing and did her from the elders in the family that it prevents heat stroke and cures stomach ailments..We call it LOO…..( don't think otherwise) ……In the north, the heat waves are referred to as the term and they are believed to cause heat stroke and bad stomach..
To add to its benefits, it is seasoned with black salt and roasted cumin…
In Punjab, it is referred to as  "MATTHAA" and there is another popular belief there in Punjab, that even if you visit someone's home as a stranger, the first thing they offer you is MATTHA….as a hospitality symbol, which is a trademark of the state.
Then I got married to a household with a Punjabi backgrou
nd and I heard this term again, when I saw my dad in law will happily stock packs of readymade matthaa  From the Mother Dairy outlet, as he likes to be independent when it comes to his food and shall pour a glass and enjoy after his walk. Still did not really start appreciating it.
It was only when I was struggling to reduce my weight, post-pregnancy, I started drinking a glass of buttermilk as a filler a developed a liking. It tastes great when seasoned with some spices and herbs. I saw another version of it down south while we stayed there…It is seasoned with a tempering of mustard and curry leaves…and it gives the buttermilk a very different taste and makes it very local as it always existed in this part if the country.
Buttermilk is another hot favourite…Ummm…I mean…….Favourite in hot summers……at my In-laws….household…Dad In Law swears by a glass of buttermilk any time of the day…He even likes to soak his Chapati(Bread)  in buttermilk and enjoy as a mid-day meal….Broken Dalia cooked and soaked in a glass of buttermilk is a summer favourite in rural India, It is called RAABRI…and it is cooling in nature and high on energy….apt for heat in fields and a farmer's diet.
Buttermilk is mistaken as Lassi by many. But there is consistency and constitutional difference, wherein Lassi is much high on fat content and is purely curd. Whereas Buttermilk is a light drink which is partly curd and mainly water if made otherwise and traditional buttermilk is complete fat less liquid left after churning the cultured milk.
My recipe is a very simple and suites urban homes as it is not made by churning the cultured milk but I use a part of curd and dilute it with water and churn it in a blender to have frothy buttermilk and season it to taste. This might sound like a hack but it is one method which is feasible in present times.
It is the most humble drink collected from churning the butter. The leftover liquid after collecting the fat from churning the butter is traditionally known as buttermilk. In the absence of these hearty methods, a diluted Drink made with curd is used as buttermilk, which is seasoned with black salt and spices.
Take the fresh curds and water and blend it in a blender or use a traditional hand blender, and churn it for a good one minute.

Now add Salt and roasted cumin powder.

Serve chilled garnished with chopped coriander or cumin powder.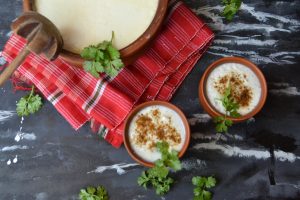 The consistency of buttermilk can be adjusted.
It is best consumed thin and diluted.
Make fresh when required as the properties of stale buttermilk change.
Spices like chili powder can also be added.
Additional tempering of mustard and curry leaves can be added on top to suit the taste.
A  small slender hand blender is   handy  for making a quick chaach,