Bengali Bhog Khichudi/Moong Dal Khichdi
Khichudi or khichadi has many forms and different significance s in different cultures in the country. Globally also this is a form of comfort meal in a bowl, more like a porridge.
Bengal is known for its exotic dishes. And Durga puja celebrations, see the best of food been cooked across the state.
Bengali Khichuri also is known as Bhog khichuri, as it is cooked in the puja days, and made with a no onion garlic way. These dishes are as delicious as much as any other fish or mutton dish for their simplicity and flavors.
I like the use of special grain rice native to the region. Gobindobhog rice gives a beautiful fragrance to the dish. And the moong dal, and vegetables, along with the spices, make such a divine bowl of Prashad.
I was introduced to this special grain and the puja cooking, during my first visit to the city in 2017 . A local friend of my close friend Priyanka taught me a few Puja special dishes.
It becomes center of attraction, in any puja ceremony, during Durga puja. Actually, I make it more often for its delicate flavors and creamy texture. I pair it with a big bowl of curd and Baingun bhaja( the aubergine fritters).
This is a simple porridge made of special short-grain Gobindobhog Rice and moong dal ( yellow split dal) and a medley of vegetables and spices. Made without onion and garlic, especially for Durga puja. This short-grain rice has a beautiful fragrance, and sticky after cooking character makes a perfect khichuri.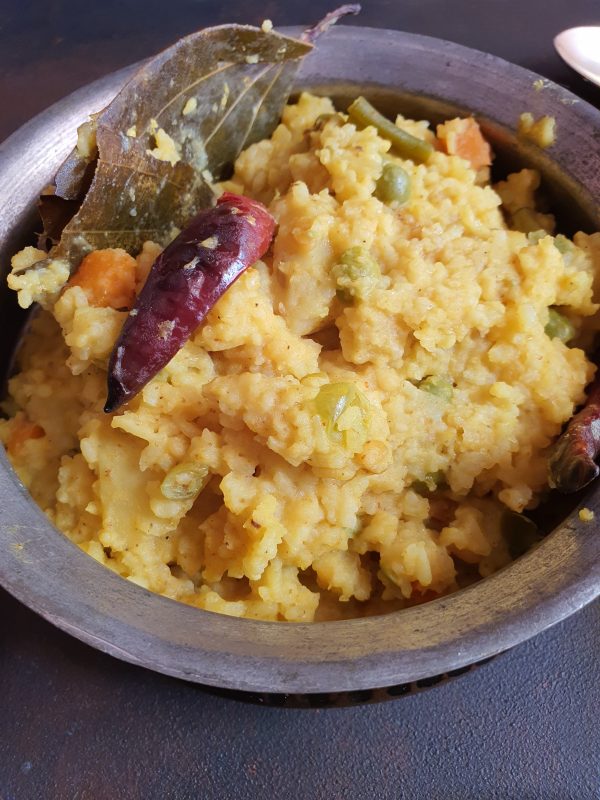 | | |
| --- | --- |
| | |
Wash the dal and rice separately. Drain the dal.

Heat a heavy bottom pan and roast the dal well.

Now soak the roasted dal along with the washed rice in enough water.

In the pan now add oil, and roast the cauliflower to little brown. Now add the potatoes and later the peas. Keep them aside

Heat ghee and add whole spices, and roast till fragrant.( about 30 sec)

Add roasted vegetables, and powdered spices.

Now add the drained grains ( rice and dal) and add 3 cups of water ( you may use reserved water after draining the soaked grains)

Now season with salt, and cook on low flame for 8-10 minutes or two whistles on medium.

Once done, the grains should be mushy and mixed, and still a little gruel kind.

Add a spoon of ghee and serve with Bengun bhaja and papad.
1.Roasting the dal brings out a nutty flavour.
2. Gobindobhog rice can be replaced with any short-grain rice, or if not available then basmati ( for fragrance)( altering the water quantity to make a right consistency gruel)