Baked handwo,traditional Gujarati handwo,Savoury rice and vegetable pancake,
Indian cuisines have one thing in common. There are many healthy and wholesome recipes in every Indian cuisine.
Gujarati meals are one of the most popular amongst Indians.
The most common being dhokla and thepla.
Gujarati recipes use a lot of pulses and vegetables along with ample use of milk products.

Handvo is one recipe which I found, is very versatile when it comes to the method of cooking. It is another example of a wholesome meal.

Handvo is like a savoury pancake.
It is traditionally made in a pan and cooked over low flame. It is then served as breakfast with chutney.

I first had handvo at a friends place. I immediately knew that I am gonna make some soon. The flavours of simple spices sesame seeds and the juices of the chunda pickle made it last in my head.


Soon after I tried my hands on this recipe, I did experiment with it . And tried my versions of cooking, with it.

In this post, I have tried speaking about three ways of cooking handvo.
The recipe makes an interesting muffin style savoury snack for kids.

I have tried, not to take away the traditional authenticity of the recipe.

When baked, handvo reminds of breakfast muffins served in European culture. These muffins are equally liked by kids.

This is a to keep recipe as it is healthy simple and delicious.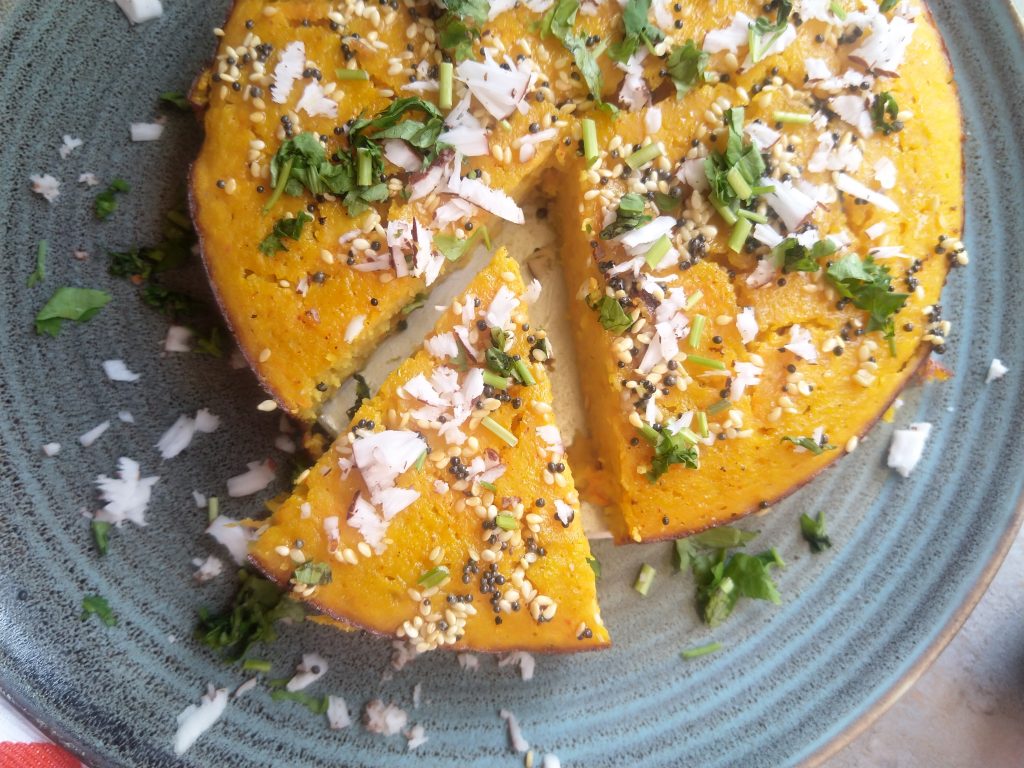 | | |
| --- | --- |
| | |
Wash the pulses and rice and soak for at least four hours

Mix in the curd and grind to a smooth paste.

Keep aside to ferment for about 5-6 hours or longer in a cool climate.

Add grated carrots, Bottle gourd, chillies, and ginger, along with turmeric, chili powder, chunda syrup, and salt.

Keep an 8 inch cake pan ready by greasing it with ghee, and preheat the oven to 180 degree C

Now add fruit salt to the batter and pour it in the pan.

Sprinkle sesame seeds, and bake for 30 minutes or until the tester comes out clean when inserted.

Prepare a temper of mustard seeds in one tsp oil, and pour over the inverted Handwo.

Garnish with chopped coriander and grated coconut, Serve with coconut coriander chutney.

One can bake the Handwo in muffin tray as well, for 20-25 min.
To make traditional Handwo
After the batter has been fermented, and the vegetables, etc have been added (Step 4) Heat a heavy bottom pan/ girdle, heat 2 tbsp oil, and add sesame seeds

Now add a thick layer of the batter, and cover and allow to cook on low, for 4-5 min

Once cooked the sides will look brown and crisp. Carefully turn the handwo and allow to cook on the other side for another 4-5 min.

Now invert on a plate to serve and temper and garnish the same way as above.
One can choose to bake the Handwo in savory muffin style, by baking them individually in muffin tray for 15-20 min.