Chilled corn and coconut Soup
Summers and soups
Chilled summer drinks are a part of Indian Culture. But chilled soups are not very popular in Indian households.
We as a family also never knew of them. With time and busy schedules, I took to a quicker and healthier kind of cooking. My experiment mode was on in the kitchen, due to the bug of cooking in me.
Travelling introduced me to Chilled soups
My traveling took me to places. During my travel, I came across many new food cultures. Gazpachos or cold soups are popular in Spain, Europe. I happily adopted them due to their many plus points. I got many such recipes through my travel experiences. Like this bowl of chilled corn soup, is just apt for a quick meal and any summer evening.
Make a complete meal with this corn and coconut soup recipe
We usually like to take boiled butter corn on the cob alongside spiked with some chaat masala, to get a fill. Which completes the dish as a meal, with minimum effort.
On days when I have some extra time in hand, a few boiled eggs or a toast make sit a complete meal. This recipe has no cornflour or starch. It makes the soup, very healthy, lite and comforting.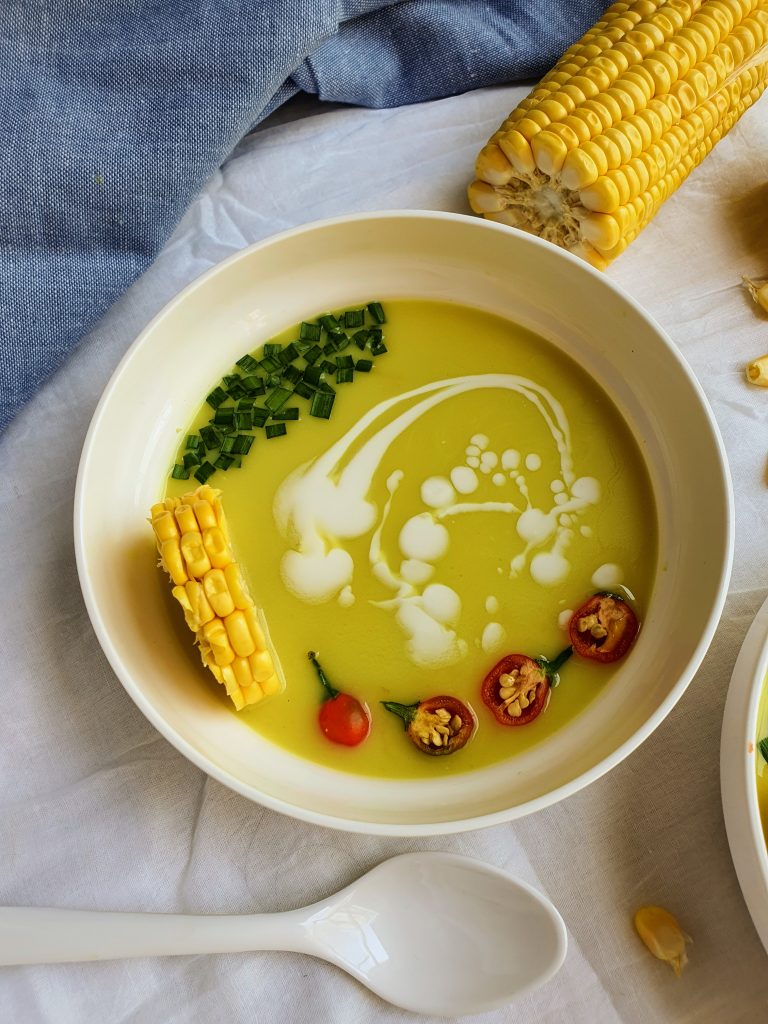 No lengthy cooking, no sweating in the kitchen in summers
The quick recipe makes it favourite for summertime. No tedious methods, just a few ingredients takes only 20-30 minutes. Make ahead and chill for an evening meal. So we have enough reasons to make this recipe once and try out a new way to a healthy meal.
| | |
| --- | --- |
| | |
Boil corn kernels, coconut milk, and vegetable stock in a saucepan.

Reduce the heat, and simmer for about 15-20 minutes till the corn is almost soft and mushy.

Blend when cool. Strain through a coarse sieve, into a large bowl.

Season with salt and pepper

Now check seasoning and add a dash of lemon juice as per your taste

Garnish with chives and serve with boiled buttered corn on the cob
Adjust the thickness of the soup by adding water or some coconut milk while you cook it.
This can be served hot too in winters.  
I like to use American sweet corn for the soup. In case they are not available, use tender corn kernels for better flavours.
This is a healthy recipe due to no use of cornflour.
One can choose to add cornflour if drinking hot as it adds to a body.