No-bake, Oreo Cheese Cake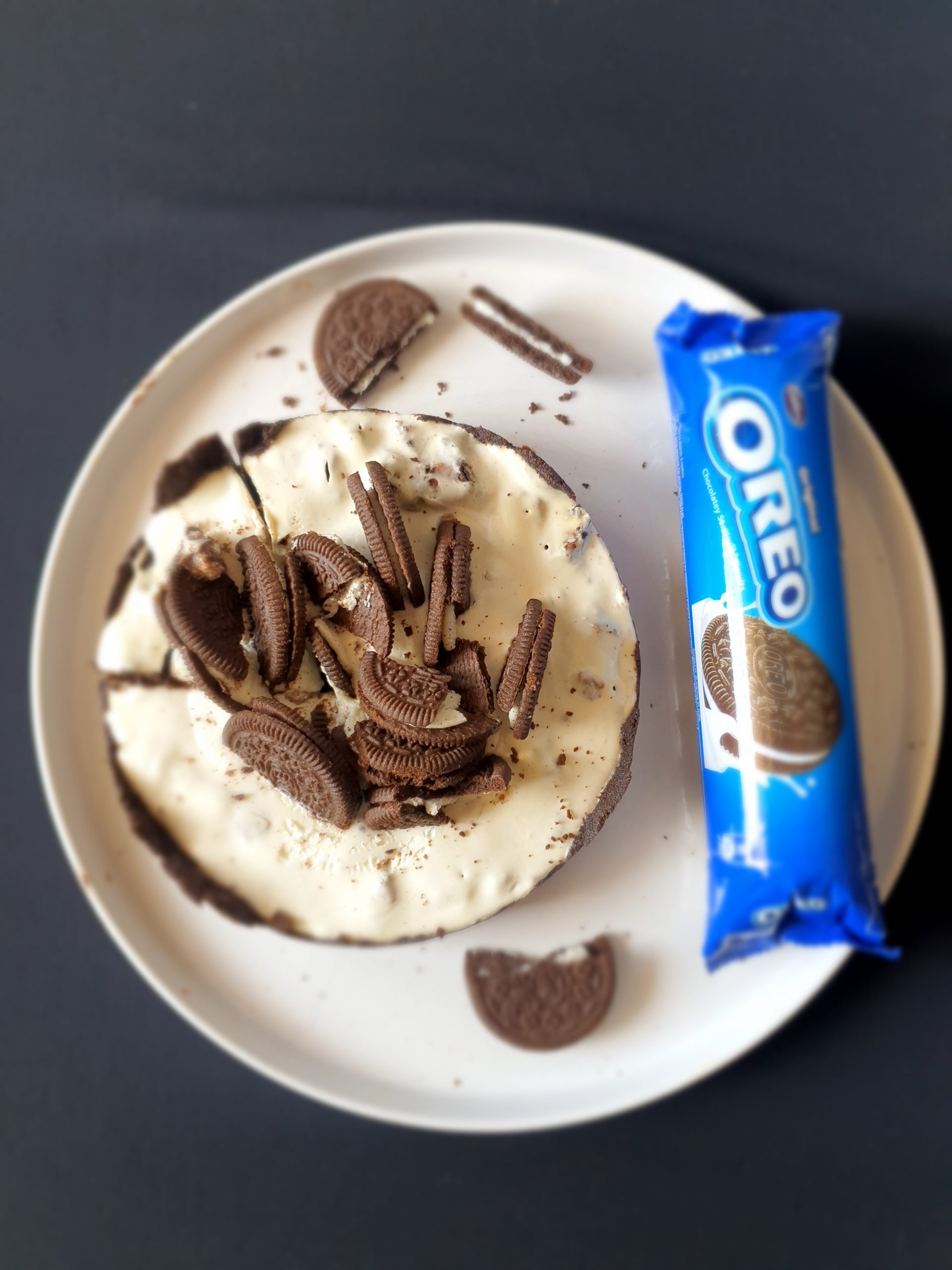 Cheesecakes were too fancy and rare dessert back in the '90s. When we first had it, at a friend's house, it was not even referred to as a cheesecake. it was served as a chilled cake. And I remember Aunty mentioning proudly, how she made it with hung curd. Clearly remember how she took it out from a tin, which probably was her show-off time, as those tins were not common in India. It was very fancy even for those days, to have these springform tins, with a clip to loosen and release the cake.
How cheese cake fascinated me back in 90's
Least did I know that was my first cheesecake ever. As when next I got to eat a bite of this dessert served to us over a plush dinner at a fancy restaurant, I was told that I am being served a cheesecake. And then I realised my cake at my friend's place was so similar to what I was served. A biscuit layer, salty tart cheese kind of filling, and yeah this one has some more fancy blueberries on top.
My curiosity took me to understand the two, by reading more about Cheesecakes.
Cheesecakes appeared to be a very doable dessert after a long conversation with my friend's mother, as she just mentioned very common familiar ingredients in her recipe.
Cheese cake, a fancy Dessert
But in most of the books Cheesecakes were usually a wobbly set cake, either made in the oven or with a few fancy elements like berries and a strange ingredient called cream cheese. Cream cheese made me restless, as I had never heard anything beyond cottage cheese, or mozzarella in those days. Things were not accessible online in those days.
What made me replace cream cheese in my recipe
The middle-class upbringing forced me to adapt to Aunt's recipe when I first saw the cream cheese in a gourmet section of a department store in the posh South of Delhi. as it was an exorbitantly priced gourmet product. And the not so developed cooking enthusiast told me to put my fancy on hold, and stick to the simple Ghareloo( homely) recipe for now.
What made a few proud could be debatable and trolled by learned patisserie chefs.
After years also I have friends and family who thank me for preserving this recipe in my torn old diary, as it comes very handy for days like these when u cant find cream cheese around, or now when we are in a lockdown situation , and making recipes with available ingredients is a wise idea.
But authentically this recipe might still be debatable as neither does it contain the main element i.e the cream cheese nor is it made in the traditional water bath.
But as it serves my taste buds and fancy of many simple households and also feasible in tough times like the lock down days 2020…we are happy to share.
More so such recipes help to overcome the fear of making a new strange dessert. That too for the first time, when you don't know the chances of likability by the family.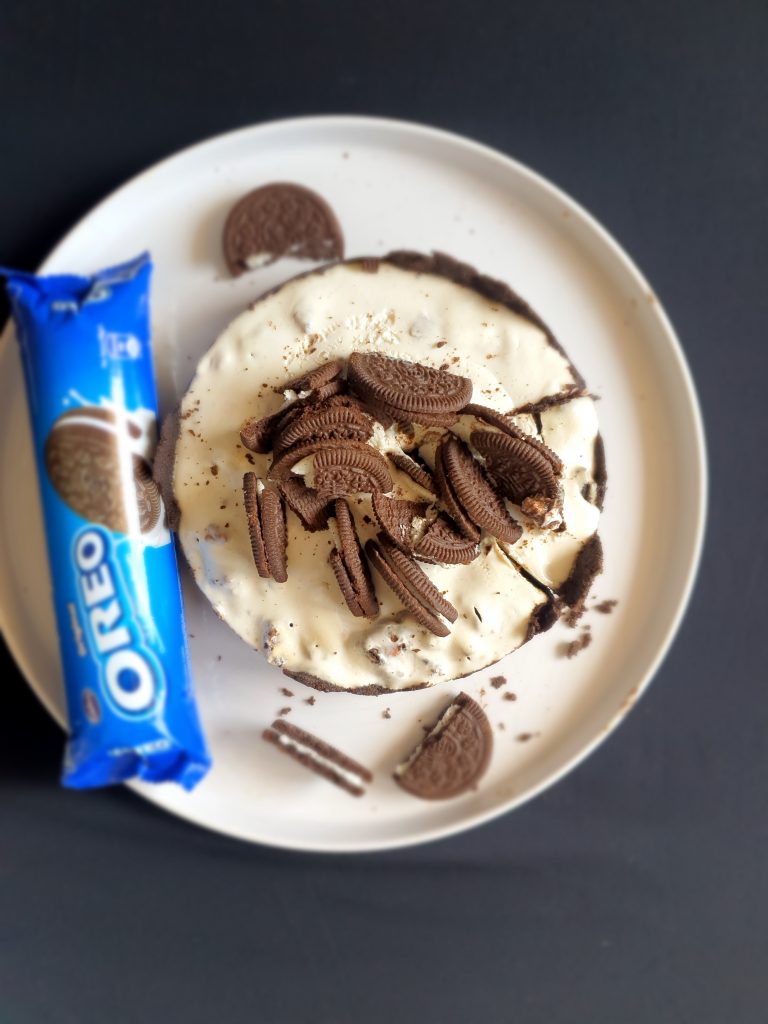 So next time when your family already likes the salty, tart flavors of a cheesecake made without the cream cheese, you will also have a story to tell.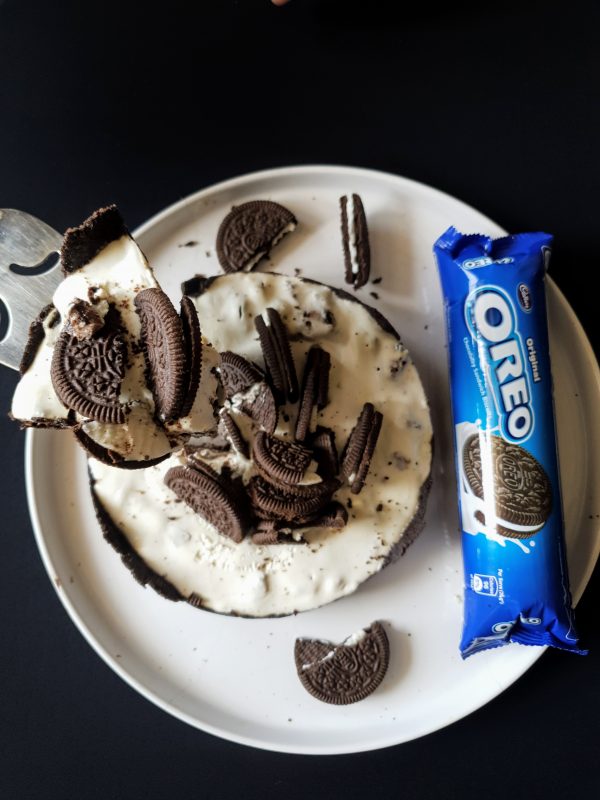 | | |
| --- | --- |
| | |
Crush 150 grams of Oreo cookies in a blender or in a ziplock Mix in the melted butter. Press it as a thin layer on the base of the cake pan, and along the sides. Refrigerate for 10-15 minutes.
While the crust is chilling, add the hung curd, crumbled cottage cheese, and sugar to a blender and blitz for a few seconds, to make a smooth creamy mixture.

Whip the chilled cooking cream, to just a frothy mixture, in a separate bowl.

Fold in the cream to the smooth mixture of curd and cottage cheese. Add salt and fold.

Now fold in broken pieces of 100 grams of oreo cookies. You can add more if u like.

Pour this mixture over the chilled n set cookie crust base in the pan.

Now allow this to chill in the refrigerator for at least 6-8 hours

Now roughly arrange some more cookies on the top of the cake and serve chilled.
Do not over blend the curd and cottage cheese.
Homemade cottage cheese is good for the flavors and freshness of the cake.
Hang the curd for at least 4-6 hours to get a completely dense mass of curd.
Cooking cream should be chilled in the refrigerator before using it.
The crust can be made with normal digestive biscuits also.
A drizzle of chocolate ganache makes it more decadent.
Instead of cooking cream, you can use whipping cream also, whipped to just soft peaks. 
The cheesecakes are usually set in a separate base flan tin, but this can be served in a glass or a bowl. 
A complete video to see the step by step process @ https://youtu.be/eyfE8igTzOk
A complete recipe of how to make Cream cheese from scratch at home is up on the blog https://milesnmeals.com/super-easy-homemade-cream-cheese/
Traditional flavours merged with fancy European dessert in my recipe of Thandai cheese cake tart is an interesting read.