Nutella Chocolate spread….Homemade hazelnut-chocolate spread
Spread a generous layer of this on a bread slice, or crackers, or drizzle some on your ice cream, or pancakes, and I am sure the kids won't say no to it.
Speaking about this most wanted jar of chocolate spread in the kitchen, We used to get it only at expensive supermarts, or brought in when anyone travelled abroad, in the late '90s. I am talking about this rich fragrant Hazelnut spread, Nutella. Soon, it was readily available thanks to high popularity, better import structure and it is the most bought chocolate spread, of course, because of its brand image, an addictively delicious taste. But I always found it a bit of a luxury.
If you can stir up an equally delicious Chocolate spread at home, in no time, with minimal ingredients and that too at half the cost. I love to do that as at least this way I am sure what's been used by the kids, no preservatives, or artificial ingredients threatening me, as a mother. And my wallet is at ease too.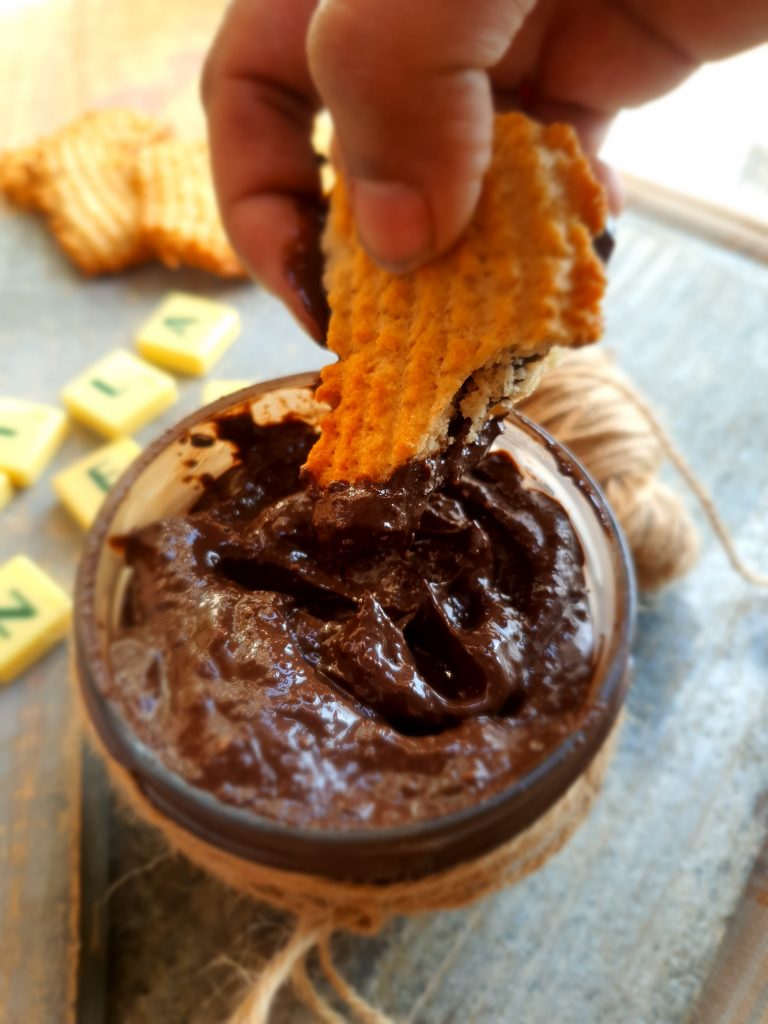 This is one of the favourite ingredients in my desserts now, unlike earlier when I dread to use that expensive bottle. Dark chocolates filled with this yum filling is a super gift for anyone who loves hazelnuts or a rich chocolate cake with a generous spread of this ………
Or just make a milkshake or add to the bowl of breakfast Yogurt…And u are sorted.
Try it today and I am sure you would love to book mark this recipe for sure.
| | |
| --- | --- |
| | |
Toast the Hazelnuts for 4-5 minutes on a just warm pan/ or alternatively in an oven @160 deg C and cool completely

If using any block of chocolate, chop it finely.( I used 54 percent Chocolate pallets)

Blitz the hazelnuts in a mixer, toa coarse paste.

Meanwhile also set the chocolate to melt On a double boiler/ Microwave

Now add a pinch of salt to the chocolate and sift the icing sugar, the oil, and the ground hazelnuts.

Cool and store in a glass jar, in a cool dark place
You may remove the skin of hazelnuts if required by soaking them in boiling water with a tsp of baking soda for ten minutes. In this case, allow to dry and roast. This will take longer than mentioned.
You can make a smooth paste of Hazelnuts if desired. I have kept in coarse for a bit of crunch.
I have used 54 % dark chocolate. In case u like it sweeter u may use milk chocolate or increase the quantity of icing sugar to your taste. Any change of icing sugar quantity would affect the consistency of the spread. 
You may add a tbsp of good quality cocoa powder if u do not have high cocoa content chocolate, and wish to have a rich chocolate flavour. In that case mix, the cocoa in oil and then add to the mix.
You can melt the chocolate in a microwave, in an ovenproof dish also. 
Keeps well for a month, but I am sure it won't last that long anyway, as it is irresistible.