Woodapple ice cream/ bael (bel)fruit kulfi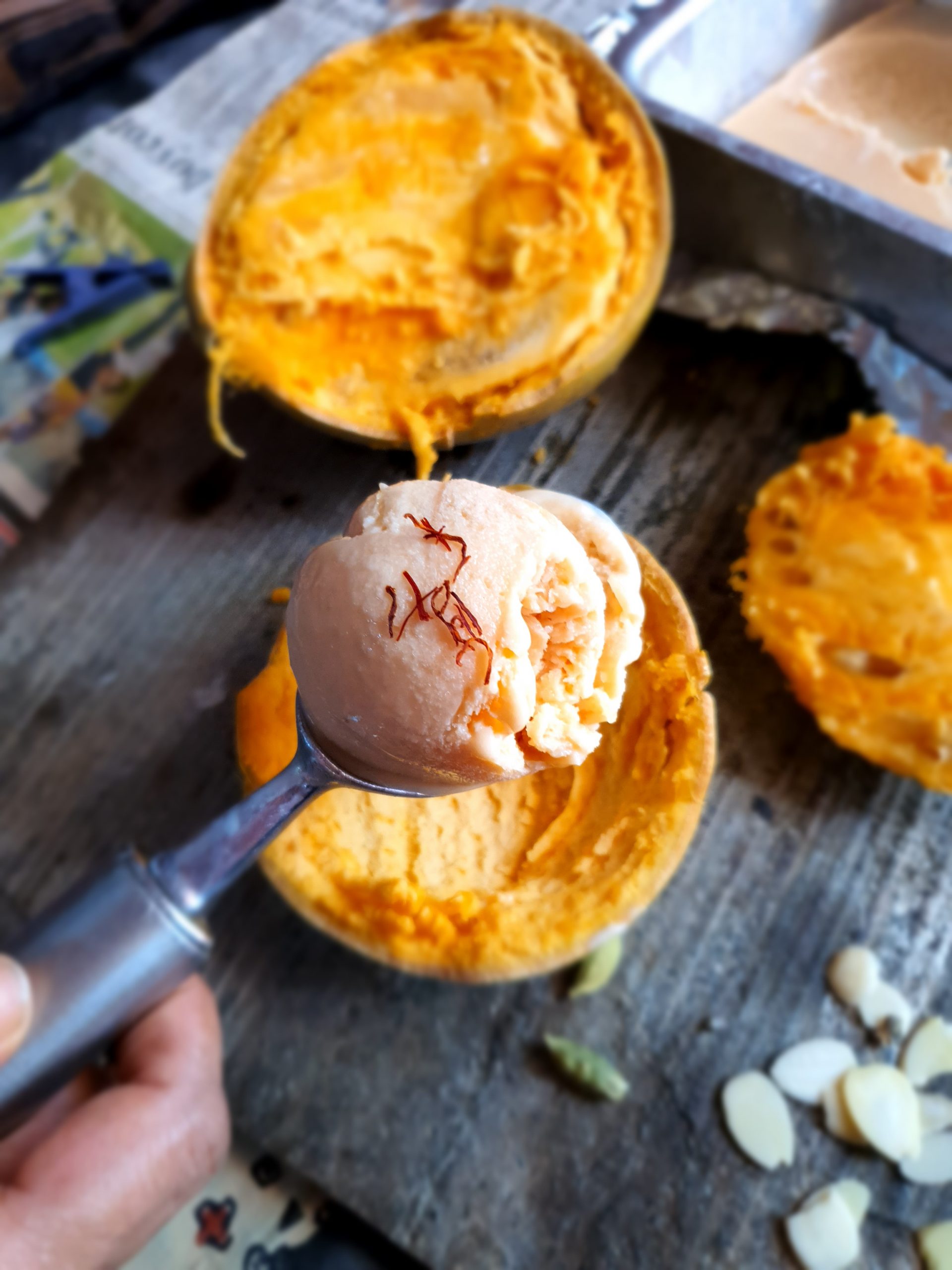 Woodapple or Bael as it is commonly known in Indian homes is is now gaining it's due popularity. This fruit is new to many Indian kitchens. For me this wonder fruit has a special place in my I recipe book.
It is well known for its medicinal properties. It has a very peculiar aroma. The fruit has an acquired liking due to you very distinct sweet flavour.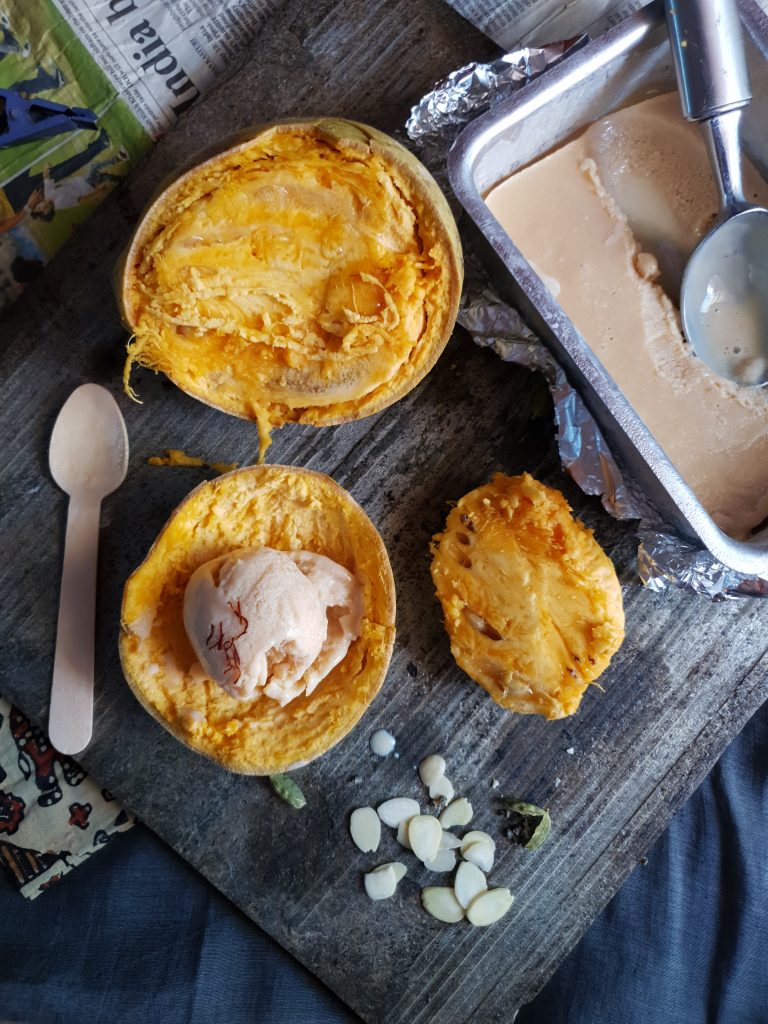 I myself was not a big fan of the fruit. All the credit goes to fruit intense household of my inlaws, that I started liking it. I also struggled to make my kids start liking and using it in routine. The fruit is available for a very short period and it is wise to utilise it to the most.
The idea of making it into an ice cream came from the desire to feed my kids, this wonder fruit. And believe me it was worth the thought, and the struggle to keep at it.

The recipe actually is very easy. It also surprised me as everyone in the family just licked off the ice cream faster than I imagined.
Now I would like to proudly make this ice cream on repeat mode. And so would you once you try it.
You can check out my father-in-law's special family recipe of BEL sharbat and enjoy the fruit.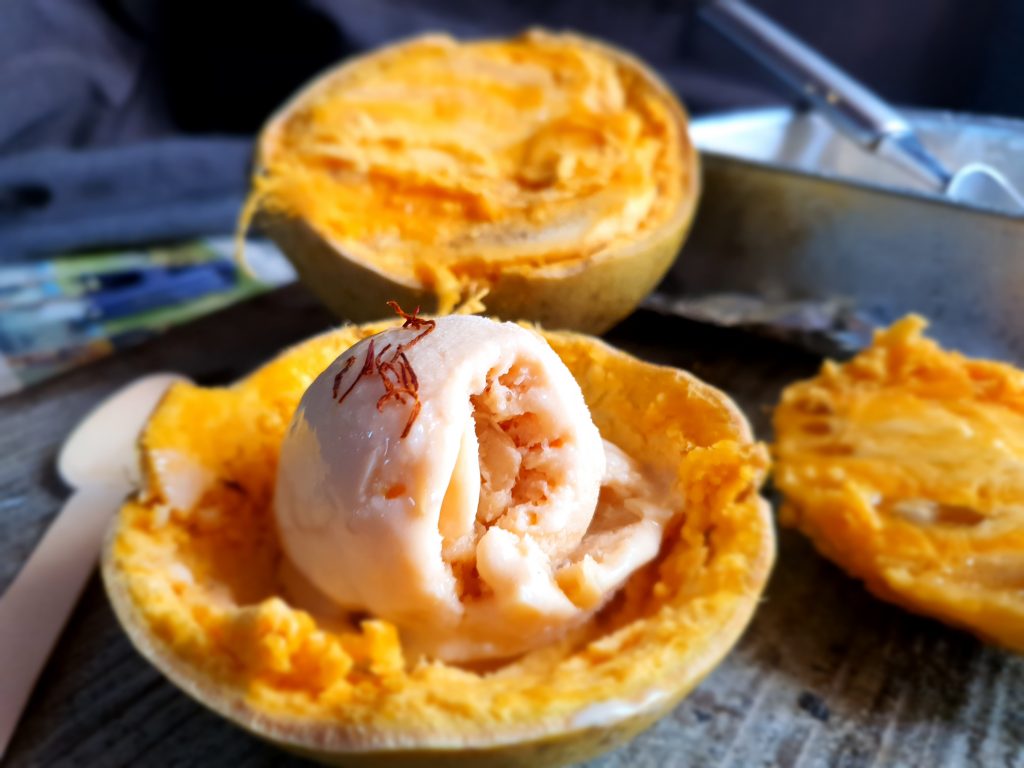 Soak the ripe wood apple or bel pulp in one cup water for 30 min.

Now mash it with hands or blend it and strain to get seeds and fibres separated, and collect smooth pulp.

Now heat the milk, bring it to boil, and reduce it to half.

Add condensed milk, and cook for 10 minutes on low flame, stirring to avoid it from sticking to the base.

Switch off the burner, add cardamom, almonds.

Allow it to cool completely and now add bel or wood apple pulp, and whisk to get a smooth mixture.

Pour it in an aluminium ice cream tin, and cover with foil or cling wrap and allow to freeze for 4-5 hours.

Whisk it vigorously and set back to freeze.

Allow it to freeze again and repeat the whisking once more.

Finally set the ice cream for 6-8 hours until set.
If the pulp is not mature/ripe, you may soak it for longer.
Unripe pulp will give different results in terms of sweetness and flavours.
The intermittent whisking brings creamier ice cream.
One can add chopped fruits like mango in the ice cream, or add more dry fruits and nuts to get a different dimension of flavours.
Make a vegan version by using coconut milk, and coconut cream instead of milk and condensed milk.