Watermelon Agua Fresca /Watermelon Mocktail
Watermelon Agua Fresca is a refreshing summer drink made with the goodness of naturally sweet watermelon, paired with mint and lemon.
Watermelon is a synonym to  refreshing and cooling, fruit which is a favourite in sweltering summer heat especially in Delhi. A slice of chilled watermelon just refreshes the body cells and makes for the dehydration caused due to excessive heat.
Watermelon is a huge favourite at home with a huge bow of diced Cubes of watermelon is always readily available to gobble up for anyone, anytime.
The water content of watermelon is so high that it practically blends to give a glass of thick juice. In Mexico and United States various fruits are used instead of watermelon to create a refreshing cool drink…Literally, also Agua Fresca Means Cool Water. Made popularly using Fruits, nuts and cereals like. Hibiscus, Cantaloupes, and Horchata ( usually made with almonds).
Agua ( water) Fresc a(fresh)  Fresh Waters or refreshing water also refers to juicy fresh fruits and drinks with high water content.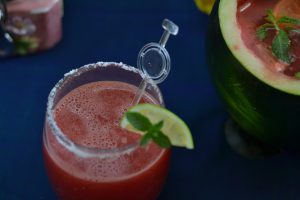 Watermelon has Hydrating,  cooling and refreshing properties and pairing it up with Mint and lemon, just makes it a great drink. This can be topped up with some sparkling water for a diluted and fizzy lemonade variant.
With a few ingredients required at hand, this is a great party cooling Drink.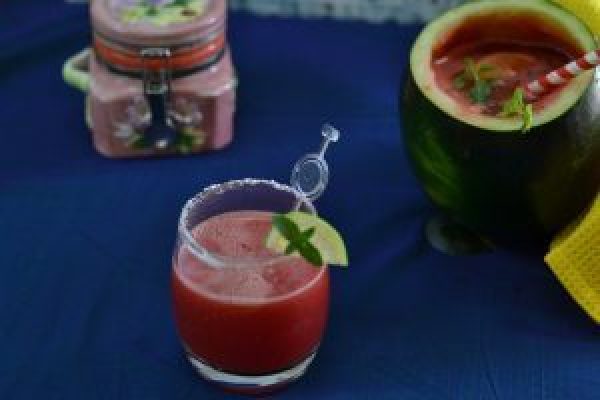 | | |
| --- | --- |
| | |
Puree Watermelon and sugar in a blender.

Strain if the seeds have not been removed from the watermelon.

Add 1 Lemon wedges and some mint leaves in a glass and muddle to release the juices and flavours.

Now add Ice cubes and pour the watermelon juice.

Garnish with Mint leaves and serve.
Sugar is added to adjust the sweetness quotient and can be skipped for a healthier option.
This can be topped with sparkling water for a Diluted Drink
Add Black salt for a masala version.
It is advised to consume it fresh, Especially in tropical climate to avoid contamination.