Karonde ki Chutney / Karonda/ Bengal Currant Sweet Sour Chutney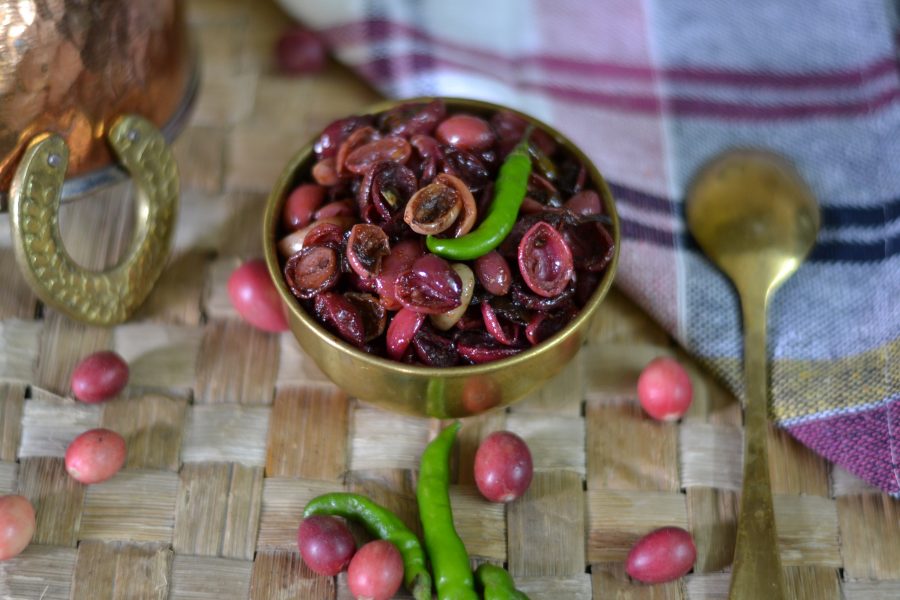 Karondey or Natal plum …Carissa Carandus, are sweet and sour little berries with a thick not so fleshy skin and soft piths. I have some childhood memories of my Naani's house in Uttar Pradesh where these grew as a hedge to Naani's Garden. Summer holidays meant that house was full of cousins and to put the restless kids to some work ( read us ) Naani would give each one of us an empty bowl and ask to go collect these red berries from the bush. The deal was, that everyone gets Kishmish ( Raisins) equivalent to the harvest collected. It sounded easy and the little rebellious feet would run hurriedly to collect the most when the thorns would just not let us do so. But we would somehow manage a handful each, enough to get us our daily quota of raisins.
We never knew what are we collecting until Naani would serve us its sweet and sour chutney along with the meals. For us the chutney was specially made a little extra sweet. I grew up seeing mom sitting and cleaning these tiny berries scooping out the piths, and then getting this sweet and sour chutney to the table almost throughout the summers. It is a bit backbreaking task, but in those days lady of the house would put all the hard work and try to get the best of the season, come what may.
Mom would also make a sweeter version of Karonda Chutney as Naani did, but as I grew I started liking the green chili loaded version, which was always made separately for the grownups in the family.
In this post I wish to share the traditional Karonda sweet and sour with an overload of green chilies, the But as u start enjoying this version of berries, I am sure you can explore many other recipes, which I myself wish to try like may be a Karonda Marmalade or jelly, provided I am to get hold of some nicely ripe Ones.
For now, My Mom's Nanni's Karonde Ki Chutney, the recipe is as I learned from them. The sweet version for kids is mentioned in the remarks.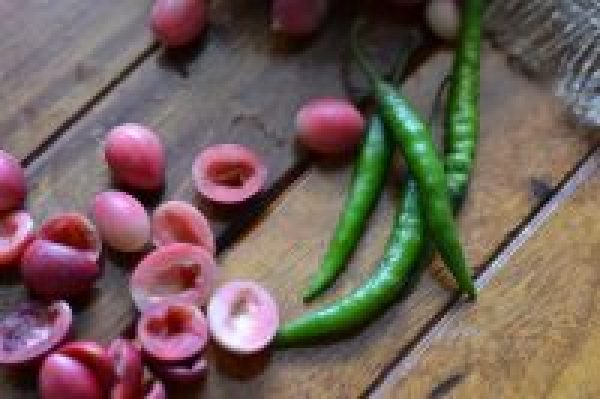 | | |
| --- | --- |
| | |
Cut each Karonda in half and remove the pith.( It is soft seed and can be taken out with the point of the knife or fork. now wash them well. Drain

Now Heat oil in the pan, and add cumin seeds to crackle. Add Hing(asafoetida).

Now add Green chillies, and allow to roast for about 30 secs.

Add Karonde and chili powder. Allow cooking for 10 minutes with a lid on. The Karonda will be half done by this time.

Now add salt, coriander powderand sugar.It will release more juices and make it somewhat syrupy. Allow cooking for 5 minutes. Now add fennel powder and Garam Masala and switch off the flame. Allow it to cook in its own heat.

Karonda chutney is ready. Store in a ceramic or glass bowl in the refrigerator.
I like to have loads of green chillis in this recipe. You can choose to reduce the quantity.
Sugar gives a balance to the otherwise sour Karonda, You can choose to use jaggery.
It stays good for about two weeks. Use a clean spoon to take it out from the container and keep it refrigerated.
The chutney if ground makes an amazing dip.