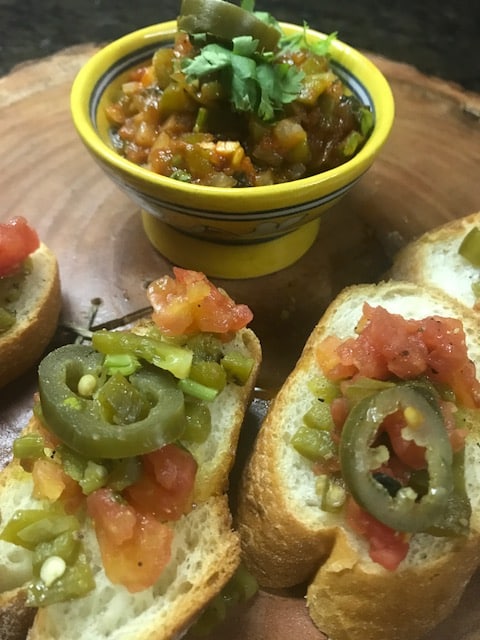 A  DHINCHAK  spread or chunky topping can change the way you eat your Breads/wafers/crisps and can add to some great dimensions to the wraps and sandwiches.  I have had numerous encounters with one such very popular topping called salsa, may it be at a Mexican eat out/ tortillas wafers served at a movie with the tangy salsa, but I always preferred  the home  made version as it allows the freedom of flavours and textures.  Dhinchak to me brings that tang and burst of flavours at the mention of the name.
Here I would like to start with first basic Tomato Onion Salsa with the goodness of the fresh cilantro and generous helping of extra virgin olive oil which gives it the depth. I prefer to keep the flavors simple and allow the ingredients speak , keeping their identity.
To roast the vegetables, it can  be  done in many ways , either in an oven, or on charcoals ( only if there is a barbeque in running), or naked flame, or it can be skipped and raw chopped vegetables can also be used,  as few may not like the aroma of flame roasted vegetables. I used to do it on naked flame using skewers to make the turning of vegetables easy, but recently found this earthen pot with numerous holes and it was interesting to use this as it gave a smokey aroma to the vegetables and was a complete no mess procedure.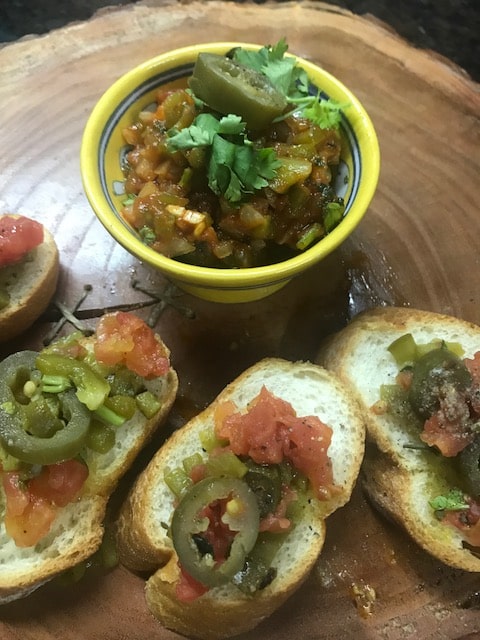 Wash and dry the vegetables.

Roast the Tomato and capsicum on naked flame till they form blisters all over and give a smokey aroma.

  Wash them once done under tap water to stop the process of cooking and remove the burnt skin.

Chop them and onions finely and mix all the ingredients in a bowl.  

Top with lime juice cilantro and generous amount of olive oil

This should be chilled before use and can be stored in a clean ceramic or glass jar for about a week in refrigerator.
Use it as a topping on toasted Bruschetta, taste up your wafers, take a spoonful in the wraps, or mix it in the salad ...this simple salsa is sure to give an edge to anything at your table.