Nothing can beat the laid back fun of barbeque in a chilly winter evening with smokey aroma of burning coal, skewers and steaks, sizzling sound, and big bowl of toasted  nuts . Whether  a family get together, entertaining friends, or a romantic dinner for two, barbeque sets all in a perfect mood.
Barbeque shouts out a flavour some treat, food extravaganza, and is welcome both in early winters in our part of globe, or laid back lazy sunny summer afternoon in  European countries.
My idea of barbeque is playing with flavours and fresh produce in the winter months, and creating an inviting  spread of memorable moments. We look forward to winter months as we associate it with some great evenings  made perfect with our near and dear ones, great conversations, and a great barbeque.
Arranging a barbeque can be tricky yet simple if planned and thought well in advance. Impromptu Barbeque party can be planned if one has the equipment in place.
All it needs for a great barbeque is good equipment, well planned menu, and a perfect weather.
Basics of barbeque lie in the correct barbeque chosen  in the first place. It can be a simple iron cubical style rustic barbeque, a compact coal barbeque or the large built in barbeque. Cater to a small family or just a handful of friends for occasional meet up, with a small portable barbeque, apt for small homes, with easy storage, and beginners. Beginners can also opt for the non expensive rustic iron barbeque available at road side, get hands on experience before moving to the expensive options.  Those who are already pro and comfortable at the grill, can invest in suave looking options, size been considered depending on space and usage. Built in large barbeque is more popular in  west and requires  large lawns and big houses.
Another factor to be considered while purchasing a barbeque is the fuel it consumes.
Fuel choice can range from wood /charcoal to electricity. It can be gas operated barbeque which requires portable cylinders( procurement can be hassle in a city like delhi). An ecological form of fuel is the coal briquette which is made of coconut fibre and have a prolonged latent heat for an extended  party and turns out to be economical, available online. Electric barbeques addressed as Electric tandoor are gaining popularity , they are portable and easy to store.
Equipments and tools are the key to perfect barbeque.
List of few basic tools, before you start
A pair of Long handled Tongs,
Barbeque trays,
A few wire mesh  grills for small size food like lose diced vegetables,
Hinged grill for Fish,
Metal and wooden Skewers,
Pastry brush,
A pair of gloves,
Aluminum foil,
Wire Brush for cleaning.
Given that your equipment is in place, Barbeque requires a bit of Menu Planning. It can be an Indian tandoor style barbeque with tikkas and kebabs, European style barbeque with steaks and whole meat, Asian style Barbeque with sea food and sweet and sour marinades, Kids centric barbeque with burgers and sausages.
Planning  A menu for the Barbeque
Planning a menu for a perfect Barbeque is another key essential for a success. Plan it in a way that you are able to serve a variety of food where all sing in harmony.  Chose a flavour or a region which is the  highlight of  your meal.  Chose from European style barbeque with rustic steaks and lots of vegetables and simple flavours, or Asian style barbeque with a medley of flavours or Simple Burgers and Hot dogs menu, keeping it simple, OR Tandoor style Indian Barbeque, With intense use of spices and complex recipes including Kababs and Tikkas, Or moroccon style, kabab and bread barbeque with some exciting Dips and Mezze.
Kids style barbeque Party can be made interesting with Fruit skewers, Marshmallows, Burgers, sizzling brownies.
Chose various forms and cuts of food that you select. Cubes/skewers/satay are some forms of preparing barbequed food.
A hasty party can also be made tasty by being wise and sticking to readily available forms of food like sausages, salami, frozen meat. Just a quick thought, a few spices, a few herbs and you are ready to go..
What food to  Barbeque
For a perfect grill know your food you wish to barbeque
Chicken(cut/whole)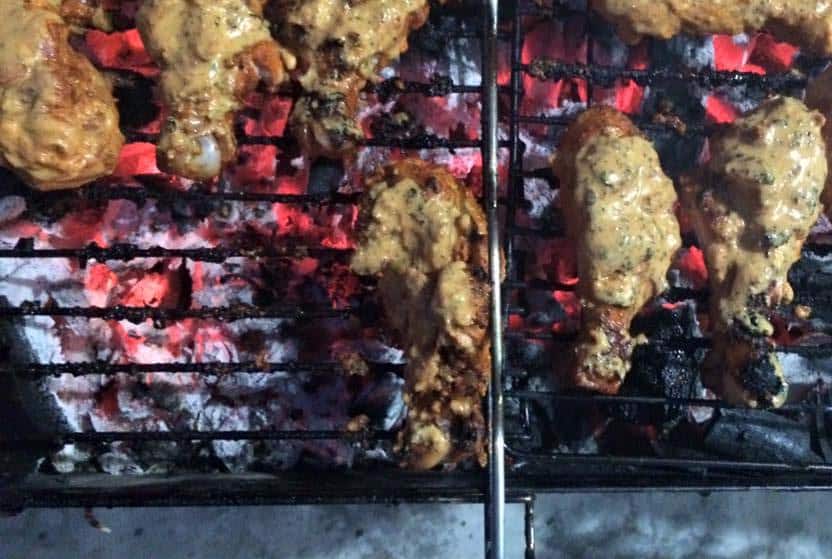 Fish/sea food
Vegetables
Pork
Lamb
Steaks
It is important to know what you plan to grill as each one of them has a different time to cook to perfection, different heat requirements, different  tools.  Availability of fresh food item and the recipes you chose also helps you to pick the food.
Herbs and Marinades
Herbs  can create wonders by their mere presence. Chose from what is fresh and available.
Basil,Thyme,Coriander,Mint,Parsley,Chives,Dil…the list can go on…
Marinades and barbeque rubs can be made well in advance or whipped in jiffy.It can be as simple as  Butter and Herbs or make it sound classy with some Chermoula (A simple mix of cumin coriander seeds chilies, gloves, coriander oil and salt). Readily available spice mix can come to rescue for last minute plans to party or mix some spices and keep them ready for later use. A classical pesto, Mint chutney, Tomato salsa,  Indian pickle masala are my all time favourite at Bbq.
To serve it right
Barbeque food is cooked and eaten through the party on the go. So keep lots of Wood forks, toothpicks, paper napkins, available around as guests love to just "pick dip and eat".
For more formal occasions, knife ,fork and two pronged fork( to remove food from skewer) should be made available.