You Mee ….Fine dining Japenese is now Fun- Dining!!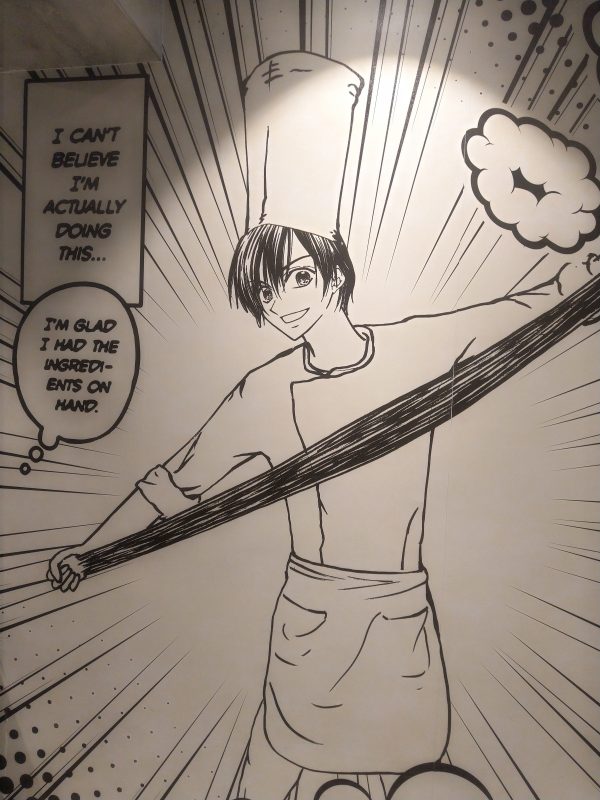 How the place makes you feel
While Japenese food is gaining popularity with Delhites, and they have developed a palate for  Sushi, and wasabi, YouMee @ GK 2, Offers the best of the cuisine, yet it feels welcoming, with its manga style paintings on the walls, in black and white.
Interiors

The table setting

Interiors

Manga art on the walls

Interiors
As soon as you enter, the comic characters form first eye connect with their interesting tales , like the noodles being hand pulled.
The red black white seating chairs are like a comfy setting, and the place starts making you more than easy even before you plan your meal.
The menu
Zucchini wrapped chicken dumplings( in the haze of steam )

Amouse Bouche….Pickled vegetables and peanuts tossed in sauce.

The Lava Cake on a sizzler

Sticky Rice served with vegetables soy ginger.

Pad Thai Noodles in An egg crepe

BBC Dimsums

Pumpkin and Shiitake Gyoza

New York Dragon Rolls
The menu actually offers almost all what a person can crave for, not too entaxing to read through yet fulfilling.
Sushi, Nigiri, Sashimi, a bit from  Japanese cuisine , and some from the Asian Cuisine, it has it all.
Started with the Sushi, when my colleague resisted and I promised her a company to even gobble her vegetarian plate, as a big sushi fan was there struggling to get more while One with sushi aversion was holding it back.
The simplest yet tempting option of a # You Mee gardon dragon Sushi, was happily received By my colleague and I did not leave a chance to pick one before she started liking it. A crunch from the tempura Asparagus just made it delicious.
# Hamachi New york Dragon, was an equal pleaser with the crunchy Tempura battered Prawn, Salmon, Hamachi lending a silky bite. Each bite left me asking for more.
The dim sums had a choice of Gyoza and we tried the unusual # Pumpkin Shitake Gyoza, which had a great sweet earthy bite.
#The Beans Pok Choy and Chestnut Dim sums, were melt in mouth ones, a great bag of flavours.
#The chicken Roulades wrapped in Zucchini, served steaming hot, and I did allow them to cool enough for my pictures, was yet another star at the table.
We also enjoyed the warm Mug of Soup, where I opted for A Miso Shiru with Chicken, a perfect balance of flavours, nothing overwhelming, My half portion was just enough to sooth my throat.
While for mains and meals, The Ramen Bowl are offered on the menu, Along with a selection from the wok, with best of Pan Asian can be had.
For me the  Pad Thai noodles , an all time favourite served traditionally in an egg crepe, was fulfilling.
The Vegetables in Soy and ginger sauce, were comforting, and came across as a perfect dish.
While in the desserts a variety of pastries are offered , without appearing greedy, wanna mention that I missed a Darsaan on the menu.
Chili Romance

The quirky kettle
A vast selection of teas on the menu, is a great way to wrap up an excellent meal. Our choice of Chii Romance turned out to be true to name, and we enjoyed it to the last sip, with Strong fragrance  of ginger and pepper, soothed away by the fragrant notes and sweetness from the berries.
The menu does offer shakes and  frappes, and this largely completes the collection of beverages on menu.
All and above I loved You Mee to offer A perfect Fun Dining Experience, and making the finest of the cuisines, more appealing to a wider clientele.