Gur Ka Halwa …Lohri Special….Traditonal Jaggery Pudding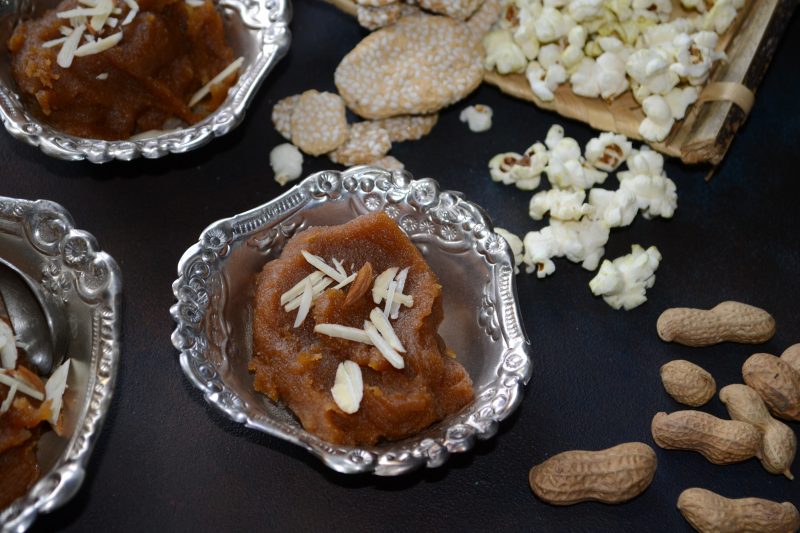 Winters, and some hot halwa ( A Indian Pudding) after a meal, or even had just like that, has been a family tradition, I have grown up with.
Maaji, Grandmom, would happily make us a bowl of Halwa after our dinners. Someday would be sooji ka halwa ( semolina), some days it will be Attey ka Halwa( whole wheat flour halwa).
Lohri, is one festival I have seen been celebrated mostly in the state of Punjab, where I saw Maaji making Gud ka halwa, which she locally picked up as a tradition followed in the neighborhood. We would happily eat our share and never realised what is customary, and how each recipe started adding up to our heirloom kitchen. Only later when I started conversing with mom, I learned that Our household tradition was somewhat influenced by My MAaji's stay in Punjab in later years of her life, and she happily adopted it.
Gud ka Halwa is one such gift of regional Influence on our traditions.
After my marriage I arrived into a Punjabi household, and least I ever knew that what I saw as a part of growing up will soon be my way of celebrating the festival of Lohri.
Lohri is the festival of celebrating harvest of the crop, And the Food cooked is traditionally a reflection of Prosperity and festivity.
Makki kee roti Sarson ka saag, Gajjak, Popcorn ( from the fresh harvest of corn), all are a part of Lohri celebrations. And so is the Gud ( Or jaggery ) which is often made fresh from the freshly harvested sugarcane, in the winter months.
I do not remember if as a kid I have ever seen the Gud been made at the local Bhatti ( a place where it is made over large furnaces), but during a few of our last visits towards the countryside, I have curiously seen the complete process, and believe me the aroma of fresh Jaggery just does not leave you for days, as it sets down deep in your senses.
I remember the same being experienced when Maaji used to make Gud Ka Halwa. And when I make it around the festival, the caramel kind of aroma fills up the house. Its deep dark colour, matches the winters and the warmth this Devine Bowl offers is unmatcahble.
mThis Halwa now for us is more than just a festival tradition, as It is healthy and soul-warming with whole wheat flour, and jaggery, and Some Ghee, it's just a soul-satisfying sweet bite.I remember for quite some time Maaji would make me the gud ka halwa with Semolina as I was a bit choosy about not eating the Whole wheat halwa, But as I grew I grew out of the aversion, and Now equally enjoy this traditional version, and every time I make it, I can see myself revisiting my Maaji's Kitchen.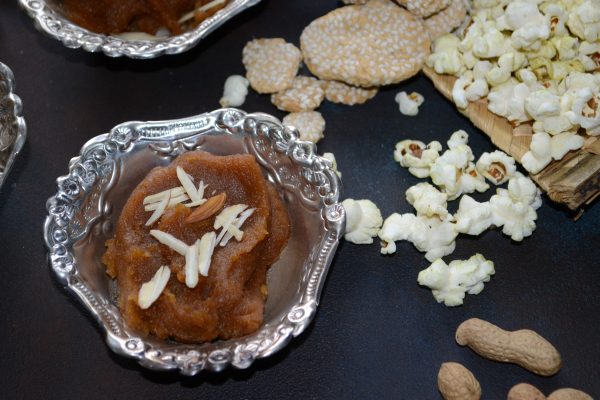 | | |
| --- | --- |
| | |
Soak the gud ( Jaggery ) In the hot boiled water to dissolve

Heat ghee in aheavy bottom kadhai( skillet). Add Atta, and roast for 6-8 minutes on medium heat, till it starts loosening up.

Roast on low heat for 3-4 minutes, till it gets darker in colour, like the color of the almond skin.

Now add the dissolved Jaggery and hot water.Stir, Cover and switch off the flame.

After 3-4 minutes add the chopped almonds and serve hot.
My Grandmom used whole wheat flour, which can be replaced with Semolina, without any change in method and quantities.
I use the Noler Gud for a darker colour and rich caramel flavour. One can use regular jaggery available.
Strain the water dissolved with jaggery, to avoid any impurities from the jaggery.
One can add other nuts like cashew and raisins.