Red Chilli Pickle/ Bharwaan Laal Mirch ka achar/ Traditional stuffed Red Chili pickle
When it's about having Paranthas , Something spicy on my paranthas is the most desired way to have them. These large chunky stuffed chilis and that coarse masala, is finger licking good, and I can eat it just like that if something is left on my plate.
There are instances when I eat them with just plain hot steamed rice. In earlier days, it was my aunts or, granny, who would make various pickles in bulk, and then send across to us and other relatives as a gesture of love. Maamijee would make Aam ka achar, Naani will make meetha achar and papad, Mausi will make Mirch Ka achar. And when we would get together for holidays, a major exchange program would happen where jars of this gold like food were exchanged.
My Mausi used to make this pickle and send us a jar enough to last a season. And I remember That I wold see Papa enjoying it. As I grew I developed this fondness for the Achar, as it used to be a savior when there was nothing interesting to eat at the mess In college.
Here in Mittal Family, I realised they like the green chili pickle which is the Rajasthani version of these huge Chilis, and a bit softer than these. Red chili skin is thicker and has a bite like Jalapeno peppers.
And making them was so easy. Mausi Just explained me once and I could without any mistakes, make them perfectly to my liking.
An extra Punch of Heeng, and Mustard oil makes a huge difference. for that use Raw Mustard Oil      ( without smoking  it.) The ercipe is how I learnt it, and make it. a few changes can be made to your liking.
A few tips to make a perfect Pickle
1. Always wipe clean ur chili, never wash them.
2. Dry it before filling it up for better shelf life.
3. Always use clean sterlised glass/ ceremic jar to store it.
4. Avoid any contact with water through out the process.
5. If using smoked oil, always cool it before dunking the chilis, as otherwise the heat will cook the chili.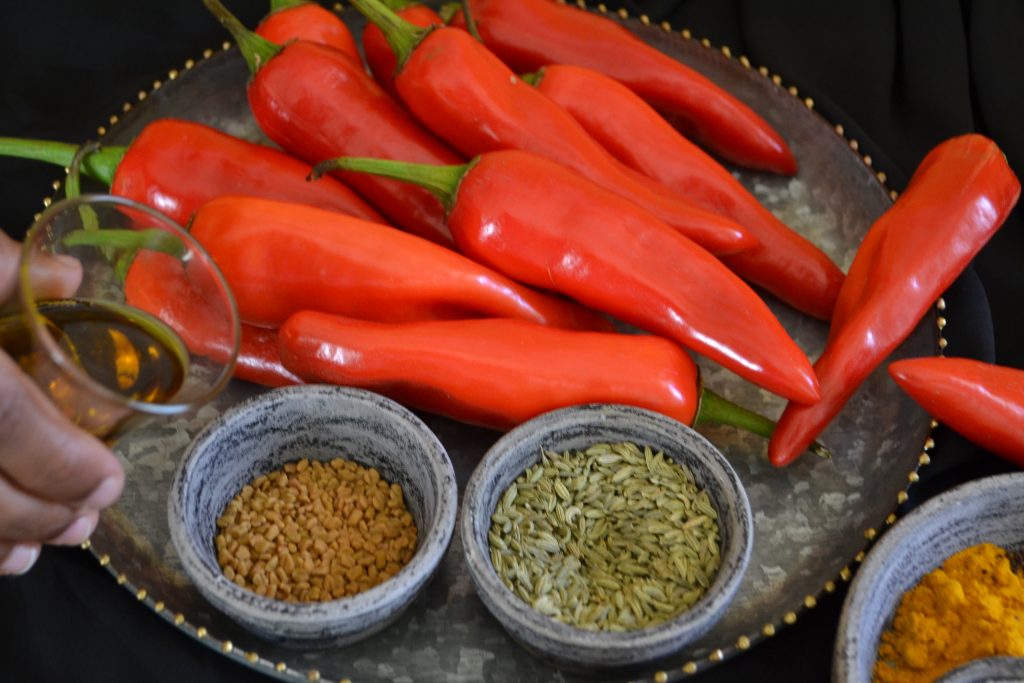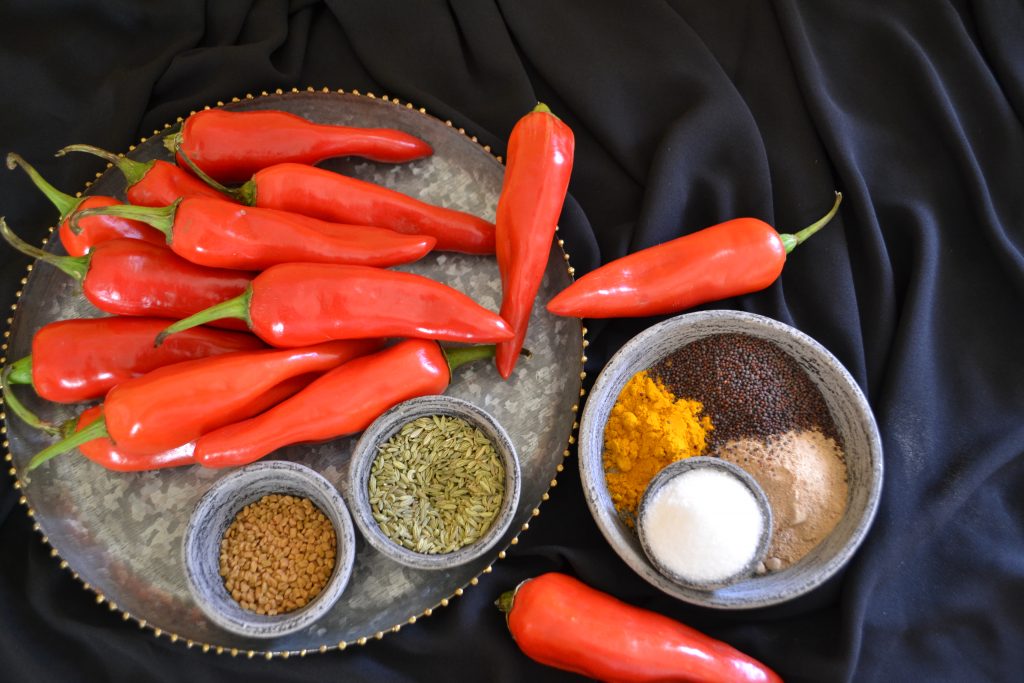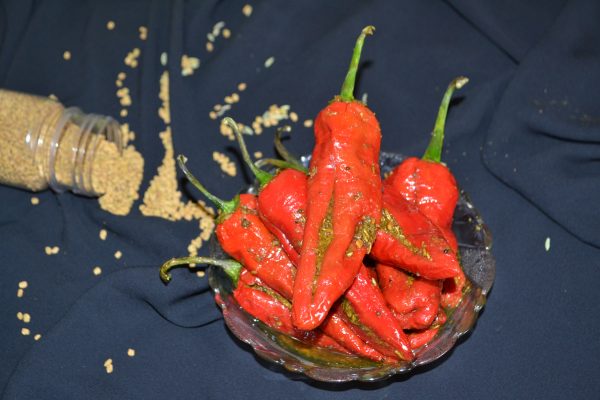 | | |
| --- | --- |
| | |
Clean the Red Chili with a moist Cloth and allow to dry in an open plate for a day.( A few hours if its a sunny dry day)

Roast the mustard Seeds, fenugreek, and saunf separately, in a little oil, till fragrant.

Coarsely grind the spices ( do not powder). Now mix amchoor, turmeric, salt, and heeng.

Now Heat the mustard oil in a pan on hight flame and bring to a smoking point. It waill take about 3-4 minutes.

While the oil is cooling down, slit the chilies .

Now add some mustard oil, about 2-3 tbsp in the mixed spices, to make them a bit moist. Fill in the masala( spices ) in the red chili and stuff tightly.

Now layer the chilis in a jar and pour the rest of the mustard oil. Close tightly and allow it to stand in sun for 2-3 days.
I like my chilies a little crunchy, so I allow it to stand in sun just for a day or two. If you like it soft, allow it in sun for a week.
You can use raw Mustard oil, it gives a peculiar flavour liked by many. In this case do not heat the oil.
Roast the whole spices separately.
Grind the spices coarsely.
Do not reduce the amount of salt/ mustard oil. they are essential for preservation.