Elixir De Curcuma/Turmeric and Coconut water Health Shots for summers
Elixir, a non gourmet term ,looks alien to the subject of a food article, but tell you the way we are progressing in the food industry and how we are absorbing all the information available to bring excitement in food, Elixir, will soon find its ground in the healthy eating context, or health drinks will soon see more of such recipes.
"Haldi Kaa Doodh" Turmeric infused milk…Is something each one of us must have had once in our lifetime after taht fall in football field, or that episode of influenza in passing winters. Or we might have resisted to it, when granny offered to have it, as it actually was not a tasty thing to have as a child.
Turmeric to us looked  like  a regular household spice, always present in kitchen without any special attention.
Then turmeric came back into my life during early days of our marriage, when  My better half Saket, got me whole lot of fresh haldi( turmeric) , I dont know where and asked me to try my hands making Haldi ka Achaar( pickled turmeric)…I realise I must share its recipe also with you all, soon sometimes.
Since then turmeric is regular at home, while in season, I use it along with ginger, garlic, in my curries, and soups.
I am trying to be a bit brave, to use this, rather I wanted to use Turmeric  for the summer drink in the A to Z series from very beginning, but just kept struggling how to get any of the most talked about herb, or spice of Indian origin, into a summer cooling  recipe without taking away the limelight.
During my medical college days, the most amazing subject was pharmacology, where we would spend hours collecting herbs from the fields and then make some great medicine mixes using some age-old recipes from our ayurvedic texts.  One such method of having herbs is making a fermented liquid using a base and some herbs…This is very close to An ElIxir.
Elixir, is a medicated/ non medicated concentrated shot with one active ingredient. usually made using herbs. So while I was thinking so strongly of turmeric, one morning and walking back home from my run, I walked past the coconut water vendor…the struggle of using turmeric, the search for looking a summer drink starting with alphabet " E" and …….. rest is now here on the post……I grabbed a few Daab( green coconut ) Home. Pulled out the fresh turmeric. and blitz it in the blender…And was happy that turmeric could shine through the drink without taking away the sweetness from, the coconut water…Yet, a little lemon made it more refreshing…Saket grabbed the whole glass of it and had it as he was thirsty and was looking for hydration…But I reckon, even if we manage to have a shot daily of this elixir, it should work wonders on immunity and general well being.
The day I was writing about Elixir with Turmeric, I had a bout of cold and bad throat and I was talking to mom on my daily routine call…And when she heard me low, the first thing she said, "Haldee lee ya naheen "( have you not taken turmeric yet). This is the kind of belief she has in turmeric. The only change I made was I did not take it with coconut water, I just blitz the Turmeric with plain water and had shote of it, every three hours. Believe me, it works like a magic.
Its a simple combination of fresh turmeric, and coconut water, Healing properties of turmeric, and cooling properties of coconut water, makes it a perfect health shot. This can be had the early morning, every day to keep the Immunity during tough summer months in place.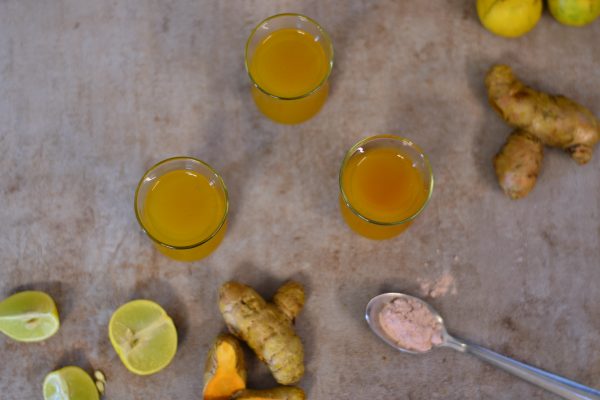 | | |
| --- | --- |
| | |
Blend the turmeric with Little coconut water so it breaks down well, then add rest of the coconut water and blend again.

Strain out the fibrous turmeric, and get the clear liquid.

Add pepper powder if desired. Add lemon juice.

Divide in two glasses and have.
I believe a small portion is a  good daily dose. One can have it larger doses also if desired.
Adition of honey increases the sweetness if you like it sweet, and a pinch of rock salt can balance electrolytes if consuming after a workout.
In the absence of fresh turmeric, a tsp of turmeric powder in 200 ml of coconut water is the substitute.
Turmeric stains almost everything on the kitchen counter, from the knife to the blender to the glass it is served in.
To avoid that consume it as soon as it is made. And soak knives in hot water mixed with a tsp of baking soda. And run this solution in the blender to get a squeaky clean blender.