Spiti Valley, Himachal, Road trip from Delhi Itinerary and facts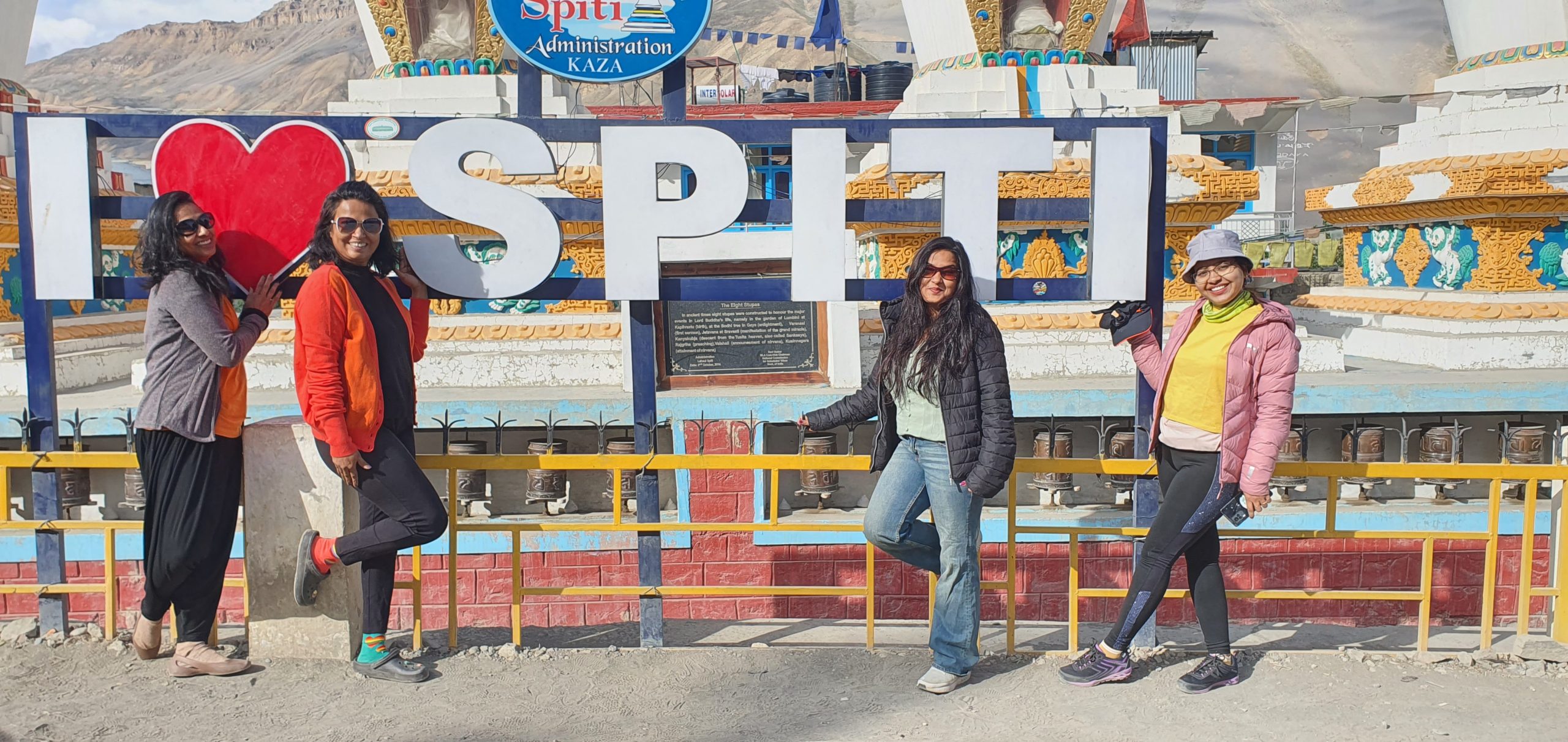 Road Trails of Spiti Circuit
I hopped on to a planned Spiti girls trip with a bunch of unplanned partners. The least I knew was that it's not just about hills, driving and holidaying. It was a trail of surprises, experiences and now memories that were never part of the itinerary.
The trip to Spiti is done in many ways depending on the time and resources one has.
Delhi-Manali-Kaza and back
Delhi-Shimla-Kaza-Manali-Delhi
We wanted to do the complete circuit. We started our journey at a lower altitude. That way we would experience slow acclimatization whilst we reach Kaza, the highest point of the Spiti trail.
Spiti translates into a "middle land" the valley between India and Tibet. A mountain trail, while u drive past mesmerizing green patches n valleys, cold dessert-like landscapes
Day 1 New Delhi to Shimla (350 km)
A fairly acquainted drive, as Shimla's first choice for summer vacations in any Delhites life at least once in his lifetime. But Shimla This time was different for #girlsinspiti as it was just an overnight halt.
About 350 km of good highway, most predictable trail, and easy drive. Takes as less as about 8 hours or as much as u wish. In our case, we had to stop by and say hello to extended family and friends on the way, and we took multiple breaks.
Day 2 Shimla to Sangla (223 km)
As we start driving up towards the real deal, we can experience Himachal the way we have always known it to be. You will cross Narkanda in case u wanna grab a quick bite. Green valleys, Apple laden tree orchards, Driving past small villages, busy markets, and still some scope of fairly active stopovers for lunch and tea.
A small break at Theog for Lunch, and a Tea and samosa break at Tapri (a small village just before Sangla), crossing Baspa River, just as we enter the Spiti valley, and the landscape changing its colour and feel.
Another remarkable spot for a quick stop-over is Karcham Dam
Again, never in a hurry to reach the destination we took a good 8 hours to reach our hostel. On average, if you just keep driving at a fair speed this should be about a 7-hour journey. The roads are reasonably good and well-marked trails. Telephone signals were also enough to sneak through the apps once in a while, and we lost it only towards the end part of the journey to Sangla.
The village was already in its sleep mode, and the moon shining bright as we were nearing a full moon, Sangla had already set up some expectations to wake up to a beautifully lush and sunny morning.
The place still carries a known Himachal vibe with fruit-laden trees, and green hills as far as the view goes.
This destination is quiet and undemanding, and a nice quaint stopover before we head to our tough terrains.
Altitude Sangla 8900 ft above sea level
Day 3 Sangla to Tabo (205 km)
Though driving from Sangla to Kaza is quite doable. It's just 235 km , but we wanted to take it easy as these were unexplored terrains. No information was enough to sketch the exact scenes, that one would actually experience.
Also as the signals get a bit non- traceable, it is advisable to keep offline downloaded maps and info handy.
We were wrongly told that there are no food points beyond Reckong Peo, So we stopped by and lost almost an hour at Café Raacho , a bikers and trekkers café. You would get ample options on the way for food, and carry some fruits and snacks for the journey to avoid losing time as there are small little sites on the way to enjoy photography and short breaks by the waters.
Also patches of roads were dusty and small slides are common and can stop the movement.
Gue monastery and the Mummy of Sanga Tenzin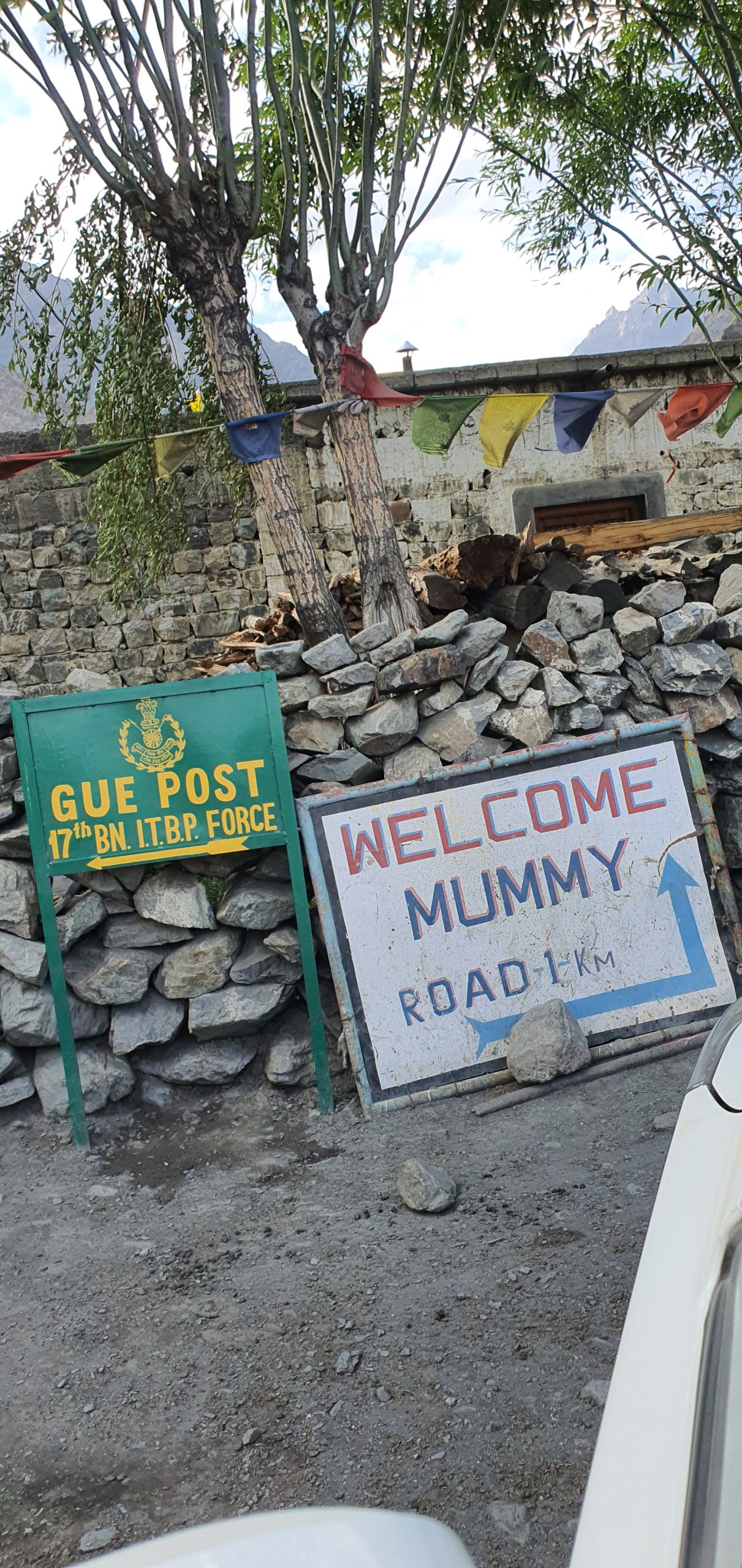 A small detour to Gue monastery and the astonishing, 500 year old self preserved mummy of a Buddhist monk Sanga Tanzin is a must.
Drive through a small village, and picturesque field to and fro the Gue would take about an hour and a half of extra time on your journey to Tabo.
Thus, the whole experience is about the roads, route and the small stopovers, and last about the destination.
The travel time is estimated to be 6 hours and 30 min including the detour to Gue, But given the small stopovers, and undeclared road conditions it took us about 8 hours to reach the homestay.
Tabo is a small village, now mainly a pit stop for bikers and travellers. A huge hub of homestays and small hotels align the whole village. Enjoy the clear skies and star gazing if the clouds allow.
Day 4 Tabo Monastery
A huge complex and home to monks from across lands, the Tabo monastery is one of the holiest.
Best visited next day early morning as by the time one reaches The town, the monastery is closed for the visitor.
Head to Kaza past a good breakfast at the monastery canteen.
Altitude Tabo 10,760 ft above sea level
Day 4 Tabo to Kaza (48 km)
This part of the trip was more about visiting small landmarks and villages on the route. The distance is not much and one can reach Kaza well in time. On the way to Kaza, the terrains change from rocky mountains to dusty sandy mountains, speaking of the topography one gets to witness while in Spiti valley. Patches of green fade into these sandy and gritty mountains and the drive is about crossing one mountain after the other across valleys and water bodies.
The roads are not disappointing. But the terrain can bring in any unexpected. So one should try and head to the city way before the sunset.
We visited Kee monastery, Dhankar monastery and Chicham bridge (the highest man-made bridge in Asia)before heading home.
Do not miss to keep a close eye around you as the changing terrains around you is what you need to capture in your memories and bring back. After all the trip is all about the Spiti valley.
Height 12,470 ft above sea level
Day 5 Kaza City
Must visit places while in Kaza
1. Langza Village
The highlight of visiting the village is the Majestic statue of Budha facing the valley. The village with mud houses and a view atop the hillock, with naturally manicured small hills surrounding the village.
Altitude 14,300 ft above sea level
Sunrise is the best time to visit the statue.
2. Komik village.… world's highest Village
Altitude 14,830 meters above sea level.
Head to the highest Restaurant in the valley, Komik. Enjoy a cup of ginger tea and some quintessential Maggi( not surprised that I am writing about food, despite telling myself that I am writing a separate blog all about food in Spiti valley). I guess that's the inseparable foodie in me, or talking about the highest restaurant won't be justified, even if it is about the highly predictable Maggi.
Caution: Pls keep the offline maps downloaded and handy as Sign boards are at the mercy of the heavy winds and the signals are just as far as the other planet.
3. Hikkim ..highest post office in the world Altitude 14,567 ft above sea level.
Then drive down to the highest post office in the world at Hikkim.
Grab a postcard from the only attraction, a Red post office shaped like a post box.
4000 postcards are stamped and dispatched every day from the highest post office in the world.
Now as a happy traveller in me head back to the city to gear up to see the city by the evening (Speaking about it and lots of must-do in another blog)
Kaza to Manali Day 6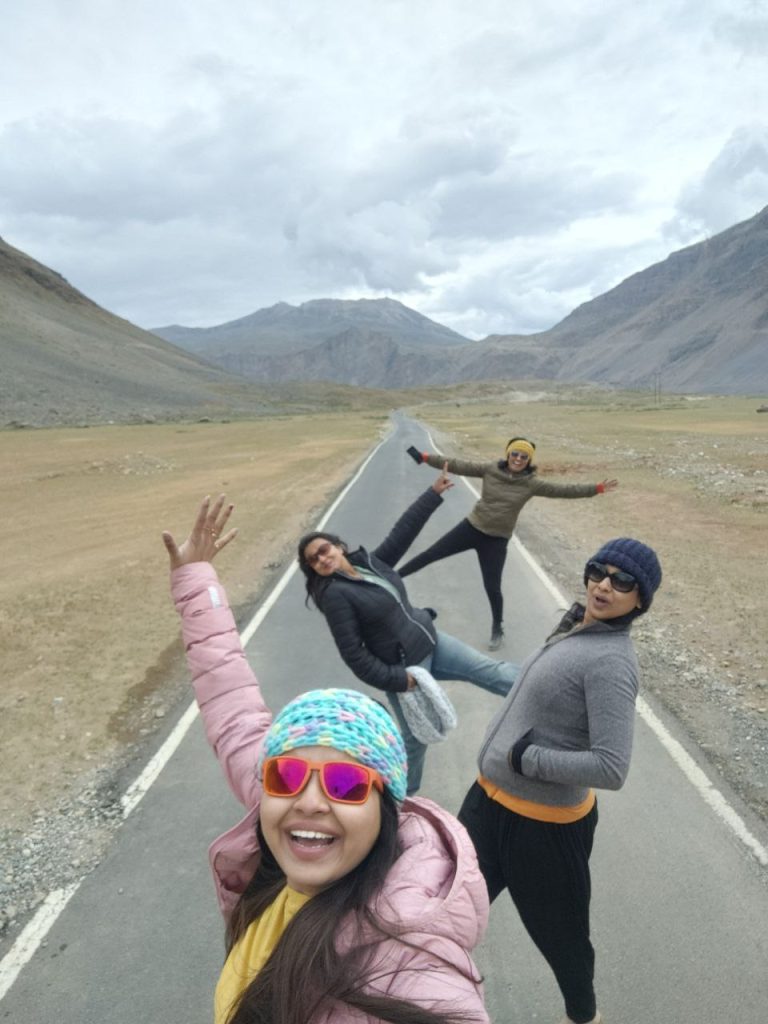 Kaza to Manali route was described as a nightmare by a fellow traveller at a café the past evening. And least did we know what she meant when she said that one has to imagine a road and drive.
But it all does not start on that scary note, as the first 70 km were like one is driving through picturesque, breathtaking terrains and preparing to say goodbye to the unique beauty that the valley offers.
We kind of took this as an opportunity to enjoy to the fullest with a small stopover of camping by the road making tea and Maggi.
And now the eyes wanted to just carry the beautiful sights ahead, driving onto the most treacherous roads, one takes 5 hours to cover that deadly 100 km stretch.
Drive past the Kunzhum pass and the base point for the trek to Chandratal lake.
Chandratal Lake
This is a trekkers paradise and a midpoint on the road to Manali. Though we missed this bit as it calls for a whole day. For this one needs to drive only until 3.5 km to the lake and trek that last bit. And also camping overnight and sky-gazing is the high point of the trek.
One can add another day to the itinerary if u plan to enjoy Chandratal.
The last stretch of 30 km from Koksar onwards is a kind of respite from the bumpy ride and getting you ready to enter the land of sages and lords…Manali.
Atal tunnel is another architectural wonder we drove past.
Manali Day 7
One can choose to drive back to Delhi on Day 7. We stayed back to have the taste of Old Manali, which is Goa vacationing on the hills.
Manali to Delhi Day 8
The easy yet Lengthy drive back home takes about 12-14 hours.
Out of the Icebox into the fire…..This was our Spiti Valley Trail. And it can be done in many ways as u like. One needs to be prepared for the unsaid experiences it brings to you as an extra perk of the trip.