Indian Gooseberry Pickle/Amla Pickle/ Phyllanthus emblica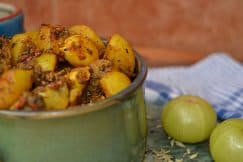 Indian gooseberries find a frequent mention in ancient texts and Vedas. Ayurveda texts have reference of amla as a wonder drug.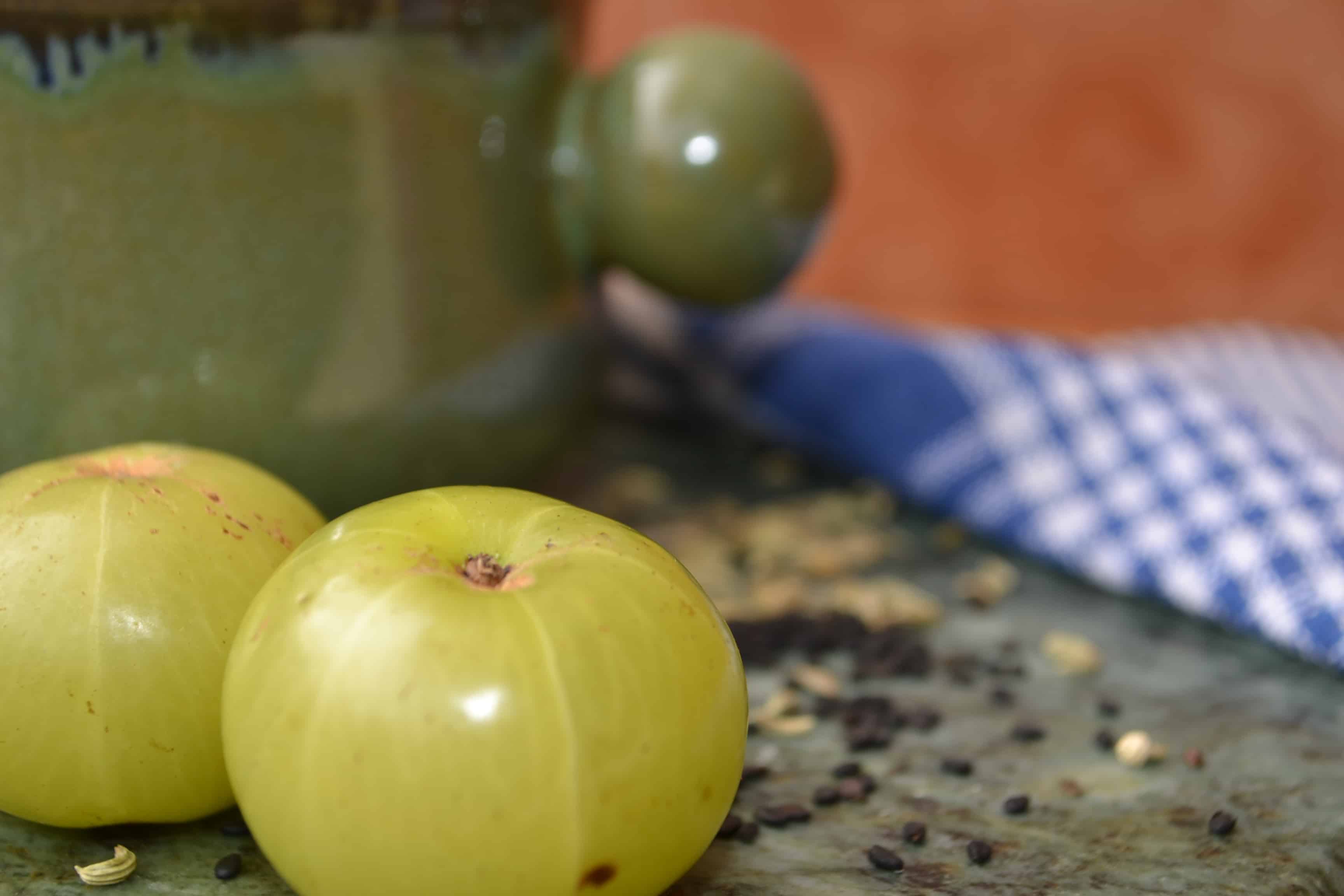 I have always been a great fan of this fruit but in our household the only way mom will use it is in chutneys and curries, and my quest for intersting way to consume went on till I saw my dad in law making this pickle throughout the winter as a regime.  He would make a batch of fresh amlas every week and it would be polished off in no time. I even indulge in it like a kid will do with candies and eat it every now an d then to tickle my taste buds.
This pickle has a very refreshing sour taste and it lingers on in your mouth leaving it refreshed and is very appetising too. This can be served as a side for porridge/rice/chapati. I like to use it little more daringly in my stuffing of paranthas also. You know how a taste freak would use anything so tasteful to its best.
I have written this in the most comprehensive form to allow you to try it without any doubts as it took me quite sometime to start cooking it myself as dad would always keep it ready without keeping us waiting and I would lose my opportunity to coo some.
Now that I have started making it myself, regularly , I can vouch for the simplicity and excellence of this Recipe.


Boil water in a pan, enough to cover all the berries.

Once the water boils add amla and keep it for 6-7 minutes. Do not overcook.

Strain and allow to cool.

Cut in wedges releasing the seed.

Meanwhile heat oil in an iron skillet. Pound the fennel and nigella seeds in hand pestle to coarse bits.

Add asafoetida and fenugreek, to hot oil, allow to brown a bit.( one can swith off the flame in case the fenugreek starts to cook dark.

Add garlic and berries and coarse nigella and fennel to the oil. roast a little till fragrant.

Add the berries/ amla. Stir and coat the berries with all coarse spices and oil, cover. Switch off the stove and add spices like turmeric, chilli and salt and let it absorb the flavours for an hour or two.

Store in a ceramic or glass jar and consume.

I like to allow my berries to get rid of any access water after straining for about 2-3 hours. This increases the shelf life of the pickle.

Use for Iron skillet is recommended to get a dark colored pickle.

On can add fine shredded fresh turmeric if available (about 2 pieces of one inch size) instead of turmeric powder

 Green chillies can be added for extra flavor.

 Do not cook amlas after adding the spices to avoid contact with heat.If you like it soft then allow the pickle to settle for two to three days before consuming.