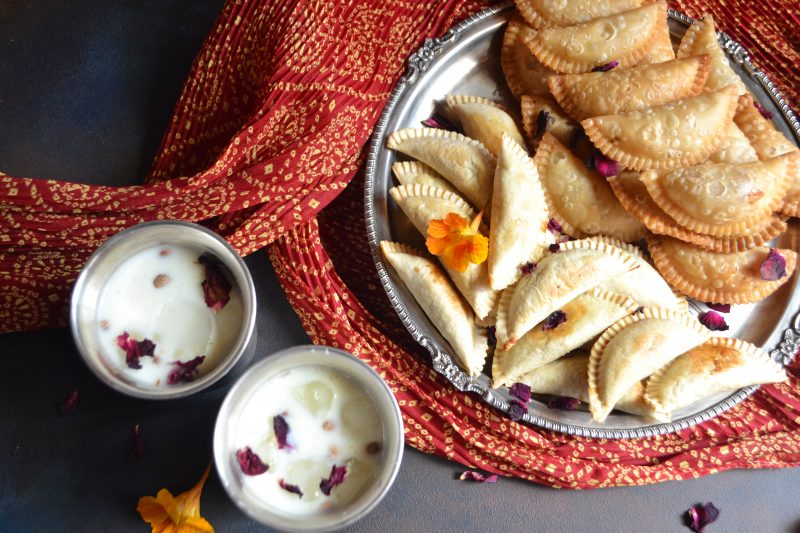 Let's play holi, this year in the most beautiful way ever, with colours of love, blossoms from spring, and amazing feast from our own traditional kitchens…
With the passing by winters and the onset of mild summers, and Annual  Exams around , the memories of mumma  and maamiji (aunt) sitting together for whole day, helping each other to make gujiya, and thandai and other snacks for the festival day, brings back that tenderness in my thoughts and feels like a child when I look at my plate of gujiyas. Only participation we had as kids was, sneaking into the  kitchen to grab whatever we could from the door of the kitchen itself. Mom had a very simple way of doing things and efficiency with which she would make them ,
comes after years of work, which I am yet to achieve. I still have the recipe written by her, with all her do's and don'ts in my book, which is like a script and the worn out pages make me nostalgic at the sight of it. Have tried to share all with you, and believe me Lists not difficult to get some of them ready at home… . I relive these memories by preparing all what mom does, and my kids lending me a hand , relishing homemade stuff.
Another sound that echoes when I get up on the day of playing colours is a voice instructing,  "Ruchi, come let me massage your head with coconut oil, and also apply it  all over your body."
Mumma, would very carefully make all possible efforts  so that  my skin is not harmed in any way, as the organic colours were not in practice in those days. I still as a mother of two , follow some rituals to get them Holi ready…These days the organic colours are in practice but   changed environmental conditions do take a toll.  But who stops you from having the fun, when there is a way to be "COLOUR READY"
My Dermatologist cousin Dr Govind Mittal, has compiled some really simple ways, which would for sure just get u in the festive mode without a blink, and you can have your glowing skin back after all the fun.
Chaniya choli, a white kurta is the most sexy dress for holi, but try to have minimum bare skin….You can save the skin to flaunt in a post holi party!!
Cover your hair with a smart bandana, or scarf after a oil massage.
Use your non expensive sun glasses to protect your eyes, and off course avoid sun..
Paint your nail, to avoid carrying the memories of holi in your nails..Men can also apply the transparent ones.
Apply a high coverage Sunscreen, water proof variant is like cherry on the cake…..avoid scratching, in case some itching starts, and wash off the colour in case any reaction happens..
After you are done use mild soap, warm water to wash off, avoid u se of pumice stones
Use Gram flour Ubtan Instead to take a post holi, beauty shower.
COME WHAT MAY  PLAY HOLI….after all its the most beautiful festival I have grown with, and proudly celebrate it.
Special this reminds of the days in Chennai, when, CHI, and SI were in their early childhood days, and as an anxious mother I would get all possible things from the other corner of the city to make sure they celebrate this festival with completeness. We would keep special holi celebrations on closest Sunday, as there were no official, school holiday on the day. Excitement ,came from the fact that our whole building and kids would come together to celebrate this festival.
And then the Thandai and Bhaang saga. Bhaang is a herb popularly known as Cannabis in other parts of the globe, which when added to the traditional drink of holi, creates  never ending stories, which can be heard at the drop of hat, narrated proudly.
I am keeping that element out for now and you may add the story ..Anh I mean Bhang at your discretion.
While I am penning this down, I have smiled all through, and this is the pleasure of festivals. They make memories, they make you smile.
Do participate in your own safe and beautiful way to celebrate this festival of colours!!
HAPPY COLOURFUL AND SAFE HOLI TO YOU ALL…..THOSE EXTRA POUNDS THAT YOU GAIN GORGING ON THE FESTIVE FOOD…..SHED THEM POST THE FESTIVAL, OR CHOOSE TO SHAKE A LEG TO HOLI MUSIC, AND THERE WOULD BE NO EXTRA BAGGAGE FOR SURE ….
Holi is a festival of colours and start of summer season in North of India,. Festival is typically celebrated with a spread of a feast and special treats. All of these as a tradition are made at home as a part of family celebration of the festive fun. Gujiya are semicircle stuffed pastries, filled with Khoya and Dryfruits.
| | |
| --- | --- |
| | |
Take maida , and spread ghee all over the maida.

With the help of your fingers and palms , rub in the ghee into maida, so as to have crumb consistency, and make sure each every bit of maida is completely coated with the fat.

At this stage, the perfect way to check if the quantity of ghee added is enough or no, is that this mixture should be able to hold when pressed in hand and form a ball.

Now add water in batches in two goes, and form a tight firm dough.

Now allow the dough to rest for at least 30 min- 45 min, covered with a damp cloth.

.Meanwhile work on the filling.
Roast sooji for about two to three minutes, to take away moisture, if any..

Take a pan and add, coarsely grated Khoya, cook in on a low, till slightly brown

Add Sooji and Khoya and add Dessicated coconut

Once cooled, mix in the sugar and nuts, and the cardamom powder.
Now take out the dough and knead back for a minute into a smooth dough.

Take small portion at a time and roll out a thin circle.

Place it on the mould and fill the khoya mixture in the centre towards the straight edge of the mould.

Now apply a little water/milk on the curved edge and close the mould. Press for 10 seconds and remove excess dough

Prepare some more gujiyas and allow them to rest for 15-20 min, Keep covered with a wet cloth( squeeze extra water from the cloth)

Meanwhile heat sufficient oil in a kadhai Fry the gujiyas on a medium to low flame till brown.

You can place the gujiyas on a baking tray covered with butter paper, brush with milk and bake for 15-20 min each side till crisp @ 180 Degree C on a middle shelf of the oven.

Cool and store in an air tight container
Adding two tablespoons of semolina to the filling keeps it dry, which can be omitted if u like gooey filling.
Adding two tbsp of semolina to the dough makes it crisp.
Store once cool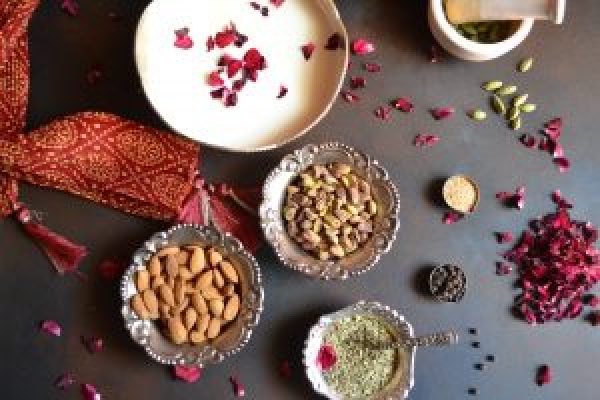 | | |
| --- | --- |
| | |
Coarsely pound the saunf and soak in the water overnight

Next morning, gently rub it in the water and strain the water.

Soak rest of the ingredients in this water for 2-3 hours.Grind to a fine paste.

Now take a glass full of ice cubes. Add 1-2tbsp of the paste and a chilled milk Stir and garnish with dried rose petals and chiraunjee..

The paste can be stored in a clean jar for up to a week in refrigerator.
Thandai is a drink with personal preference, You can alter the  quantity  of  Black Pepper, sugar and other ingredients Can also be taken with water It can be stored in refrigerator up to a week