No Onion No garlic Cauliflower curry in Jasmine Rice / Jui Chaler Phulkopi Aloo Dalna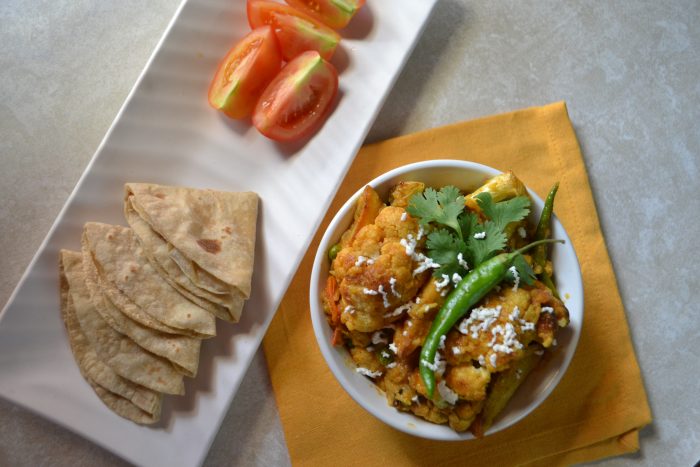 A rich diverse culture and even diverse food tales across India is a reason every time I travel to another part of the continent my journey is incomplete without sneaking into the kitchen of a local household and grab some great recipes and experiences, which make the whole trip a joyous affair, and hard to erase off my memory card.
My trip to one of the literature hub, a city associated with one of the most played  games of modern India, the city which attracted The British for their own reasons, and now a great hub that interests travellers, writers, food enthusiasts and has enough to share from its unlimited treasure….has so many food stories to share, but this one recipe and the tales it carried are worth a read.
I was supposed to be hosted by Mimi Dee, for her to share her kitchen secrets and due to some last minute changes she arranged for me to visit a house in Tollygunge, of a young  homemaker  and mother of a four-year-old, who in turn was excited to host me and share the best of what she knew. Thrilled to hear from her and that she has a complete lunch spread planned for me to see her cooking and then enjoy it for myself over a hearty meal, I reached there just in time, negotiating through the lanes of this heavily inhabited part of the city.
On reaching her house, her big smile made sure that I have a lot to learn today.  Her first dish was a long name and I could barely remember the full name till I today wrote down about it, the only thing I knew was its some Phoolgobhi and  Aaloo dish ( a cauliflower and potato dish ), and she kept correcting that it is PHUL KOPI. It sounded like a pet name given to the cauliflower to which we in north India call GOBHI in our own rustic way, and it is called Kopi, in a more lovingly romantic way. It has some romance in saying it this way …….Phulkopiiii…..love it…
The best part about learning this dish was that it is a simple yet festive dish with NO ONION NO GARLIC in the recipe, and how it reminded me of my bringing u in a family where onions and garlic were never used in the household. Over these years I completely forgot how mom use to cook all fancy dishes without onions and garlic what I make flag bearers in almost all that I cook.
Another element of the dish was the addition of Gobindo Bhog Rice to the dish. It gave a distinct fragrance to the dish and held the dish beautifully.  Now the challenge while recreating this dish was to substitute the rice, and as north Indians, the first fragrant rice that comes to my mind is the Basmati. On as second thought I figured that the properties of basmati won't fit the bill, as It elongates on cooking gets mushy if cooked and stirred for long, as required in the recipe. Next thought came to my wandering mind with what was available in the home was the jasmine rice, and I quite liked my idea of using it as it would give the perfect texture on cooking and the fragrance will stand out. Now though it sounds like a complete revolt to the recipe I still went ahead and used the Jasmine rice and the results were not disappointing at all..
All in all the dish came together and made me proud at a dinner thrown for friends during the navratra week, and I did have friends who shared the belief of no onion no garlic meals…So it made a star dish of my Phulkopi…..
This is a curry made with simple ingredients, without onion and garlic, mild spices, and jasmine rice gives a distinct flavour to the whole dish. Usually, it is cooked with Gobindo Bhog rice in Bengal and is made during Durga Pooja festival.
| | |
| --- | --- |
| | |
Wash and drain Jasmine Rice

Carefully separate cualiflower florets and soak them in salted warm water for half an hour Peel and cut potatoes in large chunks

Heat oil in a pan Fry potatoes till brown Remove and drain Fry Cauliflower in the same oil till brown Remove and drain

Add whole spices, cardamom, cinnamon, coves to the oil

Add Tomatoes once the spices are fragrant. Add Chilli powder, turmeric powder, and slit chillies

Add Peas , Rice Add 1/2 cup water Stir, cover and allow to cook for about 10 minutes or till the peas are almost done.

Add the Ginger paste Add potatoes Add sugar and allow to cook while stirring to mix for another 5 minutes Add water if required to keep in moist and to prevent from sticking to the bottom of the pan.

Add Cauliflower florets and cook for about 10 minutes Add 1/4 cup water if required

Garnish with one tablespoon of ghee and serve with chapati/Rice
The recipe can be made withour rice, or another  fragrant short grain firm variety of any locally available rice.