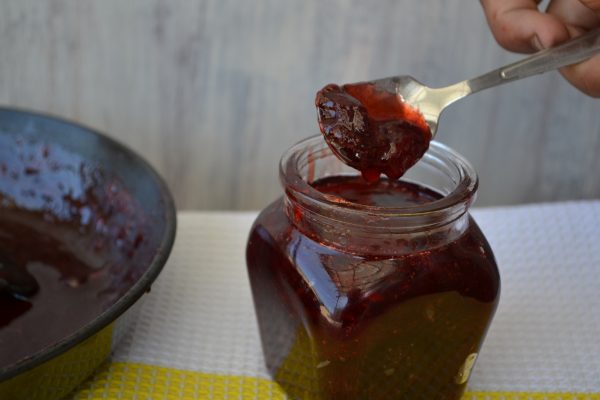 Strawberries have recently become widely popular in India, and easily available in the cooler months of northern India. There were times when I remember these were luxury possessions available only in gourmet stores, or we felt super lucky if some one travelling from Mumbai would get us a box of these beauties.
I usually saw them in my   store bought jam  in recipe books for all my childhood and would fancy them as a baker , in my college days.
With revolution in agriculture and marketing scene, I have been seeing them widely available at a nominal price at local vendors in the winter months. And as I love  the flavour the strawberries lend to almost any of my  bake, or desserts, I like to have enough of them for summer months, lest I need to get a tinned preserve or frozen strawberries from the market, which will be the last resort to their  non availability as I usually stick to seasonal produce, when in comes to cooking.
To keep them handy I start collecting them much ahead of receding winters, as the summers approach, though they are available in the market till late March but the chances are they are a bit mouldy or non firm, which are not a good option to store as they will be a waste of effort and spoil easily.
There are many ways they can be stored, but I stick to freezing method and make  a strawberry preserve. Frozen ones come handy once the preserve is over, as they can be made into almost anything, used in cakes, desserts, mock tails, or simple smoothie, ice creams, gelatos.
Method to freeze them is simple and quick.
To freeze one needs to get some ripe yet firm strawberries. Identify any mouldy ones and remove them.
Wash and remove the leaves.
Towel dry them with soft hands, and keep them in a tray in the freezer for 3-4 hours till they are hard.
Now store them in zip lock bag in the freezer till you use them.
In the receding winter months, the best way to store strawberries for summers , is to make a preserve out of the last produce available in the market. The preserve makes a fantastic spread for toasts, topping for desserts, and adds colour and flavour to summer mock tails..
| | |
| --- | --- |
| | |
Wash and chop the strawberries in to four parts each.

Place the chopped strawberries and sugar together, in a glass bowl for 2-3 hours. This helps the sugar to dissolve and juices of to release which in turn reduces the cooking time, and retaining colour and flavour of the fruit.

Now transfer the mixture to a heavy bottom pan, add lemon juice and cook for about 30 minutes, on high flame, by continuously stirring it.

Switch off when the mixture begins to coat the spoon in a thin layer as it gets thicker on cooling.

Meanwhile sterlise a glass bottle by placing it in boiling water for 15 minutes. Dry it completely. I prefer doing it in advance and sun drying the bottle.

Carefully spoon the cooled preserve in the bottle and leave about 1-inch space at the neck. Close and store in the refrigerator for up to 6 months
You can chop the strawberries  in to  smaller segments  if you do not like chunks of the fruit coming your way. I like it chunky so prefer to keep the pieces larger.
Quantities of sugar can be reduced but it is important to use in a given quantity to increase the shelf life.
The preserve can be stored for up to six months  in the refrigerator.
I have tries replacing sugar with unprocessed sugar but it has a shelf life of only a month and turns rancid even in refrigeration.