Best seller
Baked whole wheat Gujiya Sugar free(Delhi NCR only)
Ingredients
whole wheat flour, Clarified Butter( ghee), Khoya, coconut, cardamom, raisins, almonds,  a dash of mulethi ( licorice powder )
Each festival of Holi brings back the aroma of freshly toasted coconut, in the house with my Granny and mom making trays full of Gujiya for the festival day. And we would just pop in hands full of them every time we walked past the table.
Fresh farm-fresh ghee is used to make the whole wheat pastry and fresh khoya and coconut roasted with a handful of Nuts, and a hint of freshly ground cardamom to make a divine Gujiya. Baked to perfection keeping it lite. The filling is made with a generous amount of nuts and berries and a pinch of love along with an artificial sweetener.
we use whole wheat flour in all our gujiyas.
Homemade Gujiya made with personal care and the best of the ingredients, to bring you the purest joy of the festival. Made in smaller batches to maintain the same taste.
Fried version also available
Nett wt 1/2 Kg
Delivery charges  as applicable for Delhi NCR due to festival surge …charged on actuals
Specification:
Baked whole wheat Gujiya Sugar free(Delhi NCR only)
Reviews
Only logged in customers who have purchased this product may leave a review.
Related Products
Featured!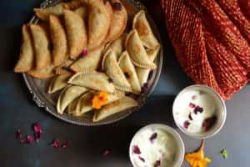 Best seller