PA PA YA ….A modern Asian Bistro
Pa Pa Ya ia a modern Asian Bistro, and a perfect example of trailblaizing trend set by Mr Zorawar Kalra and Massive restaurants, with an extensive reinvented Asian Cuisine, presented with a global appeal.
Set in one of the most popular location of Delhi,Select city walk Saket with an expansive setting , an spherical globe kind of glass ceiling, giving it an embracing feel, and makes an architectural asset to the restaurant. Clever spread of seating in a multilevel style , keeps every section exclusive yet busy.
The private seating areas are created in the periphery, and a huge central Bar and a special display of Wines from all over the globe is an eyecatcher.The wide range of wine is offered on the menu, making it a world class experience with diners and wine lovers.
For me the wasabi infused cocktail Tokyo summer announced summers, with elan.
The new menu is planned in a Tapas style, with a wide range of as many as 68 varieties of Dimsums being introduced apart from an impresive menu of Sushis .
The culinary influence from Asian lands, been carefully selected to suit a modern bistro style restaurant.
The Amuse bouche with a basil compressed watermelon, sets the right note for an upcoming gastronomical extravagance.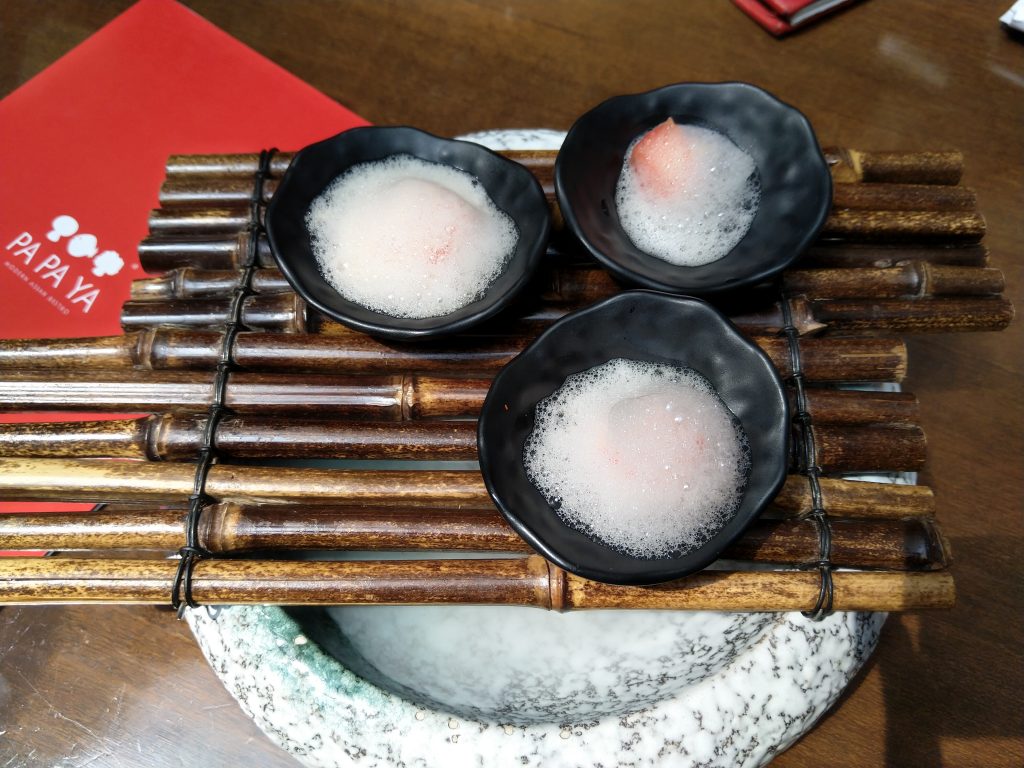 Jiaozi Pork Bbq, And Jiaozi Assorted Aurbergines( special Chinese dumplings), Xia Bao ( the soupy Steamed dumplings, Crystal asparagus and corn style clear dumplings, Or the wonton Shao Mui( open face Dumplings), all on the menu is a complete gastronomical pleasure, with the use of most authentic flavours , near to perfect resourcing of ingredients, and avant garde cooking techniques, and the star stealer presentation. While a variety of Sushi, Nigaki, Maki are offered , the open pizza style sushi was innovative.
Two dishes which stood out in terms of innovation and novelty are The spiked birkshire pork bao, and the mushroom and truffle Bao, where the dishes are no less than the art of expression on a plate.
The desserts again play with your visual and gustatory senses, with the chocolate ball served Falmbe style, stole the show, and completed our afternoon, in a perfect sweet way…
Pa Pa Ya is one place in the city, one must visit to treat the Adventurous gourmand in you, with the best of Asian, Modern Bistro style food, in the most resplendent setting.