Jamun Kaala Khatta/ Java Plum Spiced Summer Drink/ Jambul/ Black Plum Cool Summer Drink
Jamun Kaala Khatta is Popularly known as Kaala Khatta, (not from the baraf gola flavour, (ice candyflavour) fame, which is a chemical copy of the drink)
Jamun/ Jammval/Java Plum/ Black Plum, this black shiny fruit is known as all these names.
"Jaamun kaale kaale, Raseeley jamun kale"…..A fading sound in the street in summer afternoons and yet again , a little girl, running towards the door, to spot the direction of the wind from where the sound came and in which direction, is it fading away. Eagerly looking little eyes,  waiting to be get lucky to be able  spot this cycle waala  bhaiya ( fruit vendor on the cycle).
He would happily stop to find an eager customer, and I would go running with my 10 rupee note…( I know it sound like my Falsa story, but yes this is how it was, how crazy I was about these fruits.)To read more on the story and Falsa sharbat read here.
The vendor would use a plate to pick the Jamun , put it in an earthen little pot, put some salt, And give a shake to the pot.  This shake makes the fruit soft and the salt seeps in, making it a super delicious. There is little astringent taste that the fruit coats the mouth with, which black salt takes care of.
Jamun trees all around Delhi mark the onset of summers with Jamun Fruits scattered all around on the pathways along the roads as soon as we hit MAY. Fruit laden trees  still bring a smile to my face as it would when we were kids, and we felt lucky to have the Jamun available off the trees so casually.
Kaala Khatta is another thing from my childhood, when the Ice lolly vendor would grate the huge block of ice , fill up a little glass and turn it around to take out the lolly, and then ma and my sister would jump to choose the syrup to go on the lolly and I would choose kaala khatta flavour, least did I know that what is it made of , just loved the sweet tangy flavour, and the hint of jeera.
Now my I can see myself in my  daughter when she happily climbs up the ice cream cart and look for the pepsi loly, which is a modern version of kaala khatta loly that we had.
Jamun Kaala khatta, I realise now is not actually, the Kaala khatta that we had from the ice lolly fame, which was more like a chemical amalgamation of flavours and color, which used to be more on the black side.
Jamunn Kaala Khatta, on the other hand, is a deep purple drink which turns into a beautiful pink with an orange hue with the addition of orange juice which I add to cut the astringent taste of the fruit, and it imparts some great harmony of tastes. I can easily call y version of Jamun Kaala Khatta as Raga, A musical for taste buds, ……It's a treat to taste buds as music is to ear.
It is as therapeutic as tasty, and it is a great treatment to the hangover. it as some great medicinal benefits in various quadrants of health. Jamun is a great as a natural anti-diabetic. In fact I remember My grandfather who was heavily diabetic, used to buy his own large packet of Jamun, and would tell us that it was his medicine, and I also for quite some time thought that these are medicinal fruits and did not even try it. Only later did I get to know how it tastes as we grew and became adventurous and tried it out, then we realize how delicious is it.
Java Plum has amazing skin care properties and absolute winner as an abdominal medicine. A great source of Vitamin C and iron, Jamun works great to cure anemia and fatigue. Jamun is great for eyesight. And if you are fond of talking, then keep them handy any day you experience a hoarseness of voice….as It clears throat.
Jamun Kaala Khatta is one drink which firms a great base for a lot of cocktails and is a great mocktail by itself. So next time you wanna flaunt a sure show stopper do try this one out.
and has surely made its mark in the medical texts about its wonder properties and not only th efruit, the seeds, the eaves all have their benefits to the human body.
Kala Khatta is An Indian favourite spiced sweet and sour drink, used for flavouring syrup on Ice candy, Now popular as a summer drink due to its medicinal properties and great sweet and sour taste from the fruits, Java Plum, and oranges, fragrance and taste of spices like roasted Cumin, Black salt, and chili punch from green chili. Served chilled.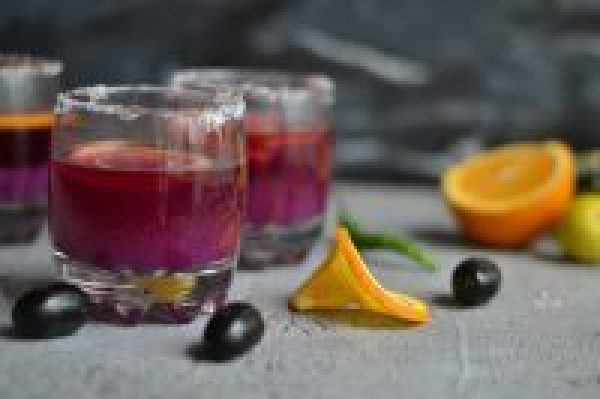 | | |
| --- | --- |
| | |
Wash and drain Jamun/ Java Plum.

Place them in a steel or glass bowl and add atsp of Black salt and whole of sugar. Now cover and give a shake to macerate the fruits.

Once the fruits has become squishy, mash it with hands and release the seed, remove, and collect the flesh.

Now add chili and blend it in a blender to make puree.

Now add Orange juice, Cumin Powder, Lemon Juice and lots of ice.

Serve chilled garnished with orange and lemon slices.
Jamun/ Java plum is an astringent Fruit. Orange juice balances the flavours.
Orange juice is optional.
Add extra sugar if you plan to omit orange juice.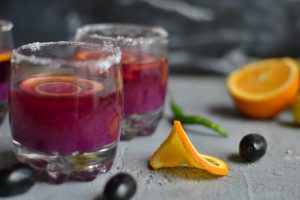 The quantity of salt, lemon juice, chili is according to the taste, desired, though it tastes best with good quantities of lemon juice and black salt. as I like it tangy, sweet and chili.
Stir well before u serve.
It makes a great base for mocktails and cocktails.
Kids like Ice lollies made out of this summery drink.