Bake Free with Baking Buddies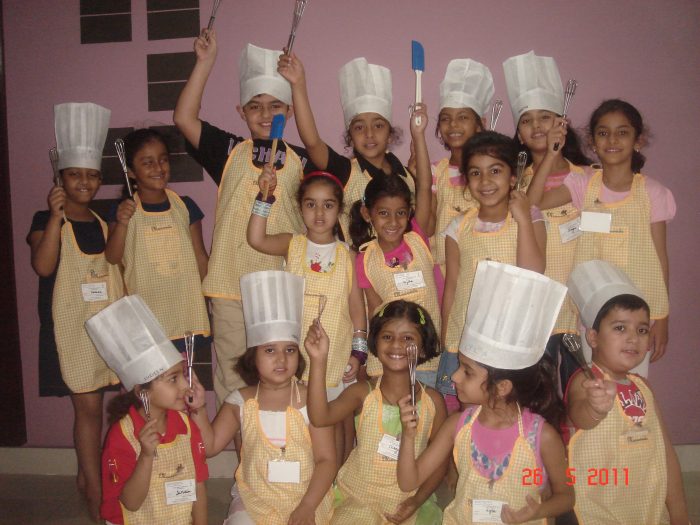 We welcome Mess….We make chefs……is what I use to always say while talking of Baking Buddies. As a OCD myself I know how is it to allow kids into your spic and span Kitchen. But when I am with Kids I love to see them explore every time they mess their hands in to that gooey cake batter or When they move those little rolling pins over the cookie dough….Those tiny fingers sprinkling the sugar, and then the innocence with which they lick the sweet fingers.
Aunty can we use your washroom, Aunty give us a glass of water…Mom my friend's  little brother is hungry , can we share the cake that you just baked with him..My house would be buzzing with these sounds in evening ….
A slice of cake was not enough to feed the whole army of society kids playing outside in the compound. We lived on the ground floor  a small building of 12 apartments in R K  Puram area of Chennai. And we had a fleet of kids gathered and playing  every day in the compound. And as
we were new in the city and I was struggling with my boredom, the baker in me took a new shape and I indulged in baking with all the recipes that I used to scribble in an old notebook, but could never try, due to my schedule back  here in Delhi. And the aroma from the daily bakes took no time to make it quite obvious in the society that The new occupants( my family ) have something cooking !!
In the short course of our stay, The kids became used to the evening treats coming out of kitchen and I was happy as the timely consumption of what I baked helped me try new things everyday.
As Chinmay grew, within a few months he joined a library close by. And the owner of the library, knew that I bake at home as Chinmay ( Chi, as I call him)would carry a box full of baked goodies from home to flaunt n share.  It was then, Chandni came up with the idea of holding these workshops at the library, for the kids enrolled with the library
as a weekend activity. In no time the workshops became a hit and they were regular with the carnivals and special day celebrations at the library. This is when I realised that I am developing a liking to explore new recipes and baking activities which were kids friendly and  found , it to be  more of fun to work with kids, when it comes to baking.
Years past by and I had my own style of baking workshops with kids. We shifted to Delhi, and first summer holidays went past as a struggle to look for new things for Chi, to engage him, and realised that I should start with what I happily did in Chennai. This is when BAKING BUDDIES was rediscovered. In no time it became hit with the mothers in and around.
First year of Baking Buddies was organised in my drawing room with borrowed tables and chairs. I had invested in all the other equipment which were required, like the work stations, mixing bowls, little baking
trays etc.
I could not imagine that Baking Buddies would enroll such a large number of kids in the very first summers…We saw over a 100 kids and we spent the whole summer doing these weekly workshops.
Baking Buddies is officially 8 years old now, and 13 years from its time of inception…….
Each year we grew in our methodology, advertising, equipments, lay out, and worked very hard every year as each year there were kids re-enrolling and we required to present new interesting recipes every year.
With time we kept evolving and Baking Buddies has  a dedicated space, beautiful interiors ( which we arrange for the session), in my working space, where I wait every year for baking buddies gang, and with each year this gang grows fondness for each other, welcome new buddies, and are promoted to next age group batch, and proudly flaunt what they could do..
I always mention anytime  a new mother comes and enquires, that these are not classes, these are workshops where kids are allowed to mess, feel, explore, fail, and succeed, all by themselves. Just with a little hand holding.
My buddies just can't get enough in those five days of workshop and would just not want to stop after that. They with all their love and little hands leave behind a note which inspires me for the next. I connect with them as a soul would connect to body. These workshops give me all the energy to keep going for rest of the year.
I have many who did their first workshop in the year 2011 and took up baking as  a profession later and re successful bakers now.
I would love to welcome new baking buddies with each coming summers and wish all of those( parents and kids) who have been a part of Baking Buddies journey a huge thanks and heartfelt gratitude as this is what gave me an identity when I was all new in a new city with a little family and no clue what life can bring next.