What a pink note can get you in Kolkata….
Money can't buy you happiness. I bet it can buy you memories,and while in Kolkata, it seems to be never an issue even if you are living in a tight budget.
Kalighat temple, Dakshineswar grandeur, Rosogulla, nuances of Bengal, its culture, are beautifully weaved through strings of food, streets, market places, language, hospitality offered, and simplicity in their lives. A few days in the city and I felt I am already a part of the fabric.
Every moment, what my eyes captured, my heartfelt is not easy to bring to words and express. Still trying to pen down some beautiful memories for me to relive them one more time.
The busy street of the city was what introduced me to Kolkata as city full of action. The yellow taxi carts and trams…..and my drive to my place of stay at Ritchie road…an hour on the land and I already could feel my heart looking for more.
I had always heard about Kolkata in the stories of the grandeur of the celebrations of Durga Pooja…The poems of Rabindranath Tagore, the stories of Mother Teresa, or Byomkesh Bakshi, the detective series…the Rosogulla, or the Babu Moshai in Rajesh Khanna style…less did i realise that city has so many faces and it encompasses you in no time….and you feel like you are falling in love all over again..
I chose to stay in a B&B setting so as to get a bit closer to the Bengali Hostpitality, and I am happy I got the best out of it..my B&B was at Ritchie road with Miss Vinita and all I paid was a Pink note per night of my stay. I got the best of hospitality,, a great ambience,at home feel, which no Hotel stay can bring.
Day two of my walk to The Lake market, became all the more exciting with a Kachori Aaloo breakfast at Maharani, with two cups of tea all @ Rs 28/-. I was happy like a child, who could manage her treat in the pocket money she earned and could still look for more in the same money..
On my way back at the market the fresh  flowers just didn't let me go pass them, without picking up some, so I got a few bunches back, to place at my table in the room, and gifted some through the day, to who so ever I planned to meet..all that and a smile at everyone's face @ Rs 300/-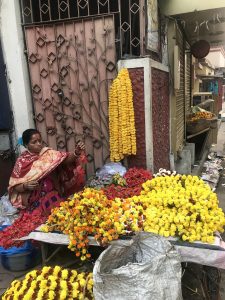 On our visit to the new market to explore the Bengali food at Kasturi, me and my friends went past the Temple and the haat( street market place) outside the temple, and in no time ,  the shopping bug came out jumping and our plan to dress like a true women of Bengal also took a leap in our thoughts, the moment we saw the Shankha Pola been sold in a shop.
We all gathered around the shop and in no time we all had our hands full of a pair each. These are auspicious Conche shell and coral bangles, worn at ceremonies and married women, to bring balance in relations. After a good women haggling, we cracked the deal @ Rs 150/- for a set each. And then the fashion expertise was questioned as we had to get the look right!  So we looked for a big red Bindi (which is worn in Indian Bengali culture in the forehead)…We found them at a mere Rs5/-, The Nose pin though is not a part of customary dress o f Bengal but we all were no less in the quest of becoming complete Sanjay Leela Bhansali movie characters, Decided to pick one @ Rs 5/- each, and the anklets to add to the drama @ Rs 20/- In the whole Kahaani, I forgot that all my smart friends have  arranged for their saree from Delhi itself, I still am the one who might need to pull the look in my jeans… I then anxiously started scanning the streets for a red and white saree, and in no time spotted the poster at a shop. The vendor quoted mere Rs 350/- and least did him realise was that he could have made several bucks, had he been able to gaze my anxiety…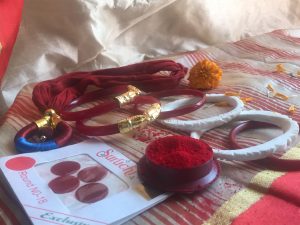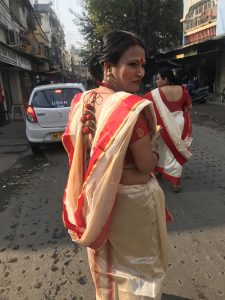 So the whole look was ready in mere 540/-
The moment we had all the elements ready for the attire, we all headed towards the guest house and in good two hours we could all mange to be ready to go to Kalibaari.
All decked up, looking no less than celebrities, we made our way to the temple. Walking through the streets of old Kolkata I saw a strange fruit been sold on the carts. I held myself and waited till we could finish offering our prayers. On our way back enquired more about the fruit and was told that it is a juicy fruit to be eaten all by it. I bought some for myself and off course how could have I eaten it just like that…I had enough that i had to put my experimental glasses on and shall soon share what I did with them. I sound like a geeky scientist but, you can well, hold your imagination as It came into a good use…
Then my attention moved to a vegetable/fruit that looked like turnip, I picked a few and while I tasted one it felt, nice and crunchy minus the strange radish turnip kind of fragrance…Again shall share what it went into!! All worth Rs 80/-
A day full of shopping and excitement could not have had ended in a better way than the tram ride that we opted for and jumped out of our cab and boarded one of the trams at Tolligunj. The whole tram could feel the excitement in the air..the conductor, also participated in the craziness we carried by clicking our pictures. Not even once did he buzz to the count of pictures clicked in all possible frames of the tram..Complete paisa wasool @ Rs10/- per ticket.
And then the hungry souls could grab a great kathi roll from Kusum Kathis @ a mere Rs 60/- each..Every bite was burst of flavours and they truly are the stars of street food of the city..They may be differently popular, and quite a lot of names in the trade but to me unbiased the kathis were a true winner as a easy on pocket food..for travellers once in a while.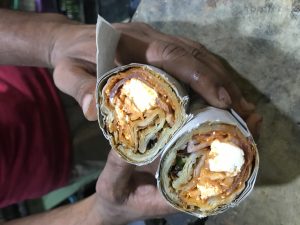 I am a kind of a person who can easily find pleasure in these small little things which i buy while on the move and they add to my treasure trunk of memories very swiftly, without being heavy on my pocket…
The next I had to visit the Ngo where e my acquaintance friend worked with slum women and was mesmerized by their work, i picked up a stole with the traditional Kantha stitch. Worth a lot of love @ only Rs 1200/-
We also visited Dalia Mitra's studio Dashabhuja, where she sources the cloth from weavers and artisans around the state and designs various garment and saree worn by who's who of the town. Picked a beautiful jacket (my first ever) as I  rarely dress in such colorful pieces…Spent Rs 1000/- But it made a difference when I wore it back home to a lunch outing and stole all attention…
Another small but exciting pick while taking a walk through the streets and checking out the cafe culture in south Kolkata, I reached ByLoom, a much recommended place for artistic accessories….Though most of it looked what we get back home…I really liked these metal earrings with ghunghroos in them, and the beautiful sound it made while u wear them…Picked two pairs @ Rs 400/-
By now my travel trunk seems to be filling up fast with some great picks and exciting memories…Yet a lot to explore and bring back.
In my two days of exploring kitchens around the city meeting people, eating Bengali food, I already had my mind fixed on carrying back Noler Gud, the special jaggery form Bengal…The pati shapta, the rsogulla, all left such a strong desire of carrying this back home. So before I could wish, Dada got us a whole bag full of noler Gud. Though my friends looked quite clueless of what is to be done with it, I was quite sure that I can bargain and offer them a dessert treat to them in return of their share of jaggery. But I am yet to crack that deal…
Visit to Victoria Memorial in Kolkatta is like visiting Taj Mahal In agra…A must and a tonga ride is like cherry on the cake…giving the breezy view of Kolkata …@ Rs 600/-
A long day passed by meeting people, conducting a small workshop for the women at Ngo, but it ended at such a beautiful note when the student at the Ngo touched my heart when they gifted me a Gondoraj plant and a beautiful handmade key bunch along with a table cloth made by NGO women…
A yellow taxi is a trademark to Kolkata roads and a ride in it ensures a complete experience of Kolkata trip @ Rs 100/- for a ride from Howrah to Huglee created that sigh of completeness in the trip, worth a mention.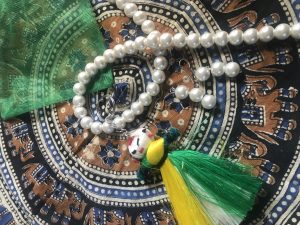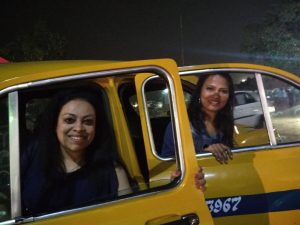 These are some priceless possessions which find place deep in my heart…
And then the customary shopping of sweets at Balaram Mullick, carrying back sondesh…Rs 300/-
The shopping never ends and so did it happen at the last minute at the airport of Kolkata when I got myself some goodies packed from Flury's…a slice of plum cake, a cheese tart, An apple Pie….. all for Rs 650/-
These are some little gifts I could bring back in physical…there are loads of such precious moments which I breathed through in Kolkata and they are so well etched on my mind. Those precious moments are worth another long conversation with you all, and soon shall have another day of Kolkata stories.
All that ends well is well….For me it started well it ended well….I may find several instances to mention Kolkata, but Kolkata will rarely find a crazy fan like me..A city which ignited a new love story… a story where i fell in love with myself…..