Quick Kharbooja Drink/ Cantaloupe Cooler/ Musk melon Juice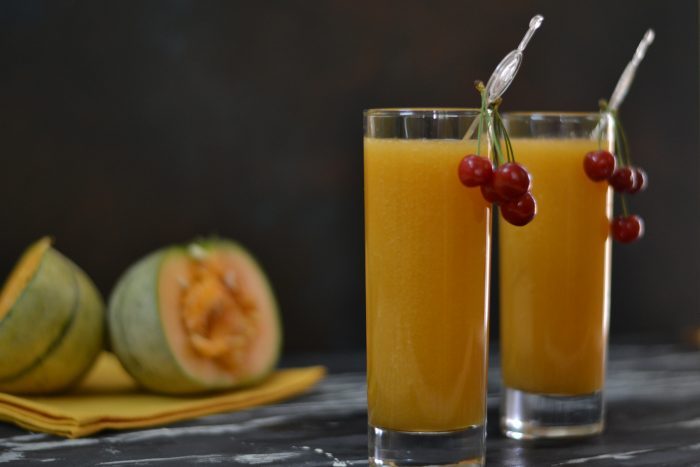 Quick Kharbooja cooler is one drink which I found a great way of quick hydration in humid summers. Consuming a glass of kharbooja drink in morning helps in great digestion. It is a good source of carotenes, Vitamin C and A, and is great for hair and skin.
Peak summers routine in our house hold as a child, used to sit around the table and mom would slice up melons and pass it around, until we finish a few. She would always say these rae goods for you in summers and thus would insist on having them as midday fruit.
Another interesting tale to kharbooja or the melons in the house is associated with the melon seeds. On how mom would collect all of them, soak them in water for days. Carefully wash them, dry them and then put all of us to work to shell them. These were stored every summer to be used in winters for desserts, laddoos. Those were the days when we hated them, and would find them nothing but a nuisance in our lives. And now when I realise I feel how wise mom is to have been doing that. Its like Aam Ke aam Gudliyon ke daam. Have the mangoes at the price of piths.
Melons are in Delhi are various kinds and colours. we get the ones without any ridges on the outside and a deep orange colour, and the ones with deep green ridges on the outside and light skin and orange flesh. There are ones with dark orange mustard ridged skin but whitish flesh.
For this particular recipe, I like to use the ones with deep orange flesh as it gives an appealing look to the drink. Also, they have a peculiar sweetness to them, which is different from the white-green fleshed ones.
For more such recipes using summer fruits  click here.
| | |
| --- | --- |
| | |
Add the cubed kharbooja/ muskmelon/ cantaloupe to the blender along with water and crushed ice.

Blend to smeeth drink. Starin with a thick sieve.

Now add lemon juice and serve chilled.
I have used the orange flesh Muskmelon. You can choose your preference and availability.
I don't like to add water personally. Again If you prefer diluted juice, you can add water as suggested, or more.
You can use sparkling water instead of water.
Added sugar is what makes it artificially sweet. If you like it sweet, choose a sweet fruit. else add sugar to taste.
Lemon juice is optional.